Welcome to our Top 40 list for best TV shows of 2020! This has always been our most tightly contested and fiercely debated article of the year. Previous winners include 12 Monkeys Season 4 (in 2018) and Mr Robot Season 4 (2019). Who will gain the top accolade in 2020?
Our team have been hard at work crafting a diverse, unique list that should please many people. As with every year, this list combines scripted Korean dramas, animes and TV shows the world over into one "Best Of" for each year. The only exception to this are documentaries, which don't show up on this list in any form.
As with every year, there are some casualties and shows we sadly didn't get a chance to watch so we'll preface the list with those first.  Ted Lasso, The Crown Season 4, The Schitts and Better Call Saul were three of the more prolific entries we sadly failed to get around to watching.
Along with that, there were also some shows that just missed out on the top 40. Devs, Raised By Wolves, Elite Season 3, The Stranger and Sex Education Season 2 are the bigger names missing but this only reinforces what a strong year 2020 has been for TV.
So without further ado then, we present our top 40 TV shows of 2020.
---
40 – 

Messiah Season 1
Speaking of controversial releases, Messiah dropped on New Years Day with an intriguing and engaging premise but also one remained respectful with its slant on religion.
The story begins in Syria and follows proclaimed prophet Al-Masih as he makes his way from the Middle East to the United States, gaining more and more followers on the way as he manipulates and performs miracles to impress the world. Running parallel to this is CIA agent Eva Geller, who finds herself determined to uncover the truth, believing him to be an imposter. Another agent in Israel, Aviram, also finds himself on his case after an emotional run in early in the season.
It may not be the perfect, and there's quite a few elements that feel similar to Homeland, but Messiah's original idea and some solid performances make this show worth checking out.
---
39 – Do You Like Brahms?
Set in a music university and following a group of aspiring (and seasoned) musicians, Do You Like Brahms is ironically not really about music. While there are admittedly some incredible piano and violin performances, this Korean drama instead settles into a melodramatic rhythm for much of its runtime.
The story itself predominantly revolves around two different characters from very different walks of life. The first is Song-A who finds herself hopeful to become a violin major amongst stiff competition. Thrown out of an early performance for being the least talented, Song-A finds herself struggling to be heard and seen. However, talented pianist Joon-Young is one such person who sees her.
Having played in piano competitions across Korea and now on the verge of becoming famous, Joon-Young is our second lead. He takes a fancy to this young player and tries to help her become better. Along the way there's plenty of romance, drama and heartache between them as the pair find themselves caught up in a whirlwind will they/won't they romance.
While it doesn't necessarily do anything outside the norm in the realm of melodramas, it does manage to hit most of the right notes, making for a worthy composition worth checking out.
---
38 – Stove League Season 1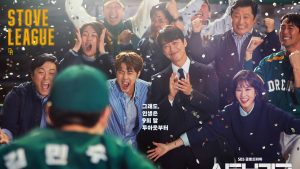 Baseball is one of the most popular sports in Korea. Picking up the pieces left by Hollywood's motion picture Moneyball, baseball returns to the small screen in the form of Hot Stove League.
Depicting the turbulent time between baseball seasons, Stove League seamlessly weaves character drama with political and societal issues in a cleverly written and engrossing 16 episode series.
With some good acting, a strong story that blends both episodic and serialized chapters together and prospects of a second season on the horizon, this is a really solid and well written Korean drama.
Even if you know nothing about baseball, this character-driven series does a great job bringing you into this world and understanding everything that's going on.
---
37 – Outer Banks

Outer Banks is one of those shows that just seems to work. It has just the right amount of humour, a solid Famous Five/Goonies feel and manages to weave all of this into a decent mystery that progresses at a good pace. 
The story itself revolves around the Outer Banks, an island that plays host to two distinct tribes. The Kooks and Pogues live on the class divide, with the poor Pogues playing host to our four friends, John B, JJ, Kiara and Pope, who set out on a mission to find John B's missing Father and a hidden treasure holding 400 million in gold bars.
The set-up is simple enough, and as the episodes tick by they're joined by enigmatic rich Kook girl Sarah, who has some great chemistry with the group and a well written romance that doesn't bog the story down.
All in all, this is a great option if you're looking for a YA-flavoured slice of adventure.
---
36 – Save Me Too Season 2
Picking up 17 months after the previous season, Save Me Too is a solid follow-up and while it doesn't quite match the excellence seen in its first season, there's enough here to enjoy nonetheless.
This time around, Save Me Too works to try and juggle two separate narratives together for Nelly to deal with, managing to spin these plates until the end, even if the finale does see these plates start to wobble. The crux of the issue lies around what happened to Nelly's daughter Jody but alongside that, a murder early on rocks the community. Predictably, all eyes point to Nelly as the main culprit.
Determined to find the truth and wrapped up in Grace's (the girl Nelly saved from the caravan during the season finale last time out) issues, the show juggles both of these plot lines until the final third where home truths are revealed and Nelly's true intentions come to the foreground. All of this builds up to a somewhat contrived and slightly incredulous ending but one that's nonetheless enjoyable.
---
35 – The Outsider Season 1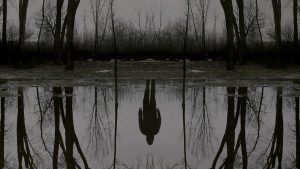 In true Stephen King fashion, where The Outsider shines is with its characters. Each of the main players here have really consistent and well written arcs, with both Holly and Ralph standing out among the other players. Jack Hoskins has a suitably depressing descent, both physically and mentally, while the other supporting characters have enough material to help add some depth to this ensemble.
The main premise revolves around a monster feeding on grief, introducing a whole array of characters consumed or haunted by this very emotion. It's a deliciously twisted sense of irony and The Outsider does a great job capturing this across its run-time.
While it may be a little slow at times and the story does meander on unnecessarily during the middle portion of episodes, there's enough tension and mystery wrapped up in this to make for a solid book adaptation.
---
34 – Chocolate
Chocolate leans in heavy on the melodrama and the grim, gritty reality of love that certainly won't be for everyone. It's not all sunshine and rainbows and as we see through the eyes of our two leads in this drama, the world around us is full of death and heartbreak.
The basic premise revolves around two core characters – Cha Young and Lee Kang. After meeting as children, we cut forward in time to see Kang working as a neurosurgeon after hanging up his chef's hat while Cha Young's meal cooked for her as a child by Kang spurs her on to become a prolific chef herself.
As fate would have it, both characters wind up working together at a hospice ward after they fall out over the death of Min-Seong; Kang's best friend and Cha-Young's lover.
As the episodes progress, the layers of bitterness and regret that cling to their troubled relationship slip away and in its stead, their shared love of food comes to the foreground.
What sets Chocolate apart is the way it presents this symbiotic relationship between people and food, illustrated beautifully through the different residents of the hospice which takes centre stage. These are easily the stand-out moments of the show and while it may take a while to get to the good stuff, when it arrives Chocolate delivers a wonderful recipe for success.
---
33 – The Alienist Season 2
Renewed for a second season, The Alienist returns with renewed vigor, a pacier 8 episodes and a really well written mystery. With returning characters joining new faces this year, The Alienist breathes life into this series and mixes things up to deliver an enthralling 8 episodes of drama.
We pick up a year after the events of the first season. Sara Howard is now the head of a Private Detective Agency with a strong female-centric band of workers at her disposal. Laszlo is still up to old tricks at the Institute while John Moore works for The New York Times and is currently engaged to Violet Hayward (ironically dressed in violet the first time Laszlo meets her.)
The focal point this time around really sits with Sara Howard. This actually works surprisingly well as the mystery builds up and requires a feminine touch to solve this difficult case at hand. And difficult is really the name of the game here – especially with a case involving a child-napper.
This second season won't be for everyone, especially with the way Sara Howard takes centre stage and overshadows her colleagues, but it's a well written, consistent engaging watch nonetheless.
---
32 – The Good Place Season 4
Whatever you wind up thinking of the finale, The Good Place bows out its four season run with a victorious final ride, one that's as bittersweet and poignant as it is enjoyable and humorous.
While the show fails to hit the same lofty heights set by the first couple of seasons, The Good Place still has enough gas in the tank to pull out a satisfying victory lap all the same.
Whether you end the season feeling like you've arrived in the good place or not depends entirely on what sort of ending you're expecting but one thing's for sure – there's not likely to be another sitcom like this in quite some time.
---
31 – Hi, Bye Mama!

Hi Bye, Mama is an enjoyable Korean drama, touching on some very important and emotional themes. However, this show does slip up a little with the sheer number of characters it has to work with.
What Hi Bye Mama manages to achieve really well however, is tackling important life lessons with skill and poignant humanity. It shows us how different people deal with grief and also sends some powerful messages to the audience, in particular how short life is and to make the most of the time we are given on Earth.
It may not be the strongest K-Drama out there, and some of its sub plots could have done with more development, but it's an emotionally stirring series that'll almost certainly pull at the heartstrings.
---
30 – Alice In Borderland
Alice In Borderland feels like a colourful, vibrant patchwork of different shows and films. There's elements of 28 Days Later, Sword Art Online, The Purge, Saw and even live-action animes in here.
On paper, this feels like a recipe for disaster as different influences pull in all directions, threatening to tear at the seams. In reality, Alice In Borderland is a robust, well-written, surprisingly decent sci-fi treat that's well worth its weight in gold.
The premise is simple and revolves around the hook of a group of kids stuck inside a weird alternate-reality world. Deadly games of life and death are played in exchange for playing cards, which are referred to as visas in this twisted dystopian world.
The numbers on each card correspond to the number of days you have left to live. The more cards you collect, the more days you can survive. With a possible game-master pulling the strings, kids are killed off in quick succession for either expired visas or by dying inside the games. And the kill-count is extremely high.
Having just been renewed for a second season,. Alice In Borderland is a deliciously dark thriller well worth checking out.
---
29 – Hospital Playlist
Among the multitude of medical dramas out there, Hospital Playlist stands out thanks to its natural and touching story line. The way it interweaves our five doctors with their colleagues and patients is really well-handled and partly the reason this Korean drama works as well as it does.
While the first few episodes can be a little confusing with the high number of secondary characters introduced, it's easy to get accustomed to who everyone is as they start interacting with our five main doctors.
The chemistry between the best friends is excellent, portraying their warm friendships with one another very naturally. There are plenty of fun moments between them during the runtime of the season too, and from their many meals together to those amusing rehearsals, their bond is ever-present. 
It may take a while to get going but once it settles into a consistent groove, Hospital Playlist kicks into high gear in the best way possible.
---
28 – Mystic Pop-Up Bar

Based on the popular web-comic "Ssanggabpocha", Mystic Pop-up Bar marks the first Wednesday/Thursday show aired by JTBC this year. With an original story and some great chemistry from the cast, this  Korean drama hits all the right notes when it comes to humour, tension and world building.
It tackles a lot of important themes around life and death too, along with the consequences of our actions which offers up a nice layer of depth to this series.
The story mainly revolves around Weol-Ju who runs the mystic Pop-up Bar at night. Due to her actions in the past, she has been sentenced to settle the grudge of 100,000 people or she will be sent to Hell. She is also helped by manager Guibanjang who always stays by her side.
With time running out, Weol-Ju becomes desperate and seeks the help of Han Kang-Bae who has the ability to make people spill their secrets just by touching them. The story follows the trio as they help each other reach their goal while some deep secrets and revelations are uncovered along the way.
Humorous, tightly written and cut short before its time, Mystic Pop Up Bar is definitely one of the better dramas this year.
---
27 – Quiz Season 1
Back in 2001, Charles Ingram shocked the world by winning £1 million on ITV's wildly successful game show, Who Wants To Be A Millionaire. With question marks raised around the validity of his win and plenty of scandalous buzz surrounding this in the subsequent months, Quiz is a faithful adaptation cataloguing what happened during this time, with three parts that act as the beginning, middle and end of this story.
Was Charles Ingram really the innocent party here or did he use the coughing technique to his advantage? I guess that's the million pound question and whether we'll ever find out the truth or not, remains to be seen. Despite all this, Quiz is well worth watching and one of the best mini-series ITV have put out in quite some time.
---
26 – Beastars Season 1

Imagine an adult version of Zootopia, complete with an undercurrent of sex, violence and murder. This perfectly illustrates exactly what Netflix's latest anime offering Beastars has in store for you. Split across 12 episodes of hand-drawn animation, Beastars is a well written, surprisingly reflective series that touches on issues of sexism and racism in a way that feels organic, using the animal-inhabited world to depict clear divides between carnivores and herbivores. All of this however, is back-dropped by a murder and a thick dose of "whodunit" interwoven with these social issues.
Most of the action during this first season takes place in Cherryton Academy, a fictional school that sees its foundations rocked when a shadowy carnivore murders a llama named Tem. As hostilities grow and the battle lines are drawn between the two sides, at the centre of this conflict lies a gentle wolf named Legoshi.
All of this builds up to a climactic few episodes toward the end where Haru's life hangs in the balance and secrets are revealed.
---
25 – The Great Pretender

Great Pretender is a really, really great anime. Across its 14 episodes, this confident animation combines elements of Carmen Sandiego and the affluent style of Picasso surrealism to create one gorgeously rendered heist series.
Great Pretender is well written, beautifully paced and easily one of the most visually striking anime to be released in quite some time. The different arcs allow each of the characters a chance to hit the spotlight and the flashbacks are consistent and enhance the material on screen.
While the second half does lose some of the momentum the first had in abundance, it's easy to look past that with such a satisfying conclusion. This is easily one of the best animes of the year.
---
24 – His Dark Materials Season 2

His Dark Materials was one of the biggest surprises last year and this year follows suit with a satisfying follow-up of fantasy action. The decent acting and storytelling combines beautifully with the world building on offer, making for a wholly absorbing and satisfying watch. The show never outstays its welcome either and with only 7 episodes, this s a short, snappy, concise season of entertainment.
The story this time around centers on the fabled Subtle Knife which could prove to be the difference in the coming war which will inevitably encapsulate the already-greenlit third season.
With a well written plot, a breathtaking finale and lots of memorable moments, His Dark Material is one of the better fantasy shows to be released in 2020.
---
23 – Kairos

Shows involving timelines and rewriting time can either go horribly wrong or perfectly right. There really is no middle ground. With a simple but effective hook, a smartly written script and some endearing, well rounded characters, Kairos is the best show in 2020 you've probably never heard of.
Kairos is one of the smarter written sci-fi shows this year and it's a shame more people aren't aware of this. The 16 episodes are consistent tense, dripping in suspenseful moments and excellent twists. All of this builds up to one of the more satisfying conclusions to any drama released this year.
---
22 – SF8 Season 1
If there's one thing Korean dramas do incredibly well – it's tell a competent and driven story. Following in the footsteps of both Inside No. 9 and Black Mirror, Korea's latest sci-fi anthology SF8 is a worthy contender in that field. MBC's series takes clear inspiration from both of those aforementioned Western titles but blends them in with an authentic Korean tone to make for a wholly unique experience.
There's 7 well-written and thought provoking tales to choose from and these cleverly branch out across a range of different genres. One episode for example explores the possibility of AI companions. The tone is slightly comedic but there's a larger message about self-driving cars and their possible faults. Elsewhere, Prayer (our personal favourite) looks at the bleak idea of hierarchical robot nurses.
While it's unlikely to hit the prolific heights of something like The King: Eternal Monarch or My Love from the Star, there's a moody, atmospheric anthology here well worth checking out.
---
21 – Little Fires Everywhere
Little Fires Everywhere is a show that's worth sticking with until the end. Hulu's latest familial drama will almost certainly draw comparisons to Big Little Lies and with both Kerry Washington and Reese Witherspoon in the driving seat, it's easy to see why.
Armed with an intriguing mystery, lots of commentary surrounding class and race and a dynamic power struggle that changes and evolves throughout the season, Little Fires Everywhere is a smartly written drama and one of the better shows of the year.
The story begins with an intriguing mystery. Elena Richardson and her family look upon the burning wreckage of their family home. Someone has set it alight and all fingers point toward Elena's troublesome youngest daughter Izzy. But is she really to blame?
This is an absorbing family melodrama that portrays its socially charged themes across the different episodes beautifully. It may not be perfect but those little fires in the show certainly grow into a raging inferno by the end, and that's certainly a sight to behold.
---
20 – The Mandalorian Season 2
The Mandalorian is probably the closest we'll come to a perfect video game adaptation on the small screen. With a season chock full of formulaic fetch quests and mystery, The Mandalorian expands on its first season to deliver 6 episodes of pure Star Wars action.
This time around there's a lot more self-awareness and that brings with it a lot of confidence, combined with several fan-pleasing arrivals that makes The Mandalorian one of the best Star Wars IP's since the original trilogy.
With The Child's origins explored and lots of well-shot action throughout, The Mandalorian continues to excite and satisfy in equal measure. With a third season already confirmed for 2021, this certainly isn't the last we'll see from this revitalized small-screen gem.
---
19 – Gangs Of London
Gangs Of London is a show of two halves. The brilliant, bloody, brutal opening five episodes pave way for a moody, melodramatic and miffed plot line that peters out for a more relaxed four episodes to close the show with.
It's still good but it's not edge-of-your-seat excitement like the first half was. That's a shame because Gangs Of London is at its strongest during those aforementioned action sequences. These are easily some of the best on the small screen in quite some time – and certainly the best from 2020.
For the first five episodes, the show delivers a hedonistic cocktail of big action set pieces back-dropped by a Wild West war as families wrestle for control of London. It's easy to look past some of the contrived dialogue or the spotty acting at times because the action and pacing is just so good. This one is well worth watching.
---
18 – Castlevania Season 3
Castlevania is one of the biggest surprises this year. From the gorgeous backdrops and slow-building story, Netflix's latest anime offering is a reminder that hand-drawn animation is still as popular and effective as it's ever been.
If you're after a decent anime and a continuation of the good work done in the previous Castlevania seasons, these 10 episodes absolutely deliver. While some may lament the cliffhanger ending and the slumped middle portion of episodes, the season as a whole does a fantastic job elevating this franchise and standing proudly atop the video game adaptation podium.
For that alone, Castlevania is well worth a watch and if you've made it this far, you'll almost certainly be thirsty for more of this franchise's blood when the final credits roll.
---
17 – Extracurricular

Extracurricular is a clever little Korean drama. It's one that sets itself up to portray a simple high school drama but soon blossoms into something far deeper and darker than initially presented. Tackling some incredibly taboo topics and doing so with a dramatic and tense story that only becomes crazier the longer the show goes on for, Extracurricular is an excellent drama.
The story revolves around Ji-Soo, a model student in the eyes of teachers and other students. He keeps his head down, has no friends and spends most of his days acing exams and staying invisible. Under this facade however is a darker truth to Ji-Soo's persona which is revealed in the first episode and continues to snowball as his tight-knit operation goes horribly wrong.
In order to pay for his tuition, Ji-Soo goes under the alias of "Uncle" and provides security for girls conducting compensated dating. Among those girls is fellow high school student Min-Hee and an incident involving her early on proves to be the catalyst for what follows further down the line.
Extracurricular takes all the usual tropes and clichés you'd expect in a K-drama and throws them out the window, replacing them instead with something that blends Western and Eastern influences. This is definitely one of the better dramas released this year.
---
16 – Kingdom Season 2

Thrilling, exciting and politically intriguing, Kingdom is quite simply a fantastic show that nails all of its elements to near-perfection. The first season did well to set the scene and establish some very simple conceptual rules for our undead to follow and this time the show builds upon that in the best way possible.
Kingdom throws everything including the kitchen sink into its second season, delivering a chaotic, well-written plunge into a nightmare-fueled journey to try and save the kingdom from the cruel Queen. With Lee Chang returning to lead the fight, Kingdom successfully achieves what very few Western properties have managed to do – making zombies a terrifying threat once more.
---
15 – The King: Eternal Monarch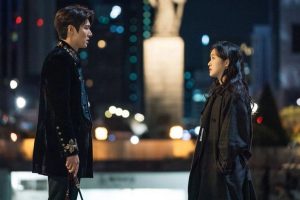 Shows involving time travel are always tricky to pull off correctly. From plot holes and convoluted lore to stories rife for contrivances and confusion, The King: Eternal Monarch begins with a fair amount of confusion before righting itself and becoming something wholly engrossing and highly enjoyable. Between parallel worlds and a love story anchoring everything together, this hugely popular Korean drama is helped by a returning Lee Min-Ho who fronts this sci-fi series and helps add a lot of charisma.
The story itself revolves around two parallel worlds; the Republic of Korea as we know it and the Kingdom of Corea. In Corea, the King is killed by his Uncle, Lee Lim, while his son Lee Gon faces certain death at his hands. Thankfully, a mysterious cloaked figure approaches and saves him from his fate, fighting through the guards and forcing this man to flee. The only remnant left behind is an ID card for a woman named Tae-Eul.
From here the story settles into a methodical pace as sci-fi blends with romance and mystery nicely, crescendoing at the end into a big dramatic showdown. This is definitely a must-watch for 2020.
---
14 – It's Okay To Not Be Okay
It's Okay To Not Be Okay certainly doesn't shy away from portraying important mental health issues and it does so in a very natural way. From emotional and physical abuse to learning difficulties, the drama tackles these perfectly with one message in mind. Just like the title itself, it is okay to not be okay and to seek help, whether professionally or from the support of friends and family.
The story revolves around brothers Moon Kang-Tae and Moon Sang-Tae. They have lived alone since they were very young. After their mother passed away, Kang-Tae has been doing the best he can, protecting and looking after his older brother.
The series has an original and heartwarming premise with excellent character progression and interesting themes. It's not easy to portray mental health issues but this drama does a great job depicting this in its rawest form, helped along by some impressive acting from the entire cast.
---
13 – The Midnight Gospel
The Midnight Gospel is a very clever, brilliant and thought provoking piece of television that perfectly captures this juxtaposition between beauty and chaos. There's something oddly charming and uplifting about this, despite its sombre tone, and while some may be put off by the format, others will see this as a work of pure genius.
At the heart of this madness lies Clancy, an intergalactic traveler who spends his time using a malfunctioning multiverse simulator to interview different beings. Although there is a consistent narrative thread woven through all the episodes and a couple of recurring jokes, the episodes themselves stand largely on their own, with a different theme or topic explored in each.
Ultimately, The Midnight Gospel is a beautiful work of art and much like some of the best pieces in galleries, not everyone will like it – and that's okay. For those who do though, Netflix's latest animation may just prove to be one of the best shows of the year and it's one of those rare series that gets you thinking long after you've finished watching.
---
12 – The Umbrella Academy Season 2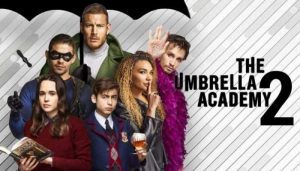 With a timeline distorting, twisty-turning story that sees our characters facing a brand new apocalypse, Umbrella Academy adds more wit, more surprises and more action to 10 well-written episodes. However, there's also a constant feel of deja vu as The Academy tread well-worn ground.
After the events last year, The Umbrella Academy picks up moments after the group travel through time. Avoiding the meteor hurtling down to Earth, our six heroes find themselves scattered around 1960-1963. Early on, the season sees each of our heroes given their own story arc while Five scrambles to collect them all up and stop a brand new apocalypse from destroying the timeline again.
Despite some cliched ideas for Vanya's character and a couple of slower episodes, Netflix's superhero series is still a winner and will almost certainly leave you desperate for season 3.
---
11 – What We Do In The Shadows Season 2
Staying true to the source material and playing on everything that made the first season so great, What We Do In The Shadows returns for 10 more episodes of comedy and a consistent storyline that rounds things out beautifully with a wonderful crescendoed finale. 
The story this time around picks up on some of the themes explored last season but largely focuses on Guillermo and Nandor's fractured relationship as Vampire and Familiar. With Guillermo desperate to become a vampire and Nandor reluctant to turn him, the two come to blows and it causes uneasiness in the house.
This conflict is only further exacerbated by Guillermo leaning into his vampire hunting roots and trying in vain to dispel the familial links he has to Van Helsing. Of course, in true Shadows fashion things are not as simple as they seem.
With a third season already green-lit, What We Do In The Shadows is quite simply one of the funniest comedies on TV right now.
---
10 – The Boys Season 2
When The Boys dropped on Amazon Prime last year, it completely changed the superhero game. The satirical tone complimented the comics well and the abundance of violence, gore and strong character-writing made for one of the more memorable shows in recent history. Given the cliffhanger ending, fans eagerly awaited what season 2 had in store for us.
In fact, The Boys bursts back on the scene with a bloody good opener, one that embraces all the elements that made the first season so compelling and builds on that across the season. Not only that, The Boys cranks up the tension and drama ten-fold with some excellent new inclusions to the cast
The action is well-shot, the characters beautifully written and this volatile cocktail looks set to explode at any moment. In the ensuing carnage we're left with one of the best shows from 2020.
---
9 – Itaewon Class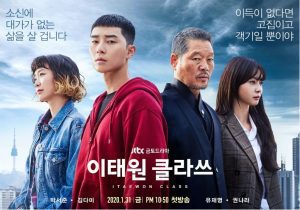 With several time jumps and plenty of drama across its 16 episodes, Itaewon Class is a solid series that keeps up a consistent level of intrigue and pacing through its run time, bowing things out with a perfectly written ending that makes the journey well worth taking.
The story revolves around rebellious high school student Sae-Ro-Yi, who finds himself entangled in a blood feud with a bully named Geun-Won following the shocking death of his Father. Consumed by rage and subsequently thrown in prison, Sae-Ro-Yi finds himself antagonized by the Chairman of Jangga but remains determined to get his own back, even if it means sacrificing himself to do so.
From racism and sexism through to highlighting the role of transgenders in Korean culture, Itaewon Class doesn't shy away from a lot of the controversial topics and handles them with respect throughout. There's never a moment where these feel contrived or forced, organically adding to the experience of the show.
---
8 – Unorthodox
Poignant, well-written and incredibly moving, Unorthodox is an example of how to tell a simple story well while nailing every element of its production to perfection.
Told across three different timelines, Unorthodox essentially revolves around a young Jewish girl called Esther Shapiro (or Esty to her friends and family) who flees from an oppressive pre-arranged marriage and her community in Manhattan to start a new life in Berlin by finding her estranged Mother. Along the way Esty makes new friends, learns about love and passion while embracing music again; her one release from an otherwise suffocating life.
Based on the best-selling book of the same name, Unorthodox combines some moving performances with an empowering story of femininity, belief and confidence. With four parts clocking in at around 50 minutes, this tightly-woven story never outstays its welcome and does well to weave different themes through each episode to form one cohesive, must-watch mini-series.
---
7 – I Know This Much Is True
Blood is thicker than water and in the case of the Birdsey Twins, that quote is seriously put to the test. Across 6 episodes, I Know This Much Is True explores the turbulent relationship between two brothers while presenting big themes about depression, grief and love. There's some lovely juxtapositions throughout the drama and the flashback sequences work well to add more depth and flesh out what happened in the past to set these two brothers on the path they ultimately choose.
The story begins with an introduction to our two main characters, Dominick and Thomas Birdsey. Suffering from serious mental health issues, the series opens with a sombre and shocking moment inside a library as Thomas recites passages from the bible and cuts his own hand off.
This ultimately sets the tone and mood for what follows as Dominick struggles with the authorities to prevent his brother from being moved to a more secure and strict psychiatric hospital.
This lays the foundation for this emotional narrative but the underlying issues go deeper than that. Across the 6 episodes, layers are peeled off to reveal a very raw and emotional centre as Dominick's baggage he's been carrying all these years is laid bare. It may be a little slow for some but the character driven writing is fantastic and easily Mark Ruffalo's best work.
---
6 – The Queen's Gambit
As Aristotle once said, 'No great mind has ever existed without a touch of madness.' This quote encapsulates the entirety of Netflix's wonderful new mini-series, The Queen's Gambit. Serving up a delightful blend of period drama and a rags-to-riches story, The Queen's Gambit stitches these two genres together with a compelling coming-of-age narrative about a brilliant but troubled young chess prodigy.
Like a chess game itself, every episode moves the narrative forward to its ultimate checkmate as we follow young orphan Elizabeth Harmon through the years as she competes at chess tournaments and tries to prove herself as the best in the world. On paper, it's a simple narrative that's been played out repeatedly in different mediums. Only here, it feels like it's been given fresh legs thanks to an equal amount of empowering femininity and a troubled, haunting past for Beth to overcome.
The episodes are perfectly paced, there's a great deal of effort put in to make every character interesting and the story crescendos beautifully at the end to produce a wholly satisfying conclusion. This is a definite must watch and one of the best from 2020.
---
5 – Flower Of Evil
In a year that's given us so much great Korean content already, it's no mean feat to say Flower Of Evil is up there with the best. It's a romantic, dramatic, action-packed thriller that somehow blends all these genres together without getting lost in its own complicated plot.
The story itself plays out as a combination of both a procedural crime drama and a cat and mouse thriller. Baek Hee-Sung is a man with a very dark past. Hee-Sung is seemingly happy in his marriage to police detective Ji-Won, with a loving daughter Eun-Ha offering up a semblance of normality for him.
Only, a string of unexplained murders point to Hee-Sung being the culprit behind this. Adopting a fake persona and unable to feel any emotions, it soon becomes apparent that Hee-Sung is not at all what he seems. Could he be responsible for these murders? Or is there something else at work here?
To give much more away would be a disservice to the story but suffice to say, this is one twisty turny thriller you'll want to watch through to the end.
---
4 – Inside No. 9 Season 5
In a year where BBC have stumbled and staggered, producing an equal mix of duds and hits, Inside No 9 stands out as a shining beacon of hope. With the usual offering of six episodes, Steve Pemberton and Reece Shearsmith combine yet again for another marvelous season of screenplay brilliance.
Not only are the episodes well written, they're also arguably some of the best material this anthology has put out to date, once again raising a high bar for other prolific anthologies like Black Mirror to aspire to hit.
From a multi-layered twisting story about magicians, through to a referee forced into making a terrible choice, there's a lot of variety within the relatively simple set-up for each story. In true Inside No 9 fashion, the plots are never quite as simple as one may think and the various twists at the end are delivered perfectly. This time though, there's a lot more self-awareness around this which the duo play with multiple times across the season. This is pure, sci-fi brilliance and a worth high entry on this list.
---
3 – Normal People
Normal People is a simple enough drama and revolves around two normal people trying to find love. It's not necessarily an original concept but where Normal People excels is in its execution.
Split across 12 episodes, each clocking in at around 30 minutes each, Normal People follows the trials and tribulations of these two Irish teens, Marianne and Connell, as they navigate life and try to find romance. It's a beautiful, realistic and at times incredibly moving series that makes the most of its limited run-time to deliver a stunning slice of drama.
---
2 – Dark Season 3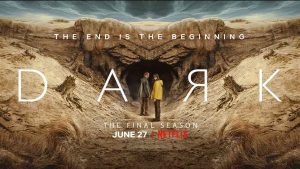 German Netflix Original Dark is unlike any other show on TV. With an intricate knot of timelines, family trees and layered timelines, Dark's first season sneaked its way onto the streaming platform back in 2017 and has only grown in strength over time.
Last year's second season served up an almost-perfect effort and the intensity for some of those episodes, combined with the extra couple of timelines, gave Dark a much more complex feel and ended things on an almighty cliffhanger.
With that cliffhanger comes this third and final season that not only wraps everything up in a satisfying way, it does so with enough finesse and thought provoking drama to make for one of the finest TV series of 2020 and easily one of the best time travel shows ever created.
There's a lot of symbolism, depth and discussion points to dissect but suffice to say, Dark makes sure it ends on a triumphant roar to deliver a phenomenal achievement on the small screen that'll be very difficult to top going forward.
---
1 – Crash Landing On You

Who knew an innocent paragliding incident would cause such a stir in the k-drama world? Crash Landing On You has been dubbed by many as 2020's crowning jewel – and for good reason too.
This is arguably the gateway drama that attracted a whole new crowd of people to experience Korean dramas, thanks in part to Netflix's new string of International deals.
Crash Landing On You manages to effortlessly blend romance, action and comedy together into one heady cocktail of delight.
The main protagonist here is Se-Ri, a rich South Korean who finds herself caught in a strange land with strange people. As she starts to learn more about the North Koreans she finds herself living with, she finds herself caught in a dangerous game of cat and mouse and is desperate to return home.
There's a wonderful juxtaposition between North and South Korean values, with the second half of the show turning things upside down. In doing so, it paves way for some of the smartest comedy and heart wrenching sadness to grace the small screen in 2020.
Crash Landing On You features all the twists and turns that leave you speechless, in tears, elated – or even all three at once! Crash Landing is TV writing at its finest and one that's our pick for the best TV show of 2020.
---
Final Thoughts
So there we have it, our picks for the top 40 TV shows of 2020. There's been some memorable hits, some solid follow-up seasons and plenty of International IPs battling it out for supremacy. In the end, Crash Landing On You was the show that stole our hearts and votes, delivering a sensational slice of Korean drama that managed to break through the mainstream and gain an International audience unlike any other show on this list.
With lots of new shows on the horizon, we truly are in the golden age of television and as always, our team at TheReviewGeek will be there every step of the way to celebrate the best and despair at the worst.
From all of us here though, thank you for your support and comments across this year. 2020 has been an amazing year of television; a small glimmer of hope in an otherwise gloomy year for many people.
---
Do you agree with our list? What was your favourite show of the year? Let us know in the comments below!
Updated 28th December – Added It's Okay To Not Be Okay at number 14. We highly rate this drama and not quite sure how it missed the list originally!