The Best Love-Making Scenes in Thai BLs 2022
Thai Bls this year gave us a lot to gulp over and don't get us wrong, we are certainly not complaining. From the actors to the storylines and exquisite cinematography, everything has been well executed to seamlessly portray the connections between characters. Here is the list of the best sex scenes that left us picking our jaws from the floor.
---
Kinnporsche
Episode 4 led to a lot of talk about clear consent and it is important to have these discussions. Episode 7 left us clutching our pearls and heading to the confession room because the actors truly delivered. I loved what Mile and Apo said about the scene in the BTS (Behind The Scenes) vlog on YouTube. They talked about how sex is another way to express love for one another and to clear misunderstandings between a couple.
Kinnporsche broke the mould with its eroticism but it was also a perfect portrayal of raw human desire and showcased a passionate love story without any restraints. Throughout their love scenes, from the glass wall, turbulence and even the swimming pool, viewers got to see the deepening emotions between the two characters.
In a mafia world where tomorrow is not guaranteed, these characters found their own way to express their love for each other in a way that they could understand.
---
Love In The Air 
The riders association's members gave us many amazing NC to choose from. It is hard to choose between phayu daddy's lesson, Rain reminding us riding is a healthy exercise and Phayu marking his territory in ep 4 . Rain and Phayu perfectly expressed their pure love and desire for each other in every love scene. These two communicated so well and we love that Phayu always made sure that he made Rain feel safe.
Prapai and Sky also took us on a whirlwind of emotions since for them sex meant more than just release. In the beginning, for Prapai and Sky, sex was about control but in the end, it became an avenue for Sky to show his trust for Prapai. It was also a way for Prapai to assure Sky that he is different from his toxic ex. Their love scenes were more about expressing assurance and in a way the healing that comes with finding love.
---
Cutie Pie 
Cutie Pie really understood the assignment when it came to consent and making all of us blush. Don't let the title of the show fool you, the chemistry between Kuea and Lian during their love scenes was nothing short of sizzling.
Lian was always so considerate of Kuea and took his time to ask for consent throughout every stage. The undeniable chemistry between these two made us feel like we are intruding on an intimate moment. There was no awkwardness or cringe and it felt as real as it was passionate. This is something really hard to see on most shows and kudos to the actors for making it so natural.
We also had Khondiao and Yi who took our breaths away when Yi finally chose to give in to his feelings. I loved how gentle Yi was with Khondiao and it felt like the perfect moment for them to settle their differences and chose their happiness. This moment was about them confirming their deep feelings for each other.
---
Love Mechanics
Episode 7 was the culmination of Vee and Mark's feelings for one another. Vee had been confused with his current situation with Ploy and how he felt for Mark. The minute Vee confessed his true feelings to Mark, it was almost cathartic and gave Mark a sense of security in their relationship.
The director did an amazing job with this scene, from the way the music slows down as Mark turns around to kiss Vee to how it intensifies as they kiss passionately in the shower. It felt like Mark's slow hidden longing to win Vee's heart was finally coming to fruition. Even in the last episode, we were able to see their growth as a couple from how comfortable they were with each other.
---
Between Us 
Win heard make consent look sexy and ran with it. I think we can all collectively agree that consent has never looked or sounded so good. Only Boun could have pulled this off and he is officially the consent king.
The relationship between Win and Team is relatable to most people as so many relationships have started with sexual chemistry and then blossomed into something even more beautiful. It is interesting to see how these two navigate this situation.
It is almost one of their love languages and there is something so pure and raw in the way Win looks at Team when he wants him. It is a look of love and desire and even though he doesn't say it to Team, it is clearly there.
---
Big Dragon 
This is most probably one of the best enemies turned lovers shows of the year. For Mangkorn and Yai, a night of iniquitous plans went wrong and led to them starting a relationship.  What I loved about these two is the comedic aspect of their love scene.  Yai learnt the hard way why he shouldn't mess with a big dragon, no pun intended! Karma caught up with him quickly.
Over the course of the show, they confirmed their feelings for each other by not holding back. The intimate moments between them helped cement their love for each other and get rid of any confusion that they don't like each other.
These scenes were executed so well that viewers can't help but root for their happiness. MosBank did a fantastic job in this series. Did episode 7 give you butterflies too?
---
Ghost Host, Ghost House
The progression leading up to the love scene between Kevin and Pluem felt natural. It was cute and romantic when Pluem takes his time to tell Kevin the things he likes about him. Even the way he held back until he got consent from Kevin. There is a sense of innocence and vulnerability that elevated this scene further.
---
War of Y (Billy Seng)
Nott and Pan gave us a new meaning to "workshop" and we have been questioning a lot about the Thai BL industry since this episode dropped. It is not our first rodeo with BillySeng so we know they can deliver a hot NC scene.
They have gripping chemistry and it was interesting to see the characters they play in this series fall in love. In the show, they are taking their on-screen chemistry as actors to another private level.
They start developing feelings for each other but a few things keep them from being together publicly. It is interesting how sex is used in this show, Nott and Pan had sex to use each other as well as get close to each other.
---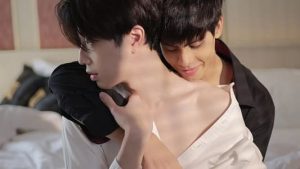 Check Out
For this list, we will focus on Episode 0 and the special episode. This show had a lot of potential but the terrible scriptwriting ruined it. However, we need to give credit where it is due and admit that Nine and Daonuea did their best to portray their desire for each other.
You could sense Nine's hunger for Daonuea and his desperation to be with him. Sadly, his ex and other things were holding them back from each other. Although the storyline was sleep-inducing, to say the least, the love scenes were well executed.
The scene between Tee and Ice deserved to be mentioned as well. Don't act like you were not "shook" by what happened between them in that finale. They should have gotten more screen time!
---
So there we have it, our picks for the best love-making Scenes in Thai BLs.
What do you think of our picks? Do you agree? Are there any notable omissions? Let us know in the comments below!
---