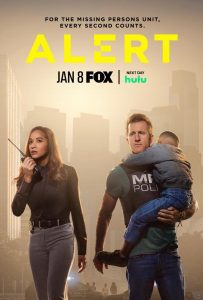 Chloe
Episode 1 of Alert: Missing Persons Unit season 1 starts with Jason in Kandahar, Istanbul. He and his partner are trying to help a girl sitting on a bomb. Jason assures her that she will be okay and refuses to leave her behind.
He tells the girl about his son Keith as he tries to keep her calm. He manages to get the girl off the bomb but something slips and the bomb starts ticking. Luckily, they are able to make it out before it explodes.
Later, the team of soldiers celebrate their successful mission and Jason's departure from the team. While at the party, he receives a call from his wife, Nikki informing him that their son is missing. She tells him that the Missing Persons Unit (MPU)has verified that their son was abducted. Jason promises to get home and find their son himself.
We flash forward to six years later, in Philadelphia. Jason and Nikki are getting a divorce after being separated for three years. They are both in different relationships, Nikki is dating Mike, and Jason is dating a woman named June and they run a private security company together.  Jason dropped by Nikki's house to drop off the divorce papers.
Nikki gets an alert about a missing child and says she has to go. Jason tells her that he doesn't understand how she can work for MPU when they never found their son. He points out that their son Keith would have been turning 17 in the coming week. He signs the divorce papers and apologizes that their marriage didn't survive losing a child.
At work, Mike updates Nikki about Chloe's abduction. The girl was kidnapped 32 minutes ago and every second counts. Kemi turns to her prayers to help and asks for guidance to work through the case. Mike is skeptical but Nikki is open to any help heavenly and earthly to find Chloe.
Nikki talks to Chloe's parents and they demand to see the video of Chloe's abduction. Nikki assures them they will do their best to get Chloe back. They get a call about a sighting of a girl fitting Chloe's description at a hotel. They head to the hotel and find the kidnappers trying to flee with Chloe. Nikki does her best and stops them before they manage to escape. She saves Chloe.
Meanwhile, Jason visits a fertility clinic to find out why he and his girlfriend are having trouble getting pregnant. He gets a call from Sidney (his daughter with Nikki) and she informs him she is going to a friend's place. He receives a message and quickly leaves the clinic.
Back in the office, Mike proposes to Nikki and she says yes. Their lovey-dovey celebration is cut short by Jason who insists on showing Nikki new information about their missing son, Keith.  He received a picture of Keith holding the day's newspaper. He believes their son is alive but Nikki is not sure the boy in the picture is their son. She is terrified it is another dead end.
She takes him to see C Hemmingway who specializes in doing facial recognition from human remains. She asks him to show them the age progression photos of Keith and Jason is certain that the boy is Keith. C thinks the photos are not a great match and it is inconclusive. Jason asks Kemi to find out where the recent photo of Keith was taken.
Nikki leaves to take Chloe home and leaves Jason at the office. Mike asks Jason to help with Chloe's case as the kidnapper is not talking. Jason notices that the kidnapper is wearing a ring with a terrorist sign. He interrupts the interrogation and the kidnapper tells him that although he failed his mission the kidnapping will succeed.
They realize Nikki is in danger and send her a message. Nikki sees the message while she is in the elevator with two other kidnappers. She manages to kill one but the other one kidnaps Chloe again.
They bring in Chloe's parents for interrogation and the mom accuses the husband of putting their daughter in harm's way because of his job. It turns out that the husband is a CIA and can't tell them classified information.
Jason follows up with the case and Nikki tells him that at the moment there is nothing they can do until the dad gives them a lead. They start talking about who was at fault when Keith went missing and agree it was no one's fault. Nikki brings up the fact that June and Jason are trying for a baby. Jason drops a bombshell that he has been faking his orgasms and he doesn't want to have another baby. Nikki asks him to tell June the truth.
She brings up Mike's idea to hire Jason to be part of the MPU. Kemi interrupts their conversation and tells them the photo of Keith was taken in a room in The Blue Paradise hotel in Vegas. They head to the hotel with SWAT but the room is clear. They only find a burner phone that rings and Jason picks it up. The caller demands one million for the release of Keith. Nikki thinks they are being played but Jason insists that they need to invest further into the case.
Finally, Chloe's dad discloses the case he worked on that might have led to his daughter's kidnapping. He gives them 50 names of people in a case that involved targeting terrorists in Libya and killing them using drone strikes. The team uses the list to find the next of kin who might want revenge. Nikki recognizes one of the terrorists from the photos Jason managed to get from his connections in his past job.
Jason comes up with a genius way to make the terrorist they arrested talk. He tells them that the plan was for Chloe to wear a bomb at the Måneskin concert. They immediately issue an evacuation order at the concert venue. They find Chloe backstage under the stage wearing a bomb.
Nikki and Jason remain with Chloe and Mike tries to find the terrorist leader, Saad. Jason calls an old pal to help him defuse the bomb. He assures Chloe she will be okay.
Mike finds Saad and he refuses to surrender, he shoots him before he detonates the bomb and Nikki luckily defuses it in time.
As they celebrate getting Chloe back, Jason gets a call from Keith. They drive off in a hurry and find him being treated by paramedics outside a convenience store. They are happy to be reunited again but his kidnapers are nowhere in sight. Keith wants to go home and they take him back. Sidney welcomes her brother home and they celebrate the miraculous return of their long-lost son.
Nikki calls Mike and is elated and thankful. She lets him know that Jason accepted the job offer. Mike was driving to her place and after seeing her dancing with Jason, he feels slightly jealous. Nikki asks him to visit another night, she didn't realize he was already outside, observing them through the window.
---
The Episode Review
It seems too good to be true but I suppose hope is all they had left and it led them to their son after six years. However, Keith is acting strangely and there is something terribly off about him.
This is the first episode but the writing was all over the place. I think they forgot that this is a police procedural drama and overlooked things you would expect to see.
I find it strange that Keith was taken home and no one asked questions about his kidnappers or how he escaped. It was all hugs, kisses and pancakes. Don't they want answers? I get the parents being happy but the police should be working the case, especially Mike since it was his case. What do you think?
Expect A Full Season Write-Up When This Season Concludes!