It can be hard to keep track of everything on Netflix. With so much new content added every day, there could be TV shows or movies that you may have missed out on.
So, while you have probably binged your way through Stranger Things, Squid Game, and Heartstopper, and added such popular Netflix movies as Red Notice and Don't Look Up to your watchlist, let's consider those titles that may have slipped you by.
Feel free to check out the below links to jump straight down to the season of your choice, otherwise let's begin!
---
TV Shows
There are hundreds of great shows on Netflix but it's almost impossible to watch them all! But if you're looking to find something new to sink your teeth into, you might want to consider the following:
On Children
If you enjoy sci-fi anthology series in the vein of Black Mirror but want something that beats to its own drum instead of another carbon copy, you might appreciate this Taiwanese series.
From a tale about a mother who can control her child with the use of a remote control, to a story about a magical peacock that can grant people wishes, there is much to enjoy in this show that mixes the bizarre with insights into Asian culture.
You can read our thoughts on On Children in our full season review here!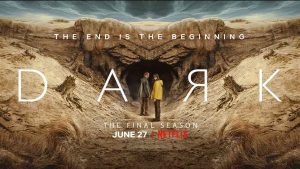 Dark
Stranger Things isn't the only decent sci-fi fantasy show on Netflix as there are scores of others too. Dark is just one of them but if you're averse to any shows that are subtitled, you are missing out on something great here. This German series about missing children, time travel, and interconnected family dramas is spellbinding stuff, even if you do need an online guide to help you with the who, what, and whens of this convoluted mind-boggler.
You can read our thoughts on Dark in our full season reviews here!

On My Block
Coming of age dramas are commonplace on Netflix but very few of them explore the lives of teenagers from Black and Latino neighbourhoods. This is why On My Block is so special as it focuses on a group of high schoolers from these communities.
While it covers such familiar topics as first love and sexual exploration, it also chronicles the unique set of struggles that these kids have to face daily, such as the threat of gang violence and the various demands that are placed on them because of their cultures. Thankfully, this now-cancelled series is as funny as it is dramatic so don't be put off by the overall premise.
You can read our thoughts on On My Block in our full season review here!

Special
If you're looking for LGBT representation on Netflix, you could consider Heartstopper, Sex Education, One Day At A Time, or one of the many other popular shows on the streaming service. But what about something that includes disability representation too?
There aren't many shows out there that blend the two, but this series about Ryan, a young gay man with cerebral palsy is one of the few that does. It's partly based on actor-writer Ryan O'Connell's own experiences so will certainly be relatable to you if you have anything in common with him.
It's laugh-out-loud funny at times and it's heartwarming too, and as the episodes are short in length, it won't even take you long to watch it.
You can read our thoughts on Special in our full season review here!

Blown Away
A competitive show about glass blowing? This probably sounds like the kind of show that probably wouldn't blow you away, especially if you have little interest in the challenging world of glass arts. This is still worth a chance though, as this is one show that pushes its contestants to the limits as they try to create something spectacular to satisfy the judges who are quick to remark if they don't like what they see in front of them.
You can read our thoughts on Blown Away in our full season review here!
Girl From Nowhere
Revenge is a dish best served cold. When it comes to mysterious Thai student Nanno however, it usually comes with a side order of violence and gore.
Back in 2018 this wonderful little Thai gem snuck onto Netflix without much fanfare. For those unaware, Girl From Nowhere follows the exploits of a schoolgirl called Nanno, who unashamedly skips between different schools.
In the process, she teaches lessons to different students who may be breaking the rules. These lessons can range from shifts in their own personal universe, to suffering physical abuse and even – if the occasion calls for it – death.
You can check out our full season reviews of Girl From Nowhere here!
---

Travelers
At first glance you'd be forgiven for writing off Travelers as another generic sci-fi show. Where Travelers stands out though, is the unique way it manages to weave its unique premise through a well written plot and believable, complex characters.
The story takes place hundreds of years from now, as surviving humans discover how to send their consciousness back through time into people of the 21st century. Desperate to change the fateful path of humanity, Travelers combines mystery, action and tension to great effect.
The show does well to conclude its three season run too with an epic finale that does just about enough to conclude this tale on a high.
You can read our thoughts on Travelers in our full season reviews here!
---

Marco Polo
Marco Polo's gorgeous cinematography and keen eye for visuals make it a very good looking series indeed. The sweeping vistas of 13th century Mongolia are breathtakingly beautiful and really make you feel like you've transported to that time period. 
The story follows the exploits of the Mongolian Army, led by the ruthless Kublai Khan, as he wrestles for power against the Chinese army. Caught up in the middle of this is explorer Marco Polo, who becomes entangled in the court of Kublai Khan and, consequently, part of the conflict between the Chinese and Mongolians.
The story dances between both factions but remains an enthralling watch despite some sluggish pacing at times. Sadly, Marco Polo was another Netflix casualty, cancelled after its second season. However, it remains a show well worth checking out.
You can read our thoughts on Marco Polo in our full season review here!
---
Daybreak
The story here revolves around Josh, a teenager having the time of his life in post-apocalyptic America. After a nuclear explosion decimates 99% of the adult population, the remaining surviving kids find themselves torn into factions and ruling over various different suburbs of California.
Desperate to return to his lost love Sam, the 10 episodes see loner Josh begrudgingly join forces with street samurai Wesley, pyromaniac Angelica and a whole host of other misfits as they go up against two separate antagonists across the season.
As a fun 6 episode romp Daybreak would work far more effectively than this 10 episode season and if I'm honest, the show never quite reaches those early season peaks again, despite some nice twists and reveals late on.
Still, despite its cancellation after a single season, fans of post-apocalyptic romps should find enough to like here.
You can read our thoughts on Daybreak in our full season review here!

Violet Evergarden
Boasting some incredibly emotional moments and a maturely written character-driven plot, Violet Evergarden backs up its impressive storytelling with stunning visuals.
The hand drawn animation is intricately detailed and Violet's journey as a character is masterfully crafted too.
Violet Evergarden begins in a futuristic world where robots and humans live and work together harmoniously. Serving as a devoted soldier in the Army under Major Gilbert Bougainvillea, Violet Evergarden (Yui Ishikawa) finds her career in the army cut short after losing her arms and requiring robotic limbs to replace them.
Bearing witness to her Major dying in her arms with his final words "I Love You" ringing in her ears, Violet sets out on a journey of discovery to find out just what these words mean. During her time, she winds up in a school to become an Auto Memoir Doll – robots that write letters on behalf of humans in an effort to learn more about human emotion. 
You can read our thoughts on Violet Evergarden in our full season review here!

Chefs Table
Netflix's innovative and stylishly presented cooking series Chef's Table takes us into the minds and inspiration behind some of the best chefs in the world. Through a mixture of interviews, archival photos and a healthy dose of classical music, Netflix whips us up on a culinary journey through the world of rich cuisine and innovation.
In this day and age it's difficult to find a unique slant on such an oversaturated topic, but Netflix deliver an interesting, educational and enthralling journey in the process.
You can read our thoughts on Chef's Table in our full season review here!

Better Than Us
Playing out like a Russian version of Channel 4's character-driven android romp, Humans, Better Than Us is a solid and relatively unknown series about androids living among us.
The story centers on a family that are on the brink of splitting up while also happening to be owners of a cutting-edge robot sought after by a corporation, homicide investigators and terrorists. As the season progresses, so too do the high stakes as this character driven drama does well to balance out world-building with very real human stakes.
Katla
This moody, atmospheric show absolutely revels in its unique mystery and there's undoubtedly a compelling hook to all this.
Katla takes place deep in the heart of Iceland. Mount Katla has been erupting for a year now and doesn't look like stopping any time soon. With the glaciers melting, something else stirs in the shadows.
An ash-covered woman emerges and walks toward the village of Vik, dazed and confused. Who is this woman? Why is she there? And what connection does she have to the town?
Although a little slow, Katla is undoubtedly one of the more unusual series on Netflix, and definitely a mystery box tat's flown under the radar.
You can read our thoughts on Katla in our full season review here!
---
Movies
You're spoiled for choice when it comes to something to watch for your weekly movie nights but while there are a lot of great movies on Netflix, there is a lot of rubbish too. If you have ever watched one of the 'comedies' Adam Sandler made for the streaming service, you will know what we mean.
To make sure you don't waste your time with a potentially bad movie, you might want to add these hidden gems to your watchlist.

I Lost My Body (2019)
An animated film that is told from the point of view of a severed hand? This has to be a horror movie, surely! Thankfully, it's not and it's not as silly as you might expect either.
I Lost My Body is an artful French gem about a hand that tries to find its owner, while across town, a young man falls in love with a girl and tries to win her over. The two plots come together at the film's end but if you want to know how, you will have to watch this beautiful and poignant story.
You Can Read Our Movie Review for I Lost My Body here!

Private Life (2018)
Paul Giamatti and Kathryn Hahn star in this emotionally raw movie about a middle-aged couple who are struggling to have a child. Into their life comes college dropout Sadie (Kayli Carter) who offers to be their surrogate but will she be the answer to their prayers? That would be telling but you can find out how this story unfolds by watching this wonderfully acted and naturalistic comedy-drama.

The Fundamentals of Caring (2016)
You'll know Paul Rudd from his turn as Ant-Man and the many comedies he has made over the years, such as Role Models and I Love You, Man. But have you seen this heartfelt, funny and moving Netflix movie? If not, you really should, as this comedy-drama about a carer (Rudd) who takes his client Trevor (Craig Roberts), a teenager with muscular dystrophy, on a road trip across America is really rather special. Selena Gomez also stars in the movie as the foul-mouthed hitchhiker they pick up along the way.

Tigertail (2020)
Alan Yang, the co-creator of Master Of None, made his directorial debut with this masterful drama that is loosely based on his father's life. It tells the story of Taiwanese man Pin Jui from his childhood to middle age and examines his experiences as an immigrant as he goes in search of the American Dream. It's a tale of hope as well as regret and is a beautifully made film that deserves to be seen.
You Can Read Our Movie Review for Tigertail here!

Tramps (2016)
You could be forgiven if you missed out on Tramps as it went under the radar on its release. But as this smartly written relationship story about two young people who meet under unusual circumstances is better than the majority of other teen romances you will find on Netflix, this is certainly worth your time.
The two leads at the heart of this film have since gone on to bigger things. Callum Turner is now well-known for the Fantastic Beasts movies and Grace Van Patten went on to star in the Andrew Garfield movie Under The Silver Lake and the recent mystery show Nine Perfect Strangers. But this quirky movie is arguably better than anything they have done since so it's well worth seeing if you want to watch a love story with a difference.
Beasts of No Nation (2015)
Behind the impressive cinematography, visceral imagery and enthralling plot, Beasts Of No Nation is simply a film about the pointlessness of war. At a little over 2 hours, this war drama could easily have outstayed its welcome but for two big performances that drive the narrative forward.
Beasts Of No Nation takes place in a fictional West African country that finds itself ravaged by civil war. Caught in the crossfire between the rebels and government, Agu and his family struggle to escape before war lands on their doorstep. What follows is a devastating, brutal ordeal for Agu as he tries to survive only to wind up in the company of the rebels.

I Am Mother (2019)
The best sci-fi films are the ones that manage to blend futuristic elements with a good dose of morality and thought provoking questions. Netflix's latest sci-fi thriller, I Am Mother, does this really well despite falling into the trope-filled traps so many other films have before it. Thankfully, some decent acting and a few well worked twists do enough to look past its faults and make this a sci-fi film worth checking out.
You Can Read Our Movie Review for I Am Mother here!

Oxygen
Oxygen is a clever little film, one that keeps you guessing right up to the very end. Propped up by a stunning performance from Mélanie Laurent, Netflix's latest cerebral thriller takes inspiration from 127 Hours, Saw and Buried, blending them up together, to deliver an enthralling French picture.
Gasping for air, a woman wrapped in a strange organic cocoon awakens. She's inside a cramped cryogenic chamber with no recollection of how she got there. With oxygen levels slowly decreasing and only computer AI MILO for company, Liz scrambles to work out who she is and – more importantly – how to escape.
You Can Read Our Movie Review for Oxygen here!

Okja 
After public controversy over GMOs and questionable business practices, Okja's story sees Lucy's business, the Mirando Corporation, unveil a new "Super pig" trial. 26 super piglets are to be distributed around the world. The best breeder, the person who creates the biggest pig after 10 years, will receive a lucrative sum of money.
After a noisy, bright 5 minute opening, the story changes pace to a dreamy, tranquil backdrop of an Asian jungle where Mija (Seo-Hyun Ahn) and her super pig Okja live together.
When Mija's pig is taken away as the winning pig in the competition, Mija follows Okja's kidnappers to try and save her pig from the powerful multi-national company.
You Can Read Our Movie Review for Okja here!

Athlete A
In recent years, the USA gymnastic team have developed some incredible talents, including Simone Biles. Unfortunately, this glossy facade of achievement and celebration hides a very dark and ugly truth. Athlete A lifts the curtain on this truth, exposing the shocking reality surrounding the abuse many of the girls suffered over the years.
With this issue stretching back years and over 54 coaches involved in sexual misconduct complaints, the film builds up a bleak picture of a corrupt hierarchy which allowed Dr Larry Nassar to get away with so much abuse for such a long period of time.
You Can Read Our Movie Review for Athlete A here!
A Sun
A Sun is a simple tale (albeit a rather long one) about a fractured family attempting to heal past wounds through a tragedy that brings everyone together. When you dive a little deeper however, this Asian film has multiple layers hidden within its aesthetic, themes and underlying message that make it a profound and wonderful cinematic gem.
Trouble-maker Chieng Jang-Ho (or A-Ho as he's more commonly known as) starts us off as he's thrown into a Juvenile Centre after chopping a boy's hand off. It's the last straw for his Father A-Wen who refuses to acknowledge his son's existence and pours all of his efforts into his "perfect" brother A-Hao instead.
When tragedy suddenly strikes, the fractured family attempts to heal and move past their painful differences.
You Can Read Our Movie Review for A Sun here!
---
These are just a few of the hidden gems you will find on Netflix but what did you think of our list? Have these shows and movies passed you by or have you had the opportunity to see them?
Let us know in the comments below and if there is anything on Netflix that you think we should have mentioned, feel free to share with us, for our benefit and for the benefit of our readers!