From the extended 16+ episode long stories to unforgettable characters, there really is nothing quite like a good Korean drama. There's also nothing quite like the hollow feeling of loss you experience when your favourite show ends.
Among the good, the bad and the ugly are some Korean dramas that stand the test of time and can be regarded as some of the best ever created. Here, we'll be showcasing and celebrating our favourite Korean dramas adapted from webtoons!
Of course, do feel free to comment below if we've missed any noteworthy entries and we'll be sure to review it and see if it makes the list.
So without further ado, TheReviewGeek team present our picks (in no particular order!) for the best Korean Dramas based on webtoons.
---

Business Proposal
Business Proposal follows the life and romantic mishaps of GOFood researcher Shin Ha-ri. When she goes on a blind date in place of her best friend Jin Young-seo, Ha-ri is surprised to find herself face-to-face with the CEO of GOFood, Kang Tae-moo.
To save face, Ha-ri introduces herself as Geum-hui. What follows is a series of hilarious deceptions, misunderstanding, and a fan-favorite romantic trope: the fake-dating scenario.
Tae-moo and Ha-ri/Geum-hui agree to a fake relationship in order to appease Tae-moo's meddling grandfather, GOFood Chairman Kang Da-goo (Lee Deok-hwa).
What begins as a small-scale deception gradually snowballs into a large and entangling web of secrets, as well complicated feelings neither Ha-ri nor Tae-moo wants to admit to.
The K-drama is bolstered by a charismatic cast of characters. Kim's and Ahn's chemistry is one thing, but the entire cast has a charming synergy.
---

Extraordinary You
On the surface, you'd be forgiven for writing off Extraordinary You as another generic k-drama set in a high school.
When you dive a little deeper however, Extraordinary You is a cleverly written series, one that combines comedy and mystery elements to great effect whilst setting its tale in the self-aware confines of a comic book.
Dan-O, a lovable high school girl who quickly discovers she's a central character in a comic book. The story itself unfolds across two separate areas – the shadow and the scene.
The latter sees the actions and dialogue of each character pre-determined by the writer whereas in the shadow the characters are free to act however they please.
When Dan-O learns she's not the main character in the story, she inadvertently changes the story, setting off a chain of events that result in some pretty wild and crazy story beats.
You can read our thoughts on Extraordinary You in our full season review here!
---

All of Us Are Dead
The story of All Of Us Are Dead is simple enough to understand; a zombie outbreak decimates a town called Hyosan, with authorities trying to get a grasp of the situation.
Ground zero happens to be Hyosan High School, where a whole group of kids try to survive.
Among the kids we have a love triangle of sorts between Cheong-San, On-Jo and Su-Hyeok. For On-Jo, her father is a fireman and someone we follow across the course of the season outside the school grounds.
There are also a whole bunch of supporting characters, including Ji-Min, Dae-Su, Na-Yeon and teacher, Sun-Hwa.
If you're looking for a mammoth zombie drama to tide you over, with plenty of action, gore and survivalist drama, there's enough here to enjoy – especially if you can look past some of the big contrivances.
You can read our thoughts on All Of Us Are Dead in our full season review here!
---

My ID is Gangnam Beauty
My ID is Gangnam Beauty is a thoughtful and reflective K-drama, one that echoes back to that age old quote that beauty is on in the inside.
The story centers on poor Mi-Rae, who's bullied because of her looks. As a result, she ends up insecure and withdrawn. She decides to get plastic surgery.
When Mi-Rae starts university, she meets Kyung-Suk whom she knew from middle school. He soon becomes attracted to Mi-Rae but when Mi-Rae is teased again, this time labeled as "Gangnam Beauty", Kyung-Suk becomes the one person to stand up for her.
In doing so, Mi-Rae begins to get her confidence back and discovers that true beauty is not what's on the outside but what's on the inside.
There's a great message at the core of this K-drama, and although the premise is quite similar to True Beauty, this one is far slower and more thought provoking.
---

The Kings Affection
The story here takes place deep in the Joseon period with the birth of royal twins. This is an ominous sign and when the princess gives birth, an order is sent to kill her daughter. To save the girl's life, Dam-I is shipped out the palace after faking her death.
Fast forward a few years and Dam-I's brother is killed. In order to prevent the crown from collapsing completely, Dam-I adopts her brother's identity of Lee Hwi, who eventually rises up to the position of Crown Prince.
In order to keep her secret, Hwi is told too keep her emotions in check and not get too close to anyone.
That's easier said than done though when she grows closer to her teacher, Ji-Un. He comes from a noble family and is both good looking and smart. As the pair start to grow closer together, the show blends romance, drama and action for the rest of its run-time.
You can read our thoughts on The King's Affection in our full season review here!
---

The Girl Who Sees Scents
The Girl Who See Scents is far from the best drama on this list. However, it does have a charming energy about it, bolstered by a lot of charisma and chemistry between the different actors.
The story centers on Officer Choi Moo Gak who lost his younger sister to a barcode-murder case. In the chaos, Moo-Gak loses the ability to taste, smell and feel pain. Thankfully, he meets a girl called Cho-Rim who helps change his fortunes.
Cho-Rim is the only witness to the murder and, interestingly, possesses a special sixth sense; she can see smells.
What ensues from here is a mix of serial killer investigative work and romance. It works pretty well, although there are parts that drag a bit.
---

Taxi Driver
What happens when someone good has been pushed to the point of pursuing evil methods for revenge?
Step forward Taxi Driver. SBS's latest revenge thriller is a simple, effective series that explores this very concept in an interesting way.
At the heart of this lies Do-Ki, an ex-military man with a big chip on his shoulder.
After being forced to watch his murdered Mother die in his arms, Do-Ki joins forces with a man named Sung-Chul to set up Rainbow Taxi foundation. Their intention is simple – help those in need to gain revenge against their oppressors.
You can read our thoughts on Taxi Driver in our full season review here!
---
True Beauty
True Beauty is a perfectly enjoyable Korean drama. It's a cuddly, warmhearted k-drama romp, with enough laughs, romance and drama to keep you hooked until the end.
Adapted from the web comic Yeoshingangrim, True Beauty centers on a high school girl called Ju-Kyung. Bullied for her looks and forced out of school, Ju-Kyung stumbles upon make-up tutorials online and transforms her looks overnight.
Armed with a prettier face and a confident attitude, Ju-Kyung enlists at a new school where she winds up involved in a love triangle with bad-boy Seo-Joon and kind-hearted but quiet Soo-Ho.
Despite a few wobbles along the way, True Beauty rounds things out with a perfectly enjoyable finale that wraps everything up with a neat little bow at the end.
You can read our thoughts on True Beauty in our full season review here!
---

What's Wrong with Secretary Kim
Based on the webtoon remake of the novel "Kimbiseoga Wae Geureolgga", on paper What's Wrong With Secretary Kim has little in the way of redeeming or original features. It feels very much like a simple romantic comedy on paper, playing out in formulaic fashion.
What's Wrong With Secretary Kim is the perfect example of why you should never judge a book by its cover. Between the glimpses of our lead character's dark past, the real kicker with Secretary Kim comes from the characters.
Sometimes a group of actors come together and just have that X-factor to produce something magical and this is one such example. The main characters are incredibly likable, there's some wonderful humour and both leads have excellent chemistry that help elevate this simple rom-com into something so much more profound and enjoyable than it otherwise would be.
You can read our thoughts on What's Wrong With Secretary Kim in our full season review here!
---

Misaeng: Incomplete Life
Misaeng: Incomplete Life revolves around the board game "Go", and specifically how Jang Geu-Rae has dedicated his life to this game. When he fails to achieve his lifelong dream of becoming a professional player, Geu-Rae is forced to leave his isolated existence and enter the real world.
With nothing but a high school equivalency exam to his name, he catches a break when he's hired as an intern at One International, a large trading company.
There, Gue-Rae meets a colourful cast of characters and begins to use what he's learned in Go to better himself navigate the volatile world of the everyday workplace.
This cleverly written, inspirational drama works pretty well although at times it does have a tendency to drag out its story a bit.
---

Strangers From Hell
Split across 10 episodes, Strangers From Hell is certainly a shorter offering than the usual 16 chapter Korean dramas on the market.
The story revolves around a boy called Jong-Woo who moves to Seoul and finds himself abandoned and alone inside an apartment block. Unfortunately, it's also shared by some pretty creepy and unnerving characters.
From the maniacally laughing Deuk-Jong to the quiet and reserved Nam-Bok, every character inside this block has a secret they're holding. Across the 10 episodes we learn exactly what that secret is, spilling over into a pretty climactic and thrilling finale.
Strangers From Hell isn't particularly scary but it does hold up as a compelling psychological thriller. There's some pretty gruesome scenes midway through too and a couple of genuinely shocking segments. This one is not for the squeamish!
You can read our thoughts on Strangers From Hell in our full season review here!
---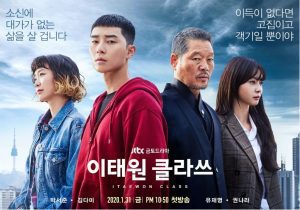 Itaewon Class
While it could be argued that some of the middle chapters run out of steam before picking up toward the end, this conventional 16 episode Korean drama combines important themes around acceptance, belief and racism.
The story revolves around rebellious high school student Sae-Ro-Yi, who finds himself entangled in a blood feud with a bully named Geun-Won following the shocking death of his Father.
Consumed by rage and thrown in prison, Sae-Ro-Yi is antagonized by the Chairman of Jangga Co., the top restaurant company in Korea.
What follows is a revenge-fueled redemption story that sees Sae-Ro-Yi team up with the eccentric Yi-Seo to open a pub in the bustling tourist area of Itaewon in a bid to usurp the Chairman and Jangga Co.
The main plot line is engaging, well written and this one is also armed with an incredible soundtrack too.
You can read our thoughts on Itaewon Class in our full season review here!
---

Mystic Pop-Up Bar
With an original story and some great chemistry from its cast, this latest K-Drama hits all the right notes when it comes to humour, tension and world building.
Mystic Pop-Up Bar tackles a lot of important themes about life and death too, along with the consequences of our actions, which serves up a nice layer of depth to this series.
The drama excels with its world building, showing us how people are judged after they pass away and what happens afterwards.
There is a strong sense of karma running throughout, with emphasis on how our past actions will reflect our next life – or even our future.
You can read our thoughts on Mystic Pop-Up Bar in our full season review here!
---

Her Private Life
Her Private Life is a fun and vibrant romcom, although it's also riddled with clichés and tropes from the genre. Still, it makes for a really fun watch nonetheless.
The story centers on Sung Deok-Mi, who lives for her work as an art gallery curator. She's exceptional and perfect… but for a dark secret. She's the ultimate Cha Shi An fangirl. In fact, she's even the manager of a Shi An fan-site!
With no other man standing a chance next to such a god-like specimen, in saunters Ryan Gold, the art gallery's new director. A once famous painter, he uncovers Deok-Mi's secret and everything changes.
Well written and packed full of great moments, Her Private Life perhaps should have ended after 14 episodes but it's good value for its runtime nonetheless.
---
Navillera 
Split across 12 episodes, Navillera is a healing drama about two lost souls. Sim Deok-Chool is a recently-retired 70 year old who has always had dreams of becoming a ballet dancer. However, he was forced to give up these dreams to support his growing family.
After being given the diagnosis of early-onset dementia, Deok-Chool makes a big decision to pursue his lifelong dream.
Helping him out is Lee Chae-Rok, a tortured soul who's incredibly talented at ballet. With his Father arrested and his family stuck going through hard times, Chae-Rok's passion and love of ballet soon turns to one of necessity.
Thanks to Deok-Chool's impassioned love of dancing, he slowly starts to rekindle those lost flames of passion.
The show is a wonderful example of how to take such a sensitive subject and spin it into something wholly beautiful and heart-wrenching. This is an outstanding Korean drama and a 12 episode beauty that deserves to be watched.
You can check out our full season review of Navillera here!
---

Yumi's Cells
Ever wonder what goes on in someone's head? Well, wonder no more. Yumi's Cells is a charming, fun-loving Korean drama that dives head-first into this idea, taking inspiration from Pixar's Inside Out. The premise is pretty simple and with a straight forward set of episodes and likable characters to boot, tvN have struck gold once more with this rom-com.
The story itself centers on Yu-Mi, an ordinary single working woman. She spends her days at Daehan Noodles, with a likable group of characters while remaining desperate to find "the one". A failed blind date, an annoying coworker in Ruby and rotten luck combine to leave Yumi hopeless. Until one fateful day.
Set up on a blind date, Yu-Mi meets Koo Woong, a programmer who's certainly not your conventional suave guy. He rocks up to the date in shorts and a t-shirt but the pair do slowly warm to each other over time.
Yumi's Cells is the perfect remedy to some of the more serious and gritty Korean dramas out there and a must-watch for anyone looking for a compelling romantic drama.
You can check out our full season review of Yumi's Cells here!
---
D.P.
D.P is a stunning Korean drama. It's a show that takes an unflinching look at bullying, the effect it has on mental health and larger societal questions about the mandatory military service in Korea.
At the center of this lies new recruit Jun-Ho. A man with a difficult upbringing, this young recruit isn't exactly thrilled about enlisting. Still, he joins the military and begins counting down the days until he's allowed to leave.
It's like a prison sentence for this boy, which is made all the more ironic given he starts off with the military police department.
Big themes centering on abuse run much deeper than the surface level and infect every part of this story. From Jun-Ho's past to the way it affects every supporting player – deserter or loyalist, culprit of instigator – this is ultimately what makes this such a good show.
At only 6 episodes as well, this punchy little series never outstays its welcome and leaves quite the lasting impression when the final credits roll. Although be sure to watch the post-credit sequence before you bow out completely.
You can check out our full season review of D.P. here!
---

Sweet Home
Sweet Home is an action packed fight for survival as humanity finds itself on the brink of extinction. When people suddenly begin to turn into monsters outside, a group of misfit residents inside an apartment complex are forced to work together.
Cabin fever, fear and paranoia begin to consume our characters. This is only made worse when a few begin to fall prey to that very same infection they're trying to keep out.
When the monsters do show up, Sweet Home ramps up the pace and tension to deliver 4 breathless episodes of action back to back.
It's not until the halfway point of the show where we actually stop and learn more about the characters we've been following. This serves as a proverbial deep breath, building toward a climactic finale across this 10 episode series that leaves the door wide open for a second season.
There will undoubtedly be some that dislike this way of serializing Korean dramas but Netflix's latest foray into horror definitely has some promise and more than a few tense moments.
You can read our thoughts on Sweet Home in our full season review here!
---

The Uncanny Counter
The Uncanny Counter is an action-packed Korean drama revolving around a dysfunctional group who team up to take on high-powered demons.
The drama here revolves around a boy called Mun who's traumatized by the death of his parents as a child. Raised by his grandparents, Mun finds himself thrown into the world of demon-hunting as he's made a member of the illustrious Counters.
Armed with super strength and an array of different abilities, the Counters get wrapped up in a wide-spanning political conspiracy involving the Mayor and a Director of a local company.
Things are unfortunately made even more complicated by a level 4 demon called Cheong-Shin who kills one of the Counters and begins a murderous rampage. Drama, comedy and fantasy combine beautifully to make a really satisfying watch.
You can read our thoughts on The Uncanny Counter in our full season review here!
---
And there we have it, our picks for the best Korean dramas based on webtoons! We'll periodically update this page as we watch more Korean dramas and work through any requests you guys may have for us as well.
What do you think of our list? Have we included your favourites? Or have we missed any must-watch dramas? We love to hear from you so do feel free to let us know in the comments below.
---