10 More Keys To Streaming Locks
Locke and Key is a dark and twisted series, one with some great ideas and a solid hook. The show is undoubtedly popular, despite some narrative hiccups along the way.
If you've finished watching this one and are looking for alternatives – fret not! We've combed through the archives and saved you the hassle with our top 10 picks for alternate viewing.
To keep things simple for skim-readers we've added what similarities these have.
Of course for all the shows we've reviewed, we've also added a handy link so you can check out our full thoughts on that series and see if it's something you want to invest your time with.
So without further ado, we present 10 TV shows that should whet the appetite when you've finished streaming Locke and Key.
---
Stranger Things
Similarities – Horror & Characters
The little gem on Netflix, Stranger Things is undoubtedly one of the biggest Originals on the platform. It's also probably the only one safe from being cancelled any time soon.
The story revolves around a group of teens who become thrust into a supernaturally charged, heady world of nightmares when a young boy called Will disappears.
With little clues beyond a strange girl called Eleven who shows up with telekinetic powers, it's up to a ragtag group of misfits to thwart the evil before it's too late.
With some intriguing ideas about parallel worlds and some great throwbacks to the 80's, Stranger Things is a solid choice and with plenty of story to get through, there's enough here to whet the appetite ready for season 4.
You can read our thoughts on Stranger Things in our full season reviews here!
---

The Umbrella Academy
Similarities – Action & Family Dynamic
The Umbrella Academy is really the full package. Slick action, a great ensemble of characters and some excellent story beats make this superhero story one of the best Netflix Originals on the platform.
Both seasons build up nicely with a decent amount of time dedicated to fleshing out every character and giving them a compelling arc. While the world-ending cataclysmic event is still here, it's handled in a pretty smart and original way.
The action sequences are well shot and the simple story surrounding this misfit group of child-heroes teaming up to save the world is as engrossing as it is watchable. It's also one of the better examples of a show outdoing itself in the second season. A must watch.
You can read our thoughts on The Umbrella Academy in our full season reviews here!
---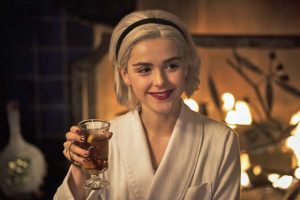 Chilling Adventures of Sabrina
Similarities – Coming Of Age & Supernatural Elements
Deliciously dark with a touch of charismatic charm, Chilling Adventures of Sabrina is a fine example of how to take an established comic and hit sitcom, change its tone and genre whilst maintaining the heart of what made the original so appealing.
From Kiernan Shipka's inspired performance as Sabrina Spellman to the surprisingly twisted tone, Chilling Adventures of Sabrina does a great job establishing itself as a unique and engaging show.
The story begins with Sabrina Spellman on the cusp of her 16th birthday, preparing for a very special ritual that welcomes her into the world of witchcraft. With a happy mortal life rich with friends and boyfriend Harvey, Sabrina finds herself torn between whether to abandon everything she holds dear for servitude to the Dark Lord or turning her back on the life she was destined for.
This struggle continues right the way through the various seasons, with extra layers of danger and tension added every season. This one's definitely quite dark but it's a decent coming of age series nonetheless.
You can read our thoughts on Sabrina in our full season reviews here!
---
The Magicians
Similarities – Magic & Teen Angst
The Magicians is essentially Twilight meets Harry Potter. For some, this clash of tones will be an instant turn-off but for others, this will certainly whet the appetite.
In its simplest form, the story revolves around a group of students who discover they're graced with magical abilities after being recruited to a secretive academy. At the heart of all this lies our main character, Quentin Coldwater, who enrolls at Brakebills University for Magical Pedagogy.
Serving as an interesting juxtaposition is Quentin's childhood friend Julia, who finds her hopes and dreams shattered when she's denied entry to this very same university. Instead, she searches for magic elsewhere.
While a little campy and cheesy at times, The Magicians does well to flesh out its five seasons. If you're sold after the first couple of episodes, you're in for a real treat with this one.
---

The Society
Similarities – Gripping Mystery & Teen Issues
The Society is essentially a modern-day spin on Lord Of The Flies. In true Netflix fashion though, The Society feels slightly overlong across its 10 episodes and could have done with some tighter editing. However, the series is certainly intriguing and begins with a strange smell descending over an American town as various kids return from a school trip.
They soon come to realize all the adults are missing and even stranger, the town is now inexplicably surrounded by thick, lush forestry. When the smell finally disappears, the kids realize that their town holds small differences that play a bigger part in the plot further down the line.
Realizing they're stuck with nowhere to go, the kids in The Society descend into a heady cocktail of teen angst and melodrama. Between these constant bouts of partying and having sex, the group do come together and try to figure out what's happened – which is revealed somewhat in the second half.
Do be warned though that The Society was cancelled by Netflix during the middle of 2020 and as such, does not have a conclusion. Still, it's a fun ride up until that point.
You can read our thoughts on The Society in our full season review here!
---

Lost In Space
Similarities – Sci-Fi & Characters
Lost In Space is a series designed to be watched with the whole family. Those with fond memories of the series of old should be prepared for a bit of a culture shock as this moody reboot is familiar in name and story only.
The series begins with the Robinson family fighting against the odds to survive and escape, crash-landing on an alien planet and surrounded by dangers. The first season is a little paint-by-numbers in the way it presents the story. However, the second season onward certainly livens things up, delivering a pretty decent sci-fi romp.
You can read our thoughts on Lost In Space in our full season reviews here!
---

A Series Of Unfortunate Events
Similarities – Quirky Tone & Mystery
After the successful translation of the popular book series to film, it was always going to be a tough ask to then reboot A Series Of Unfortunate Events to the small screen.
Surprisingly, the TV show far surpasses the film in a well structured, deliciously dark feature that not only nails the tone of the book, it boasts some great writing and bursts of genuinely funny moments along the way.
Split across three satisfying seasons, A Series Of Unfortunate Events revolves around the Baudelaire orphans who find themselves caught in the midst of a cat and mouse game with the dastardly Count Olaf after their parents are killed in a fire.
As the seasons progress, it soon becomes apparent that the Baudelaire fortune Olaf is after may hold more than a few secrets. Can the orphans survive long enough to uncover the truth?
Funny, wacky and full of some wonderful set pieces, A Series Of Unfortunate Events is well worth checking out.
You can read our thoughts on A Series Of Unfortunate Events in our full season review here!
---

NOS4A2
Similarities – Supernatural Elements & Horror
Based on the popular book of the same name, NOS4A2 is an engrossing, enjoyable horror series. With an inspired Zachary Quinto at the helm, the characters do well to instill their mark on this series, even if the second season is a step down in quality.
The story itself follows Vic McQueen, a teenager who learns early on that she possesses a special gift; she's able to transport herself wherever she desires via a mysterious bridge called The Shorter Way.
Guided by the scrabble tiles of Maggie, Vic finds herself coming up against the monstrous Charlie Manx, a demonic man hell bent on "saving" children by taking them to the fabled Christmas Land where he can feed on their energy.
It's not the best horror out there but it is a consistency enjoyable one, making for a solid binge-watch.
You can read our thoughts on NOS4A2 in our full season reviews here!
---

His Dark Materials
Similarities – Prophecy & Magical Items
His Dark Materials is a wonderful fantasy series. Excellent acting and a faithful story adaptation of Philip Pullman's novels combine beautifully with the world building on offer, making for a wholly absorbing and satisfying watch. The show never outstays its welcome either across its three seasons.
The story follows the journey of Lyra Belacqua, a young girl who inhabits a world where human and daemon share an intricate link together. As kids start going missed, snatched up from the streets by the Gobblers, Lyra finds herself coming in possession of the mysterious alethiometer.
When her best friend Roger goes missing, what begins as a simple search and rescue mission quickly becomes so much more as this expansive, dangerous and wondrous show becomes one of the small screen's best fantasy offerings.
You can read our thoughts on His Dark Materials in our full season review here!
---
Raising Dion
Similarities – Supernatural Elements & Family Issues
Between the quirky humour, patchy special effects and numerous science fiction references, Raising Dion feels both experimental and safe in its design, making it a decent choice for families with older kids or fans of the superhero genre.
The story itself revolves around 7 year old Dion and his Mother Nicole. Following the mysterious death of her husband Mark, Nicole is left to raise Dion all alone. Her situation is made all the more difficult though when she discovers Dion has superpowers.
It may not be the best superhero show out there, but it does execute its story with confidence and a decent pace to see you through to the end.
---
So there we have it, our 10 TV show alternatives to watch when you're finished watching Locke and Key on Netflix.
What do you think of our picks? Do you agree? Are there any notable omissions? Let us know in the comments below!
---