Queer couples and office romance
Gap: The Series finally became a reality and ended way too soon making us hunger for more. It followed Mon, a hopeless romantic who falls in love at first sight when Sam saves her from a car when they were kids. She grows up to go to Sam's alma mater and even join her company but it all ends up being futile when Sam doesn't remember her.
To make it worse, she is considered a cold and harsh boss making Mon wonder if she did the right thing in joining her company. In the meantime, Sam has no time for love as she has to deal with her manipulative grandmother with whom she has struck a bargain of running a successful company or failing and marrying a man of her choice.
Well, if you're not ready to move on from Gap: The Series so soon, we have hunted high and low for similar GL characters, office romance and cute queer rom-coms.
Here are 10 romantic TV shows with a similar premise to watch if you liked Gap: The Series.
---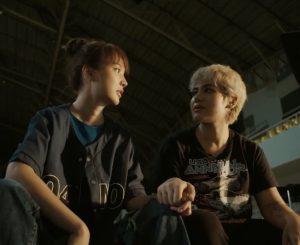 The Warp Effect
Similarities – Rom-com, drama, LGBT+ characters
The Warp Effect is a time-travelling comedy in which Alex ends up in a perfect future which starts to crack after he gets a mysterious polaroid camera. But the side characters and their storylines steal the spotlight like Army, a proud gay man who wants to patch up with his first love after doing something unforgivable when he was still in the closet.
Meanwhile, the non-binary Molly hopes to break stereotypes and give everyone the first plus-sized, not conventionally pretty female action hero. Then we have Nim who may have some lingering feelings for her ex Molly while constantly compromising in her current relationship.
---
Nevertheless
Similarities – Romance, drama, GL couple
Another drama where the side couple steals the show is the K-drama Nevertheless about the toxic couple Na-bi and Jae-eon. While Na-bi goes through her mental gymnastics of whether she should give the womanizer Jae-eon a chance, Sol and Ji-wan are two best friends who are closer than most.
While Sol is confident of her feelings for Ji-wan, she keeps them to herself even if it hurts her the most. And if you hate the two-best-friends-in-a-room queerbaiting, don't worry as this couple gives us the GL (girl love) representation in K-dramas that we've been waiting for.
---
She Makes My Heart Flutter
Similarities – Romance, lesbian characters, cute friendships
With Gap: The Series being the first mainstream GL show, we are loathed to announce that this means there are no other popular GLs at the moment. But what we can give you is such hidden gems like this Korean mini-series which focuses on an aunt-niece duo, the shy Jung-won and the energetic Seol who are both gay but have polar opposite love lives.
Along with looking for someone to spend their lives with, it is a quirky, healing drama about friendships and a safe space for a minority community.
---
Magic of Zero
Similarities – Rom-com, GL couple
Sure, we understand that with Bad Buddy being a BL (boy love), it would focus on the two male characters, but its makers are not too cruel. Following the explosive reaction towards the drama's side couple Ink and Pa, we get a spinoff on them through the Magic of Zero anthology series. The Zero Photography arc follows Ink and Pa who are now girlfriends and are very much in love together.
However, an incident has Pa time-travelling to the past and realising that Ink was always in love with her as she would secretly take her photos back in high school.
---
What's Wrong With Secretary Kim
Similarities – Office romance, comedy, childhood meeting
When it comes to office romance shows, What's Wrong With Secretary Kim is one of the most iconic ones ever to air. This extremely hilarious rom-com has spawned tons of memes from Park Seo-joon's confident 'aura' pose to the totally sizzling love-making scene being compared with his awkward kiss in Itaewon Class.
Rather than bore you readers with its synopsis, just know that it is a fun love story that begins with the narcissistic and self-obsessed Lee Young-joon who is shocked when his right-hand man, his secretary and the one without whom he cannot function, Kim Mi-so decides to quit.
---
Astrophile
Similarities – Workplace romance, forgotten first meeting
Kimhan has liked Nubdao ever since she was his senior in college and is more than ecstatic when he ends up working on her program. Unfortunately for him, Nubdao does not remember him nor their promise of looking at the stars together one night. However, when she is sexually harassed at work, he steps in and decides to help her.
---
Cherry Magic
Similarities – Office romance, LGBT+ couple
Cherry Magic aka 30-sai made Dotei Da to Mahotsukai ni Nareru rashii is a cute magical BL where Adachi who is still a virgin suddenly gets superpowers when he turns 30. He can read the mind of anyone he touches and he must do his best to stay away from everyone. However, when he accidentally bumps into the popular and charismatic guy Kurosawa, he is shocked to hear that Kurosawa likes him.
---
First Kill
Similarities – Romance, drama, GL couple
A supernatural and lesbian retelling of Romeo and Juliet, Juliette is a vampire hailing from a long lineage of royal vampires. Her life is turned upside down when she needs to make her first kill on her 16th birthday to control her newfound bloodlust. It doesn't help that, at the same time, the new girl in school, Calliope is a monster hunter. Her family has been sent to town to eradicate all the vampires and it is up to her to take down Juliette.
---
Dickinson
Similarities – Rom-com, GL couple, arranged marriage
Dickinson is a dramedy as it is set in the 1800s but makes use of modern dialogues and tropes. It follows Emily Dickinson, the feminist poet who struggles to fit into her environment which is not too kind to outspoken women. While she faces several obstacles in making her voice heard, she finds comfort in her best friend Sue. But their romance may be jeopardized as her parents want her to marry a suitable bachelor.
---
Legend of Yun Qian
Similarities – Romance, GL couple
Ever wanted a female version of those iconic BL Wuxia shows like The Untamed or Word of Honor? Well, you're in luck thanks to the Legend of Yun Qian which is a cute Chinese GL drama. A lighthearted drama without all the pain and tragedy that most GL couples face in mainstream shows, this one has the serious and cold Mu Yun accidentally travelling to the future and meeting the bubbly Xiao Qian who looks exactly like her classmate.
---
So there we have it, our 10 TV show alternatives to watch when you're finished watching Gap: The Series.
What do you think of our picks? Do you agree? Are there any notable omissions? Let us know in the comments below!