Wax Off, Stream On
Cobra Kai is a wonderful series and one of those sequels that has no right to be as good as it winds up becoming. With an effective bait-and-switch with the main protagonists and lots of action, Cobra Kai is an exciting, engrossing but sadly fleeting series that'll leave you desperate for more.
Well, fret not! We've combed through the archives and saved you the hassle of having to try and find something similar with our top 10 picks for alternate viewing.
To keep things simple for skim-readers we've added what similarities these have.
Of course for all the shows we've reviewed, we've also added a handy link so you can check out our full thoughts on that series and see if it's something you want to invest your time with.
So without further ado, we present 10 TV shows that should whet the appetite when you've finished streaming Cobra Kai.
---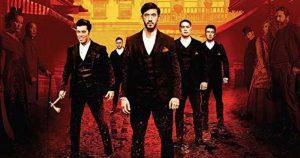 Warrior
Similarities – Action & Gangs
Warrior combines well choreographed fights, political scheming and a volatile 1870's San Francisco setting.
With the Hop Wei and Long Zii gangs on the brink of war, Ah Sahm arrives on the shores of San Francisco, determined to find his sister Mai Ling. Unbeknownst to him, she's mixed up with the Long Zii while Ah Sahm himself is recruited to the Hop Wei.
This is an action packed thrill-ride that's well worth checking out and with a second season on the horizon, certainly not the last we'll see of these characters.
You can read our thoughts on Warrior in our full season reviews here!
---

Wu Assassins
Similarities – Action
Blending elements of Warrior, Iron Fist and pure martial art films, Wu Assassins is a high-octane series that relies heavily on its impressive action sequences to tie everything together.
While it doesn't quite hold the same lasting allure as other shows in this genre, there's an accessibility to Wu Assassins that makes it a very easy show to dip in and binge through.
You can read our thoughts on Wu Assassins in our full season reviews here!
---

Ninjago: Masters of Spinjitzu
Similarities – Tone & Action
It would be really easy to write off Ninjago as just another kids show. However, the season-long story arcs are actually pretty engrossing and the action-orientated focus blends well with a more slapstick style of comedy.
The actual story revolves around a group of ninjas teaming up and saving Ninjago from certain doom. However, the themes of comradeship, devotion and friendship blend well together to create a really great series.
---

Dragon Ball Z
Similarities – Action & Engrossing Story
In its simplest form, Dragon Ball Z is an animated soap opera complete with big fights, vibrant animation and well written characters. Its loud, oftentimes intense and its unique blend of fighting and good pacing make it an impressive animated option.
The show itself spans for many sagas, each broken down with a "big boss" to fight. Favourites include Freiza, Cell and Majin Buu but there's a lot of fighting and drama in this show.
If you're in the mood for some high-octane fighting, this one's worth checking out.
You can read our thoughts on Dragon Ball Z in our full season reviews here!
---

The Legend Of Bruce Lee
Similarities – Action & Characters
The term legend is thrown around a lot but when it comes to Bruce Lee it never quite feels enough. The significant impact this man has had in his short life is profound.
The Legend Of Bruce Lee is a relatively simple biographical series that follows the life of Bruce Lee from Hong Kong to America and back again, leading up to his tragic death at the age of 32.
True martial arts fans will absolutely adore this one and anyone who wants to know who Bruce Lee is and why he's so well known, should definitely dive into this one.
---

One-Punch Man
Similarities – Comedy & Action
The idea of a hero being able to defeat any enemy with a single punch may seem like a strange concept but the way this 12 episode anime executes its concept is nothing short of magnificent.
Armed with a sharp wit, brilliant voice acting and beautiful artwork, One Punch Man combines over the top action with comedy to produce one of the finest animes out there. 
You can read our thoughts on One Punch Man in our full season review here!
---

Kung Fu
Similarities – Action
Produced back in 1972, Kung-Fu is a series all about… well… Kung-Fu. Specifically it follows the adventures of a Shaolin Monk called Kwai Chang Caine wandering the American West armed with his deadly set of fighting skills.
Whether you're a fan of Westerns and Martial Arts or not, Kung Fu is a wonderful series that blends some excellent life lessons with a heavy dose of drama.
---

Warigami
Similarities – Action & Comedy
With each episode clocking in at a little over 10 minutes or so, Warigami is a simple but enjoyable action comedy series. The main premise revolves around the idea of warriors able to manipulate the density of paper and turn it into a lethal weapon.
The first season does end on a cliffhanger though and with a second season still unknown at this point, Warigami is worth checking out for the premise and action alone. Just don't get too attached to this one incase it's cancelled!
---

Mortal Kombat: Legacy
Similarities – Action & Lore-Building
Compared to the feature films of the same name, Mortal Kombat: Legacy upholds the legacy of the game series to produce a really gripping web series.
The first season serves as a prequel to the original games and really does well to uphold the feel and tone that Mortal Kombat injects into its game series so well.
---

Into The Badlands
Similarities – Action & Characters
AMC's Into The Badlands is a wonderful series. On the surface, the show is about a mighty warrior and a boy searching for enlightenment in a hostile territory controlled by barons. However, Into The Badlands goes deeper than that.
The story unfolds in a really exciting and intriguing way, with lots of neat action set-pieces dotted in across the seasons. There's an element of supernaturally charged sci-fi too that bleeds into the main premise but these only serve to enhance the material.
Into The Badlands is certainly one of the must-watch series if you liked Cobra Kai.
---
So there we have it, our 10 TV show picks to keep you busy while you eagerly await Cobra Kai Season 3.
What do you think of our picks? Do you agree? Are there any notable omissions? Let us know in the comments below!
---