Bewitching & Spell-Binding Options
Chilling Adventures Of Sabrina is a supernaturally charged series that's run for 4 seasons on Netflix. Combining young adult tropes with fantastical elements, Sabrina is a real guilty pleasure and an easy show to pick up and watch.
If you've finished streaming this one and are itching for more, we've combed through the archives and saved you the hassle of having to try and find something similar with our top 10 picks.
To keep things simple for skim-readers we've added what similarities these have.
Of course for all the shows we've reviewed, we've also added a handy link so you can check out our full thoughts on that series and see if it's something you want to invest your time with.
So without further ado, we present 10 TV shows that should whet the appetite when you've finished streaming Chilling Adventures Of Sabrina.
---
Buffy The Vampire Slayer
Similarities – Monsters & Teen Vibes
Buffy The Vampire Slayer is one of the most influential shows to pave the way for strong female characters. Its forward thinking ideas around relationships, storytelling and timeless comedy makes it a show that holds up to this day.
The story revolves around a teenager called Buffy Summers who finds out she's a slayer – a young girl destined to push back the forces of evil that spew out the aptly titled Hellmouth located in the town of Sunnydale.
While many fans will agree the show should have concluded at the end of season 5, season 6 ironically features one of the best episodes of TV – a musical no less – that captures the humour, heartbreak and excellent narrative work this show is synonymous for.
Easily one of the best shows to come out the 90's, Buffy The Vampire Slayer is a quintessential slice of spooky action and another must-watch if you're in the mood for empowering female action.
You can read our thoughts on Buffy The Vampire Slayer in our full season reviews here!
---

A Discovery Of Witches
Similarities – Drama & Fantasy
A Discovery Of Witches is a well written drama with some truly beautiful imagery across its run-time. That's to say nothing of the characters who are interesting and endearing.
The basic premise revolves around a world where witches, vampires and demons live discreetly among humans. Our central protagonist is Diana Bishop, who happens to be the last living witch. What ensues from here is a heady blend of romance, fantasy and drama across 2 seasons – the second of which cutting us back in time for a who's who of historical figures.
While the first season is far stronger, there's a lot to like here and fans of romance and fantasy offerings should be in their element.
You can read our thoughts on A Discovery Of Witches in our full season reviews here!
---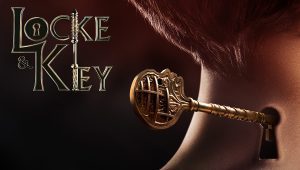 Locke And Key
Similarities – Dark Mystery & Supernatural Elements
Locke & Key, based on the visual novels of the same name, blends lite-horror elements with a healthy dose of mystery. Resting all of this on the shoulders of our three child protagonists, you'd be forgiven for thinking this show is for kids. It most certainly is not.
The story itself revolves around three siblings, Bode, Kensey and Tyler, who move back into their childhood home Key House. Pushing aside the haunting memories of their Father's murder (which took place inside these four walls), numerous magical keys lie hidden around the house that could hold the clue to the mysteries lurking within.
Despite feeling a little overlong at times, the series does well to keep itself engaging throughout its 10 episode season. With a second season still not green-lit yet, it remains to be seen whether this will return for a follow-up or not.
You can read our thoughts on Locke & Key in our full season review here!
---

Stranger Things
Similarities – Horror & Mystery
The little gem on Netflix, Stranger Things is undoubtedly one of the biggest Originals on the platform. It's also probably the only one safe from being cancelled any time soon.
The story revolves around a group of teens who become thrust into a supernaturally charged, heady world of nightmares when a young boy called Will disappears.
With little clues beyond a strange girl called Eleven who shows up with telekinetic powers, it's up to a ragtag group of misfits to thwart the evil before it's too late.
With some intriguing ideas about parallel worlds and some great throwbacks to the 80's, Stranger Things is a solid choice and with plenty of story to get through, there's enough here to whet the appetite ready for season 4.
You can read our thoughts on Stranger Things in our full season reviews here!
---

American Horror Story
Similarities – Tone
American Horror Story is an anthological series that utilizes the same cast across a myriad of different situations each season. Many fans agree that the second is the best but each differing locale offers up lots to whet the appetite.
From creepy asylums to fun-loving circuses that aren't quite right, there's an ever-evolving set-up that should keep you busy for a while.
There's a lot of great costume and set design working overtime across the expansive 9 seasons too. With the show renewed for a further 3 years there's lots more in the pipeline to come from this one that should whet the appetite if you're a fan of Sabrina.
---

The Vampire Diaries
Similarities – Tone & Teenage Romance
There's something timelessly endearing about vampires – especially in the YA category. The Vampire Diaries essentially serializes and polishes what Twilight tried (and failed) to do on the big screen.
The plot synopsis is pretty similar too, especially with a narrative revolving around a high school girl called Elena. As fate would have it, she captures the heart of Stefan who happens to be a vampire.
Complicating matters though is Stefan's brother Damon who also happens to be attracted to Elena. Cue the love triangle and predictable teen melodrama. Despite its formulaic set-up, The Vampire Diaries eventually merges and evolves into something that can only be summed as a seriously addicting guilty pleasure.
Well acted, fast moving and full of twists and turns, this one is definitely worth checking out.
---

Sabrina The Teenage Witch
Similarities – Sabrina Of Course!
The one that inspired this remake; Sabrina The Teenage Witch perfectly exemplifies the 90's sitcom but does so with some smart writing, ingenious plot lines and some genuinely funny moments. All of this is helped by the comedic wit of Sabrina's smart-talking cat Salem.
Much like Chilling Adventures, Sabrina The Teenage Witch revolves around teenage witch Sabrina who finds herself (yep you guessed it) graced with magical powers while her Aunts Zelda and Hilda try to keep her out of trouble.
While tonally very different to Chilling Adventures, the original sitcom is still a compelling blast from the past worth checking out.
---
Salem
Similarities – Salem & Supernatural Elements
Based loosely on the 17th century witch trials of the same name, Salem is a supernaturally charged drama that examines what really fueled the town's infamous witch trials at the time. Salem combines fantastical elements with more character-driven drama, leaning heavily into supernatural elements the longer the series goes on for.
With three seasons to enjoy, the main plot line revolves around a powerful witch called Mary Sibley who controls the Salem Witch Trials and intends to summon the Devil.
Only, her plan hits a serious road bump when her long lost love, John Alden, returns from the war. With the usual dose of romance and drama thrown in, Salem is a simple but well written character-driven drama.
---

Angel
Similarities – Eclectic Cast & Battling Forces Of Hell
Whereas Buffy The Vampire Slayer gains the plaudits for its smart writing, trail-blazing female characters and some excellent storylines, Buffy's spin-off Angel is arguably every bit as endearing as Buffy.
In fact, at times Angel dives a lot deeper and darker into its mythology and ideas than Buffy, fronting David Boreanaz as the tortured vampire with a soul.
Setting up residence in LA, Angel is joined by an eclectic group of characters including Cordelia who makes the jump from Buffy across to this series. While many will lament the open, frustrating cliffhanger during the final episode, Angel is easily one of the better shows from the 90's and a real gem well worth watching.
You can read our thoughts on Angel in our full season reviews here!
---

Penny Dreadful
Similarities – Tone & Mystery
Set in Victoria London, Penny Dreadful combines blood-soaked horror and mystery beautifully into one atmospheric series. The story essentially sees explorer Sir Malcolm Murray, American gunslinger Ethan Chandler, scientist Victor Frankenstein and medium Vanessa Ives uniting to combat supernatural threats together.
It's a simple enough premise but where this show excels is in its storytelling and acting. Everything about Penny Dreadful oozes charisma and despite a slightly slow start during season 1, it quickly grows into a real powerhouse on the horror circuit.
It's beautifully produced too, with some lavishly dressed sets and some well-rounded characters. This one is well worth checking out.
---
So there we have it, our 10 TV show alternatives to Netflix's long-running Chilling Adventures Of Sabrina.
What do you think of our picks? Do you agree? Are there any notable omissions? Let us know in the comments below!
---