Time Travelling Mysteries
Did you just binge-watch this exciting time-travelling K-drama over the weekend? Do you feel empty now that A Time Called You is over and you have nothing else to watch? We need to know what happens after that final moment. Do they regain their memories or is it just a familiar feeling between them? So many questions…
So, how about watching more such time-travelling romance shows to get your small screen fix? Well without further wait, here are 10 TV shows with a similar premise to watch if you liked the Netflix Original K-drama, A Time Called You.
---
Blue Birthday
Similarities – Dead boyfriend, time travel, murder mystery, high school
In Blue Birthday, Oh Ha-rin discovers an extraordinary ability to revisit the past on the 10th death anniversary of Ji Seo-jun, her first love with the help of some photos. She becomes obsessed with trying to change the tragic events but she only has 8 photos left.
As she delves deeper into her past, she uncovers dark secrets and unexpected connections. As the suicide case turns into a murder mystery, the new wave of emotions challenges her understanding of fate and the consequences of altering the past very much like Jun-hee in A Time Called You.
---
Dark
Similarities – Time travel, mystery
If you wanted A Time Called You to delve deeper into the intricacies of time loops, we have the perfect show for you. Dark is a complex German sci-fi thriller set in the town of Winden. It follows four interconnected families across multiple generations as they grapple with the unsettling revelation that their town is trapped in a time loop. It all begins when a friend's brother disappears and in trying to look for him, Jonas ends up in the past.
---
Lost
Similarities – Time travel, mystery
After a plane crash leaves a group of survivors stranded on a mysterious island, they must band together to survive. However, the island holds numerous enigmas, from polar bears and mysterious black smoke that predicts danger to a strange bunker.
As they do their best to escape, the strangers must also confront their own personal demons and surprisingly complex histories with each other. We won't spoil you on how exactly it is similar to the K-drama, but if you like complicated alternate realities and time travels, give this iconic supernatural show a try.
---
Someday Or One Day
Similarities – Plot
Okay, we know we are cheating a little bit, but this is definitely worth watching. A Time Called You is actually a Korean remake of this 2019 Taiwanese show. But Someday Or One Day has its own vibe and energy that will make you feel like you are watching the same story unfold in a different manner.
This Taiwanese drama follows Huang Yu Xuan, who discovers a vintage cassette player that takes her to the past and allows her to see her dead boyfriend, Wang Quan Sheng one more time. As she investigates the circumstances surrounding his supposed death, she realizes that the past is not as straightforward as it seems, and her meddling actions could have far-reaching consequences on the lives of those she loves.
---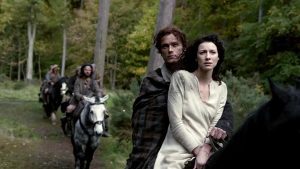 Outlander
Similarities – Time travel, romance
What if Jun-hee travelled even further back in time but her boyfriend's face was worn by her worst enemy? Well, that is the story of Claire Randall, a World War II nurse, who is inexplicably transported back in time to 18th-century Scotland.
There, she becomes entangled in the Jacobite rebellion and falls in love with a dashing Scottish warrior, Jamie Fraser. As she navigates the dangerous political landscape of the past, Claire must find a way to return to her own time, all while facing the challenges and dangers of life in the 1700s.
---
Mr Queen
Similarities – Time travel, rom-com, mystery
You already know that A Time Called You would have turned into a full-fledged comedy if Jun-hee accidentally possessed Si-heon. Well, that is exactly what happens in Mr Queen. One of the best shows to come out of the 2020 pandemic, this K-drama combines comedy and historical intrigue.
The womanizer Jang Bong-hwan's soul is unexpectedly transported from 2020 into the body of Queen Kim So-yong during the Joseon dynasty. Hilarity ensues as the queen's unexpected behaviour disrupts the traditional norms of the palace, all while political conspiracies and romantic entanglements unfold around him.
---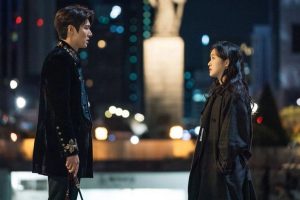 The King: Eternal Monarch
Similarities – Alternate reality, romance, mystery
Rather than a proper time-travelling adventure, The King: Eternal Monarch provides a larger context with the ability to transcend different realities as well. In this show, parallel universes collide when the 21st-century emperor, Lee Gon of a fictional Korea, discovers a portal to the South Korea that we know of. He crosses paths with Detective Jeong Tae-eul, and together they must unravel the mysteries of this alternate reality and prevent a looming catastrophe.
---
Tale of the Nine Tailed 1938
Similarities – Time travel, comedy, mystery
Set in the 1930s, this sequel to Tale of the Nine Tailed explores the adventures of mythical creatures and their interactions with humans during a tumultuous historical period in South Korea.
When a mysterious supernatural steals from Taluipa, she sends Lee Yeon after him. However, he ends up getting trapped in 1938 with no way to return home. As he figures out who the thief is and struggles to get back to the love of his life, he is also torn when he encounters his dead brother Lee Rang.
---
Signal
Similarities – Time travel, murder mystery
Signal throws out the young love and friendship storyline in favour of focusing on their serial killer as two cops of different time periods cooperate with a time-travelling walkie-talkie to solve the case.
This crime drama follows Jae-han and Hae-young as they realise that they are from different years but the information the Jae-han unearths allows Hae-young to solve all the cold cases. But as they get into a groove, their messing about with the past soon catches up with them.
---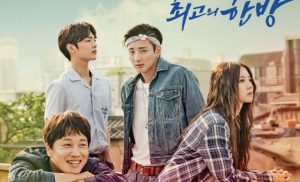 Hit The Top
Similarities – Time travel, rom-com, mystery
Hit The Top follows the popular but controversial K-pop idol Hyun-jae who is in a relationship with the singer Bo-hee. However, one day in 1993, he time travels all the way to 2017 and is almost hit by an aspiring idol, Ji-hoon.
The kid is a rebellious teenager who is secretly trying to become a K-pop idol even though his parents want him to get into civil service. While trying to figure out his time-travelling incident, Hyun-jae is constantly drawn to Ji-hoon, who unbeknownst to him is Bo-hee's kid.
---
So there we have it, our 10 TV show alternatives to watch when you're finished watching A Time Called You.
What do you think of our picks? Do you agree? Are there any notable omissions? Let us know in the comments below!