It's that time of the year again where we reflect and look back on the best (and worst) that 2018 gave us in the world of entertainment. From sci-fi adventures in the deep void of space to a good old fashioned rom-com, no other medium allows for such a diverse range of content quite like TV and film.
So without further ado, here's our top 10 choices for the best TV shows of 2018.
10. Maniac 
Blurring the line between film and TV, Maniac dropped on Netflix back in September and immediately struck a chord with critics and audiences alike. While the experimental style of later episodes turned some away from this limited series, Maniac remains one of the best shows this year and arguably one of Jonah Hill's best performances to date.
If you missed it, you can read our review HERE
9. Mr Sunshine
Although at the time of writing our review we had only watched 13 episodes, this 24 episode historical epic rounded its story out beautifully, weaving history, romance and drama perfectly. Between this, Girl From Nowhere and On Children, selecting an outstanding Asian drama this year has been incredible difficult. Mr Sunshine just edges it over the others through its exquisite use of colour and realistically depicted time period. Despite being split across 24 feature-length episodes, Mr Sunshine managed to consistently deliver in every beautifully crafted episode.
If you missed it, you can read our review HERE
8. The Terror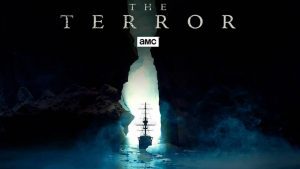 2018 offered a whole slew of horror television hits of varying quality but one of the most eerie and unsettling was AMC's The Terror. Slow paced, tense and incredibly well acted, this 10 episode series managed to keep the horror flowing throughout the show without ever running out of steam. The fact the story was loosely based on real events about a missing Arctic expedition only further reinforced the horror.
If you missed it, you can read our review HERE
7. The Marvellous Mrs Maisel Season 2
The original Marvellous Mrs Maisel was one of last year's biggest surprises. Mixing comedy and drama perfectly while personifying the 1950s through its tight-knit cast of characters made the show an instant hit. After winning a bunch of awards, it was always going to be difficult for the second season to live up to expectations but it does so, in a big way.
The second season is far more ambitious and brings a lot of the supporting cast into the fold this time for a story that spans across 10 glamorous episodes. The comedy and drama is still here but the story spans across several different locations and does an excellent job elevating the show to a much higher level than the first.
If you missed it, you can read our review HERE
6. 
All Or Nothing: Manchester City
Say what you will about Manchester City and their seemingly endless supply of money, when Amazon dropped All Or Nothing: Manchester City earlier this year it certainly raised a lot of eyebrows. Seeing the inner workings of one of this generation's most successful managers and what goes into producing a title winning team chasing records and trophies is something rarely captured on camera. This, coupled with the raw drama and emotion inherent in football makes All Or Nothing: Manchester City one of the most authentic football documentaries out there.
If you missed it, you can read our review HERE
5. 
Dynasties
There's always something magical about David Attenborough's nature documentaries. The BBC have always done a fantastic job capturing the breathtaking awe of our natural world and Dynasties is no exception. Weaving narratives through some of the most sophisticated and impressive shots captured on screen, Dynasties is an instant hit, one that once again shows just how beautiful our natural world is.
If you missed it, you can read our episode reviews HERE
4. The Expanse Season 3
What a ride it's been for The Expanse. From its triumphant highs on screen to its sudden and shocking cancellation by Syfy, The Expanse managed to ride a tidal wave of fan backlash before eventually being saved from the brink of annihilation by Amazon. This tumultuous ride off-screen was almost as exciting as that depicted on screen. With deeper lore, more spectacular fight sequences and improved characterisation, The Expanse has grown from strength to strength over the years with the third season answering some crucial questions while raising more in the process.
It'll be interesting to see where Amazon take this going forward but if the third season is anything to go by, we're sure to be in for a real treat.
If you missed it, you can read our review HERE
3. Violet Evergarden
When Netflix announced at the start of the year it would be bringing a lot more anime to its streaming platform, the one title that immediately stood out was Violet Evergarden. From start to finish the show is an emotional rollercoaster and a few of the individual episodes are so beautifully crafted, so delicately written they break down any argument that anime is "just for kids".
All of this combined with a gorgeous art style, decent character arcs and a compelling story makes Violet Evergarden not just this year's best anime, but also one of 2018's best shows.
If you missed it, you can read our review HERE
2. The Haunting Of Hill House
We've been saying it for a while now but horror has really found a new home on the small screen. Gone are the days where the big blockbuster horror movies are the most prolific films in the cinema and with the exception of a few titles, fail to really ignite the same terror TV has managed to conjure so effectively.
When Netflix dropped The Haunting Of Hill House, a 10 hour long horror series, we had our doubts that the streaming giants would manage to pull off its promise of a compelling horror but boy did they deliver in a big way. Technically sound and featuring a lot of very well worked scares, The Haunting Of Hill House is a stunningly well executed show, one that weaves a group of perfectly written characters with a story that never feels like careering off track until late on. Even then, the excellent work done prior to those moments makes it easy to forgive any blemishes here.
Word of mouth helped this show grow a lot and it quickly became the series everyone was talking about in 2018. It deserves recognition for managing to keep up suspense and tension over 10 hours, which is certainly no easy feat. Haunting Of Hill House is simply an outstanding show and a benchmark for all TV horror to aspire to from here on out.
If you missed it, you can read our review HERE
1. 12 Monkeys Season 4
12 Monkeys is not just one of the best shows of 2018, it's last season solidifies it as one of the best time travel shows ever released and a crowning achievement in science fiction. Who knew a little show based on the hit film with Bruce Willis and Brad Pitt would go on to achieve such an amazing feat.
The continuing journey to save the future comes to a head in the final season, culminating in long-awaited answers and all the pieces of the puzzle coming together in a way that satisfied casual and die-hard fans alike.
The fact less people have had the pleasure of experiencing this show is a crime unto itself and if you have any interest in science fiction you really owe it to yourself to watch this wonderful series. It fully deserves credit for what the final season has achieved and a worthy winner of our Best TV Show of 2018.
If you missed it, you can read our review HERE
---
Final Thoughts
So there we have it, our top 10 TV shows of 2018. It's been one heck of a year and of course, with any list there were some casualties that didn't make it. We regrettably did fail to watch some of the heavy hitters this year including Cobra Kai, Patrick Melrose and Atlanta and others made it in the list last month only to be pushed out at the last minute by slightly better shows.
Homecoming, The Good Place, Girl From Nowhere, Save Me and Dirk Gently Season 2 all made this list in one form or another but after several weeks (and heated debates in the office) the list above is our definitive Top 10 of the year.