As we reach the end of another eventful gaming year, 2022 has been a turbulent ride of ups and downs for gamers, with some big, buggy releases and other underwhelming "AAA" titles that have failed to stand out. However, there have been some fantastic titles through the sea of murkiness, reinforcing what a fabulous time it is to be a gamer. 2022 has been a celebratory year of heavy hitters and Indie darlings – and we break down our 10 favourites in our latest list!
As a quick disclaimer, this Top 10 list has been compiled by our diverse group of writers, both male and female, hailing from all round the world including India, Kenya, the US and the UK, to name a few places! So without further ado, we present our top 10 video games of 2022.
---
10 – Final Fantasy VI Pixel Remaster
Final Fantasy VI is hands down one of the best Final Fantasy titles of all time. It's a fantastic RPG in its own right and at the time, delivered a story rife with emotion, heart and action. With a memorable ensemble of characters and a fantastic soundtrack, Square Enix returned earlier this year with a remastered version. It's pretty much the same game in truth, but a few notable differences.
The soundtrack has been remastered slightly, the graphics have been given a slight uptick and the game is just as enthralling and enjoyable as it was all those years ago. Unlike The Last Of Us Part I, which felt on-par with Skyrim releasing for the 1000th time in the last decade, Final Fantasy VI is a timely remaster and a fantastic experience to jump back into again. If you've never played FFVI, this is the best iteration to jump into!
---
9 – Pokémon Legends: Arceus

When Grand Theft Auto moved from 2D to 3D all those years ago, it completely revolutionized the gameplay of the franchise, bringing fresh enthusiasm. Pokémon Legends: Arceus feels the same way, making the jump from repetitive 2D pixelated worlds to a fully fledged 3D experience.
With a fresh world to explore and plenty of Pokémon to catch again, the gameplay is still very similar but feels distinctly original and exciting, with plenty of tweaks to key mechanics like catching Pokémon, Pokémon battles and even simply traversing the world. Of course, that comes with its own challenges but given the big leap Gamefreak took with Arceus, especially given the previous 2D entries, this one deserves credit for pushing the series forward in a meaningful way.
---
8 – Teenage Mutant Ninja Turtles: Shredder's Revenge
While Golden Axe and Streets of Rage hold the crown for best classic beat 'em up title, Shredder's Revenge is the perfect nostalgia hit for any fans of those older games (shout out to everyone else old enough to remember playing these in arcades!)
TMNT: Shredder's Revenge reunites Leonardo, Michelangelo, Donatello and Raphael as they kick ass and fight through a beautifully realized pixelated world, with all the hallmarks this genre has been known to adopt. The fighting is on-point, there's some great moments and who doesn't love playing as the Ninja Turtles against deadly enemies?
---
7 – Freshly Frosted
Sometimes the best puzzle games are those that take a familiar format and simply tweak that into something that feels wholly fresh and original. Freshly Frosted is such a game. Much like The Witness changed the way line puzzles work, Freshly Frosted feels like a natural extension of Pipe Mania, the old 1989 Amiga game. While there have been other puzzlers since then that have taken this concept and run with it, this innovate game combines gorgeous visuals and a tight aesthetic with an addictive gameplay loop and ever-expansive puzzles.
The aim of the game here is to make fresh doughnuts and put them on conveyor belts. Sounds simple right? Well, it is to begin with until the title introduces teleporters, switches, different toppings and a whole plethora of other ideas. This is easily the break-out puzzle game of 2022.
---
6 – Cuphead: Delicious Last Course
Normally we wouldn't highlight DLC (downloadable content) on this list of games but Delicious Last Course is exactly what it says on the tin. It's a delicious last course for one of the best run and gun rogue-lites to be released in quite some time. With new bosses, a new playable character and the all-too-familiar tight gameplay and gorgeous aesthetics we've come to expect, Studio MDHR do a fantastic job with this follow-up.
This is a crowning example of how to do add-on content right, with plenty of reasons to hang your head in despair after dying 100 times in a row! And you know what? It's absolutely worth it. Delicious Last Course is a must-play.
---
5 – Horizon: Forbidden West
Guerrilla Games sure know when to release their games. When Horizon Zero Dawn dropped back in 2017, it brought a uniquely placed open world game onto consoles. With an interesting setting, amazing lore and some rock solid gameplay, Zero Dawn felt like a breath of fresh air. Until, of course, that other breath came along and overshadowed Playstation's original. Yes, Breath of the Wild dropped several weeks after and took the world by storm, leaving Guerrilla Games' title in the proverbial dust.
Fast forward to 2022 and after a year of delays and cancellations, Guerrilla Games finally release their long-awaited sequel, Horizon: Forbidden West. This is undoubtedly a beautiful game, with expanded lore and a pretty good story. The platforming still needs some work and Aloy's constant chatter is borderline game-breaking.
Having said that, there's been a good deal of improvement and care put into fighting machines – which is still this game's biggest draw. There's nothing quite like the adrenaline-soaked fights with the larger behemoths in this world. Forbidden West is a solid sequel and some of its open world areas are unbelievably beautiful and jaw-dropping to explore.
---
4 – A Plague Tale: Requiem
When A Plague Tale released back in 2019, it delivered one of the best gaming experiences of the year. In fact, we actually named it as our game of the year! The tight stealth mechanics and mix of horror and innovative gameplay made it an absolute joy to play through. A Plague Tale: Requiem takes all of that and expands everything further, creating a beautiful follow-up and a must-play experience. If it wasn't for such a strong line-up of games this year, it would very easily come higher in our list!
The game delivers a wonderful 10-15 hour journey, with returning mechanics and some new ones too, freshening up the gameplay and making every moment as memorable as the first game. There's a lot to like with this and A Plague Tale: Requiem is well worth a spot on our list.
---
3 – Stray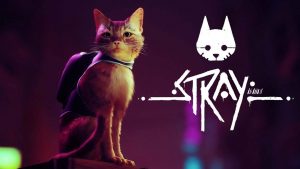 Stray is a wonderful little game. It's not a title that pushes the genre forward, nor is it a game that's all about the microtransactions and making a quick buck. This is classic video-game territory; a title that just wants to tell a good story and allow players to switch off for a few hours. And as a result, Stray is easily one of the best games of the year.
Split across 12 chapters, Stray's story is simple, and follows a stray cat that's lost and separated from its family. As a result of its travels, this cat is thrust into an ancient mystery involving a long-forgotten walled city and its robot inhabitants. With a self-contained story and some memorable characters along the way, this is certainly not a game to be missed. And given the playing time is around 4-6 hours, it's accessible even for those with a lot on their plates.
We've been graced with some wonderful Indie games over the years but Stray is certainly one of the more unique experiences out there. It takes the best parts of games like Limbo and Untitled Goose Game, and then blends them together with a simple but effective gameplay pattern. There's a lot of love that's gone into crafting this game and Stray deserves its plaudits. This is an excellent game and easily one of the best in 2022.
---
2 – God of War: Ragnarok
Out of all the big "AAA" releases this year, one of the few that actually managed to exceed expectations and deliver exactly what fans wanted is God of War: Ragnarok. Boasting tight gameplay, great combat and some truly breathtaking visuals (honestly, the snow and lava effects in this game are next level), Ragnarok is a fitting second chapter and a worthy inclusion on this list.
The story is fantastically written, well delivered and full of great voice acting all round. If this is what the future of the next generation of gaming looks like, it's in good hands with Santa Monica Studios, who deliver another smash hit for Playstation.
---
1 – Elden Ring

It had to be right? Elden Ring is a fantastic game and easily the highlights of 2022's gaming releases. FromSoftware have always been notorious for their difficult gameplay and its ravenous fanbase, encouraging newcomers to "git gud" before jumping into the next title in the franchise. While Sekiro erred a little too hard on the side of alienating newcomers to the franchise, Dark Souls has always been the crowning achievement of the studio… until this game.
Elden Ring not only evolves the core gameplay in a way that feels fresh and inviting, the open world setting actually complements the game beautifully. No longer do you have to painstakingly replay the same sections repeatedly until you win, the option is now there to head off and explore the beautiful and lush world. And what a world it is. The various different biomes all feel geographically different and every new region unlocks a plethora of creatures big and small to tackle. And that's before mentioning the monstrous bosses and enthralling story.
Elden Ring is a wonderful achievement and a new bar for open world titles to aspire to hit.
---
Final Thoughts
So there we have it, out top 10 games of the year. There were casualties, some omissions and some games we really wanted to play but just ran out of time to get through sadly!  With 2022 drawing to a close, 2023 promises to be a big year for gamers and with plenty of titles to get excited about, we'll have to wait and see what's in store for us.
But what about you guys? What's been your game of the year? Let us know in the comments below, we love hearing from you all!