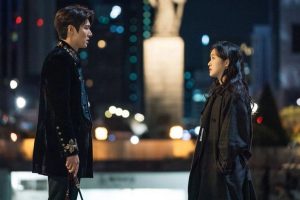 Track Listing
I Just Want To Stay With You – Zion.T
Orbit – Hwa Sa
Gravity – Kim Jong Wan
Maze – Yongzoo
I Fall In Love – Ha Sung Woon
Please Don't Cry – Davichi
You Can't Stop It From Bloomming – Sunwoojunga
Dream – Paul Kim
Heart Break – Gaeko & Kim Na Young
My Day Is Full Of You – Zico & Wendy
My Love – Gummy
Quiet Night – Hwang Chiyeul
You are my beginning and last – Kim Jae Hwan & Im Han-byeol
The King: Eternal Monarch is a Korean drama that may have modest ratings in Korea, but has become an International hit thanks to Netflix's broad reach. With a story wrapped up in time travel parallel worlds and plenty of doppelganger action, Eternal Monarch's soundtrack does a great job capturing those vibes audibly through a thematically relevant set of K-pop and instrumental edits. Whether it be the reverb placed on the vocals in "Gravity" or the lighter, dreamy lyrics in "Dream", Eternal Monarch does a really great job with its soundtrack.
The album opens with "I Just Want To Stay With You", a song that mirrors the feelings that become synonymous with our main protagonist Lee Gon. Zion T's lyrics work well to set the tone for the album ahead and from here, the tracks only get stronger. "Orbit" and the aforementioned "Gravity" both capture the essence of the other-world Corea mirroring and juxtaposing Korea, with "Orbit" feeling like an instant chart-topping hit on the K-Pop scene.
"I Fall In Love" switches things up from the more heartfelt ballads to a much more bouncy, playful love song, one that has some great lyrical content. 'Since the moment I saw you for the first time I'm dreaming of tomorrow that we will love' is a great example of this and it's one that's clearly a nod toward Tae-Eul and her growing feelings toward the King. This poetic use of language used to mirror the show's ideas are partly the reason the soundtrack works as well as it does.
Of course, all the usual K-drama soundtrack suspects are here too, with both Paul Kim and Gummy offering a selected track to add to the star power of this one. Paul Kim's fully English "Dream" is a beautiful, heartfelt melody that manages to hit the right notes throughout, while Gummy's "My Love" boasts a lovely little motif that'll be instantly recognisable to fans of the show.
While the instrumental for this has been used a lot in the show, the actual vocal rendition is beautifully done and effectively captures the sorrow and bittersweet emotions some of the later scenes in this drama have. The rest of the tracks work equally as effectively alongside the tracks mentioned in this album (which happen to be our favourites!) but there's a lot to like about this one. Much like Hotel Del Luna last year, The King: Eternal Monarch has a really strong soundtrack. 
In true Korean drama fashion, The King: Eternal Monarch's soundtrack certainly doesn't disappoint and continues to deliver some great music that accompanies the show nicely.
---