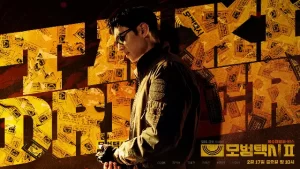 The Missing Son – | Review Score – 4/5
Back in Business – | Review Score – 3.5/5
The Trot Singer– | Review Score – 3.5/5
Sang-gi's Prison – | Review Score – 4/5
Feel Consulting – | Review Score – 3.5/5
The Evil Uncle – | Review Score –  4.5/5
The Sunbaek Cult – | Review Score – 3.5/5
Beating Cult With a Cult – | Review Score – 4/5
The Surgery Malpractice – | Review Score – 3/5
Jeil Chakhan Factory – | Review Score – 4/5
The Late Kim Do-gi – | Review Score – 4/5
The Playground of Evil – | Review Score – 3.5/5
Do-gi Crashes the Party – | Review Score – 4.5/5
Ha-joon's Defeat – | Review Score – 4.5/5
Ha-joon Versus Do-gi – | Review Score – 4/5
The Final Client – | Review Score – 5/5
After sweeping most of the awards at the 2021 K-drama award shows, the popular revenge drama Taxi Driver was renewed for a second which released in February this year. Over its 16 episodes, this season follows the story of Rainbow Taxi's secret revenge services restarting after abruptly ending in season 1.
With most of the members of the crew leading normal lives, Kim Do-gi still working as a regular Taxi Driver when he met with their first client of this season. Adamant to take on the case of a desperate father, Do-gi, along with the help of Sung-cheol, jumps on the case. After learning about this, Kyung-goo and Jin-eon also rush in to help Do-gi while Go-eun (who has a job as a police officer) also comes back to the control room to help Do-gi remotely.
The show moves on to take many more cases of victims who were desperate to help/avenge their loved ones. The Rainbow Taxi revenge crew eventually find themselves involved in a case inspired by one of the most controversial issues that changed the South Korean Entertainment Industry – 2019's Burning Sun scandal.
Every episode of Taxi Driver Season 2 sports an insane plot twist that will keep viewers hooked while Kim Do-gi assumes the role of the main showman once again. Do-gi has a loyal group to fall back on who offer him all the assistance that he needed throughout the show. The cases here are all inspired by real-life incidents and it feels reassuring that the families of the victims can get a sense of satisfaction by seeing a representation of the atrocities faced by their loved ones in the show.
Taxi Driver Season 2 is an all-kill with perfect casting while the mix of comedy and action makes it a well-balanced series to watch. Lee Je-hoon does a commendable job as Kim Do-gi. I loved the fact that the makers tried to show us yet again that the man was not all perfect and that he has his own share of mental health struggles. The rest of the cast, including Pyo Ye-jin as Go-eun, Jang Hyuk-jin as Kyung-goo, Bae Yoo-ram as Jin-eon, and Kim Eui-sung as Sung-cheol, do a commendable job with their roles.
This season sees Pyo Ye-jin's character shine with the way she shows how much she cares for Do-gi. After their post-work interaction on the rooftop in episode 16, there is some hope of seeing Do-gi and Go-eun having a romantic happy ending eventually. The eventual villain is also another stand-out moment too. Without getting into spoilers, season 2 of Taxi Driver ends with a hint of a possible renewal for a third season in December 2023 and that is the hope that all viewers and fans of the show will cling to for the rest of the year.
While the performances in this season are all commendable, if we're being critical, some of the revenge stories are rushed and sometimes not as satisfying as others. The OST to this season goes some way to help though, with the song 'Fighter' by indie rock band, Guckkasten, the perfect pump-up song. And that's before mentioning the visuals of a shirtless Lee Je-hoon working out inside his prison cell making the song a lot more enjoyable!
Since almost all episodes of Taxi Driver ranked at the No. 1 spot in terms of nationwide ratings, it would not be shocking to see the popular revenge K-drama returning for another season. However, even if it's not, season 2 is another worthwhile follow-up for this revenge drama.
---