Renewed Or Cancelled?
Netflix original Love To Hate You was released on Valentine's week and follows the story of a man who hates women as well as a woman who loathes all men.
Both Nam Kang-ho and Yeo Mi-ran have made up their minds about the opposite gender because of things that happened to them in the past. However, now that the two have crossed paths, they start clashing initially only to be involved a fake-dating relationship that starts bringing the two together despite their preconceived notions about the opposite sex.
After finishing the 10 episodes of its first season, you may be wondering if this romantic comedy, Love To Hate You has been renewed or cancelled. Here's what we know:
---
What is Love To Hate You about?
The 10-episode Netflix original, Love To Hate You stars Kim Ok-vin, Teo Yoo, Kim Ji-hoon and Go Won-hee in the main roles. The show follows the story of a famous actor – Nam Kang-ho who despises women and cannot stand them. However, the actor is known as the King of Romance in the South Korean Entertainment industry but his costars are the only ones that know the true nature of this actor.
Yeo Mi-ran is a lawyer by profession who lives with her school best friend, Na-eun. She is a badass who is known to beat up men that wrong her. Mi-ran always doubts the men around her because of the negative experiences she has had with her past lovers.
After she is laid off from her present law firm, Mi-ran gets hired by a popular all-male law firm where she clashes with Kang-ho. Now as the opposite personalities clash, their differences bring them into a face-off. The two get embroiled in a fake-dating relationship and things start picking up between the two.
We have extensive coverage of Love To Hate You across the site, including recaps for every episode. You can check those out HERE.
---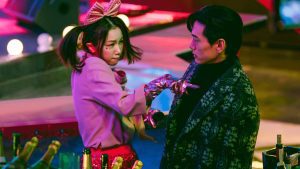 Has Love To Hate You been renewed for Season 2?
At the time of writing, the web drama, Love To Hate You has not officially been renewed for season 2. Given the popularity of the show, as well as the way season 1 ended, one cannot expect the popular drama to be renewed for a follow-up.
Officially, the show has not been renewed for a second season yet. However, given that many Netflix original K-dramas have multiple seasons, we can expect Love To Hate You to be renewed for a new season.
So far there has not been any official statement about the web series being renewed from the makers but there is a possibility to see the K-drama be renewed for a second season that could be released as early as 2024.
---
What we know about Love To Hate You Season 2 so far:
With multiple Korean dramas releasing more than one season in 2023, one would reasonably expect the Netflix original, Love To Hate You, to be renewed for a new series as well.
From where we left off in Season 1, we can hope to see Mi-ran and Kang-ho moving forward in their relationship. With Kang-ho proposing to marry Mi-ran and Mi-ran jokingly rejecting his proposal, we can expect to see how the couple navigates their relationship.
We could also expect a spin-off show with Na-eun and Won-jun as the main leads. The show could also feature a new take on Na-eun's history following the story of her bad luck dating men who scam her. We could also see the CEO Won-jun finally dating a woman after years of being single.
Since there has been no update from the makers of the show about a renewal, we can only wait for Netflix to make its official announcement. We generally aim to update this page when more information becomes available.
---
Do you want to see Love To Hate You return for a second season? What did you think of the show? Let us know your thoughts in the comments below!