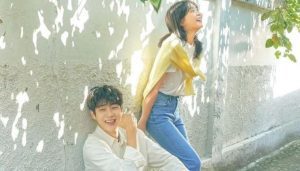 Our Beloved Summer Episode 3
Our Beloved Summer is a romantic k-drama centering around Choi Ung and Yeon-Su. These two broke up 5 years ago, off the back of a popular documentary filmed during their high school days.
Free-spirited Choi Ung is pretty naïve and works secretly as a painter, adopting the alias of Ko-o. Meanwhile, Yeon-Su lives for her work. Inevitably, the pair cross paths once more in the present.
If you've been following this one over the weeks, you may be curious to find out when the next episode is releasing. Well, wonder no more!
Here is everything you need to know about Our Beloved Summer Episode 3, including its release date, time and where you can watch this.
Where Can I Watch Our Beloved Summer?
Our Beloved Summer is available to watch on Netflix worldwide. For Koreans though, this is an SBS original and airs on Mondays and Tuesdays at 10pm (KST)
Our Beloved Summer Episode 3 Release Date
Our Beloved Summer Episode 3 will release on Monday 13th December at approximately 3pm (GMT). The subtitle team over at Netflix are incredibly quick so expect English subs to be available immediately.
Expect episode 3 to be roughly 1 hour long, which is consistent with the time-frame for the rest of the show.
How Many Episodes Will Our Beloved Summer Have?
Our Beloved Summer is a 16 episode k-drama, so we've got 13 more episodes after this one, with the usual array of two episodes releasing a week. Expect the story to continue developing the romance and comedy between Yeon-Su and Choi Ung in the present timeline.
Is There A Trailer For Our Beloved Summer?
There is indeed! You can find a trailer for Our Beloved Summer Season 1 below.
What Happened In Episode 2?
Episode 2 doubled down on the comedy, while teasing that there's going to be more romance to come in the upcoming chapters.
We've got the whole episode covered with our handy (and lengthy) recap, detailing all the big plot points and discussing the chapter with an accompanying review.
Read More: Our Beloved Summer Episode 2 Recap & Review
---
What do you hope to see as the series progresses? What's been your favorite moment of Our Beloved Summer so far? Let us know in the comments below!