Teen Wolf: The Movie 2
Teen Wolf: The Movie hit the streaming platform Paramount+ in January 2023 and there has been much excitement surrounding it. It happened to be a reunion project of the teen supernatural TV show Teen Wolf. On top of that, we also got back almost all of the original cast including our very first female lead, Allison. And while the film was full of nostalgia for Teen Wolf fans, it also introduced new characters and storylines hinting at future sequels.
Well, if you have seen it, like every other viewer, you may be looking for its sequel. But will there be a Teen Wolf: The Movie 2? Or is there little chance of a follow-up film? Here's what we know at the time of writing.
Please note: this article contains spoilers about the film's ending!
---
What is Teen Wolf: The Movie about?
Teen Wolf: The Movie starts off with a mysterious man attacking Liam and freeing the evil trickster spirit, the nogitsune that he was guarding. Elsewhere, Scott, Lydia and Chris Argent start hallucinating the very dead Allison and decide to perform a ritual in Beacon Hills to put her soul at peace. Unfortunately, it ends up bringing her back to life.
And while they expect a happy reunion, she greets them with knives and arrows as only select memories return including the fact that she is supposed to kill Derek Hale for wiping out her family. The pack need to help her out while also dealing with an old enemy that would like to kill them all.
---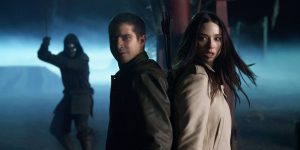 Will there be a Teen Wolf: The Movie 2?
At the time of writing, a sequel to Teen Wolf: The Movie has not been announced. The film ends happily for almost all of our favourite characters. However, in true Teen Wolf season finale fashion, the reunion film introduces several new characters and storylines that could serve as the foundation for a sequel if needed.
It should be noted that reunion projects, in general, do not get multiple sequels unless it is a modern classic like Sex and the City. On top of it, Teen Wolf's creator, Jeff Davis is focusing on his new supernatural teen show Wolf Pack which will keep him quite busy. However, with the cast's love for the series and the enthusiasm with which they joined the reunion movie, not all hope is lost.
Additionally, fan-favourite Dylan O'Brien who could not make it for Teen Wolf: The Movie due to clashing schedules has shared that he is open to the idea of a future appearance. 
---
What could happen in Teen Wolf: The Movie 2?
If we do get Teen Wolf: The Movie 2, it would probably focus on Derek's son Eli who has now finally learned how to turn into a werewolf. Or with Liam already being in a relationship with Hikari, a kitsune, they could possibly do a spin-off about the couple, their supernatural friends and escapades at their Japanese restaurant.
Lead actors, Tyler Posey and Crystal Reed suggested that they would like to see a sequel which focuses on heavier elements like mental health and their burdens now that they are adults.
We also would love to see more of Scallison of whom we were robbed when Allison died in season 3 and Scott was heartbroken. And with Dylan O'Brien hinting that he wouldn't mind returning for a future appearance, the creators better fix Stydia because having Stiles and Lydia break up over a dream after everything they have been through together was the most disappointing reason anyone could come up with.
And of course, seeing that no dead characters stay dead thanks to the resurrection of Allison and Peter Hale, we do hope that Teen Wolf: The Movie is not the end for Derek and he is brought back to life to revel in his true alpha form while being proud of his son.
---
When could Teen Wolf: The Movie 2 be released?
We first got the news of a reunion movie in 2021 during Teen Wolf's 10-year anniversary celebration. Filming began in March 2022 and finished sometime in May. It took 5 months before we got an update and the movie was then released in January 2023.
Given that the reunion was announced 4 years after the last season of Teen Wolf since the cast and crew were busy with their present ongoing projects, it could take a couple of years before we get any news on a sequel.
Of course, this is all speculation as there has been no official news regarding a second movie. Keep an eye out for this section as we will update readers if there is any news.
---
Would you like to see a sequel to Teen Wolf: The Movie? What did you think of the first film? Let us know your thoughts in the comments below.