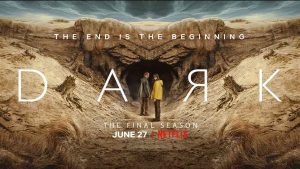 Track Listing
Goodbye – Apparat (Opening Credits)
If I Could Turn Back Time – Cher
Bad Kingdom – May & Robot Koch
You Spin Me Round (Like a Record) – Dead or Alive
Gott gib mir Gelassenheit – Ben Frost
Is This Love – Survivor
Broken Sleep – Agnes Obel
Inside – Chris Avantgarde
Wenn ich dich seh – Detlev Lais
The Labyrinth Song – Asaf Avidan
In the Woods Somewhere – Hozier
Cow Song – Meredith Monk & Collin Walcott
The Pioneers (M83 Remix) – Bloc Party
Pneumothorax – Blueneck
Down On the Street – The Stooges
What a Wonderful World – Soap&Skin
There will never be another show quite like German Netflix Original Dark. The mind-bending sci-fi and intricate knot of timelines has been graced with such an iconic and fitting soundtrack that works so well to accentuate and compliment the various themes this show tackles.
From the iconic theme song Goodbye back-dropped against the hypnotic kaleidoscope visuals to the fitting and beautiful rendition of Louis Armstrong's "What A Wonderful World", Dark pulls out all the stops for its final season both in terms of storytelling and music.
The album opens with "If I Could Turn Back Time", a befitting track that ultimately serves to reinforce those key ideas around time travel and changing the past. This is particularly the case with "You Spin Me Round" too, which shows up time and again on the various radios played in the 80's; cheekily teasing those concepts around paradoxes and endless cycles.
This blend of popular songs distorted to change their meaning combines beautifully with important and symbolic tracks that show up in the iconic musical montages. Last season "My Body Is A Cage" was one of the stand-out tracks with its goosebump-inducing vocals but here, "The Labyrinth Song" takes that crown as one of the best montage songs on the album.
From the poignant, reflective lyrics to the minimalist accompanying piano, every part of this song expertly captures the essence of what makes this third season so good. This is only typified by the final track that bows out that 8th episode, "What A Wonderful World", which swaps out Louis' iconic voice for a poignant female vocal that crescendoes at the end.
One of the more interesting songs on this album comes from "The Cow Song". The haunting melody is one that fans will instantly recognize across the season during some of the more mind-bending moments and it definitely shows. Combining vocal hums with echoing bells, the song is extremely minimalistic but it makes the most of its 2 minutes to deliver something instantly iconic.
While I personally preferred the second season's collection of tracks, Dark Season 3 continues to deliver the goods with its music, serving up a whole array of interesting melodies and heartfelt anthems. The various songs that show up in the montages – including "The Labyrinth Song" and "In The Woods Somewhere" – are easily the highlights though and help elevate this album alongside the previous season soundtracks. 
The music in Dark is such an iconic element that's certainly helped contribute toward the show's success. The soundtrack to season 3 only reinforces this and with a great array of tracks on offer, this is one album you should definitely check out when you're finished watching the show.
---