The Hopelessness of the Immortal King
Episode 15 of The Daily Life of the Immortal King (Netflix) tosses us straight into Wang Ling's first four restarts and then to the fifth, where we left off. But Wang Ling's restarting the world can't bring a person back to life. He quickly realises his mistake – not stopping Shadow Faction Leader sooner.
Even though Froggy's time-freeze has given them a bit of time to think of a new solution, Wang Ling is frustrated at his lack of ability. Froggy explains how time manipulation works, but to get the desired result it would take a good deal of power. Enter Wang Ling.
Hang on, reversing time is against the law of nature. With a good deal of warning, Wang Ling decides that any penalty couldn't be worse than losing Sun Rong. So Froggy gives his support, once again merging.
Time reverses back to the first day at School 60, when Wang Ling is beset by upperclassman bullies. This time Chen Chao and Guo Hua dive to the rescue. He offers them ten yuan as safe money but he's just as confused as they are as to why he's offering it.
In class, Wang Ling reacts to a girl who seems familiar, but it's someone else. After school, he impulsively chases a limo but finds Tang Jingze and Isabelle inside. His house is the same, but the vibe is different. All in all, his new life is pretty good. But it's not the same. It's a different world.
In fact, the combination of Froggy's time bend and Wang Ling's space adjustment converged to make a whole new world, rather than manipulate the previous one. Now the new world is absorbing things from the old one, destroying what was left behind.
Meanwhile in the Underworld, the newly crowned leader ponders what to do with sudden arrival of Sun Rong. Discovering that she's the ancestor of her own Master there's a moment of panic. They tell a confused Sun Rong that she must be dreaming.
In the new world, the guys head to the amusement park, Heavenly Paradise. They stop to have their fortunes told now with Zhou Yi as the attraction operator. It breaks at Wang Ling's turn – what could that say about his future?
The Gods of the Underworld realise they need to fix things to stop the world's destruction and quickly send Sun Rong back to the living. On Earth, Spirit Sword is shocked to see Sun Rong revive.
As they continue through the amusement park, Wang Ling suffers from déjà vu. But the guys remind him that they're there not to think but to have fun.
Spirit Sword gets Sun Rong up to speed on the happenings, including Wang Ling starting a new world in an attempt to get her back. They decide they must wake him up to set things right.
At the Ferris wheel Wang Ling finally breaks down, realising someone important isn't there. Memories flicker in his mind.
Sun Rong is ready to help Wang Ling by using Spirit Sword, even as he cautions her. She tells him that for a girl, to love is to destroy the world.
As he has visions of her and their shared past, she breaks into his world. Chen Chao encourages him to go, as she's waiting for him.
Time does turn back returning everyone to the Games and the moment where Chen Chao pushes fake He Bufang from the Alter of Metal. Just as He Bufang emerges as Shadow Faction Leader, a giant hand knocks her several feet into the ground.
That's our Wang Ling, immediately remedying the situation before things spiral. And it's School 60 for the win to cheers and shouts all around.
Before Sun Rong can reach Wang Ling to celebrate and have their moment like in the past, she's detained by news reporters wanting a soundbite. Froggy consoles Wang Ling as they flash back to the big decision.
In that moment, after everything they'd done so far, they still needed to make a choice in order to save the old world. It would mean Sun Rong losing her other-world memories. Sun Rong assures that even if she doesn't remember them saving each other, her feelings will still bring her back to Wang Ling.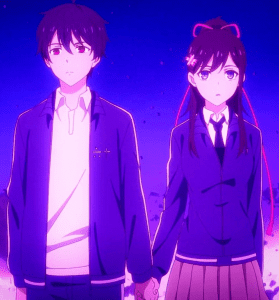 At the Games, Wang Ling's Dad arrives with a new talisman. Froggy notes that once his emotions are again sealed it will be tough to have a relationship with Sun Rong. But Wang Ling chooses world peace and receives the talisman.
We close on Wang Ling once again alone. After the credits, we get a quick glimmer of Wang Ling asking Froggy to rewind to a moment with the Shadow Faction chauffer and a little rarely-seen smile from Wang Ling.
---
The Episode Review
Quite an eventful final episode with the world ending and restarting and our Immortal King faced with making dramatic decisions. We end with that heavy, heavy crown and the excruciating reality of knowing what could have been. Perhaps re-sealing his emotions is for the best, as the frustration and second-guessing would be pretty overwhelming.
Like a true beauty queen, our reliable Immortal King gives up his budding feelings for a greater good – world peace. Did you notice those end credits are scenes that haven't happened in the series? Maybe they signify events from another world with both a Sun Rong and a freed Wang Ling. Or maybe they're wishes.
Anyone else curious about the new world Ferris wheel ride? Chen Chao and Guo Hua seemed to be aware that Sun Rong existed somewhere or at least that something otherworldly was happening. Or were they simply telling him to go to the one who was waiting extemporaneously?
And what are they telling us with that quick little rewind to the powerful Shadow Faction chauffer? It feels like they've left options open for more story to tell and a few things for us to think about in the meantime. Lucky for us, according to the latest anime news in China there will be a season 2 from potentially sometime in November.
When that is likely to reach outside Asia though is still to be seen. It took Season 1 a year and half from initial release to get to us. Either way, I'll be waiting for it. Will you?
Are you eagerly awaiting The Daily Life of the Immortal King Season 2? We'd love to hear your thoughts on all the action in the comments section below!