Crossing the Line
The day is finally here and sadly we say goodbye to this wonderful drama. It has been an emotional roller coaster but Crash Landing On You bows out with an incredible last episode, tying up all loose ends and giving an emotional but satisfying conclusion for all our characters and their story lines.
We pick up where we left off with Seung-Jun getting shot while saving Dan. We then see both him and Se-Ri struggling to live. Her heart stops and the doctors start performing CPR on her while Dan cries by Seung-Jun's side as she was going to give him a chance and wait for him. She finally admits to liking him as he gives his last breath. Dan is inconsolable and begs the paramedics to do something while Se-Ri starts breathing again.
Meanwhile, the soldiers discuss their detainment. Pyo still think that the agents are scheming something as they told all of them they're allowed to stay if they want to.
A week later in the north, Chung-Ryeol discusses the current situation with the Military Director. We find out that both countries are trying to make a deal about the 6 soldiers and that the South has agreed to release them back. As both Chung-Ryeol and the director have something on each other, they agree to cover for one another but the director insists on being in charge of their repatriation.
Back in the hospital, Se-Ri's mother reveals that they're about to send Jeong-Hyeok back. She is happy that he stopped lying and that he's going to be safe. However, when she finds out that he stayed at her bedside the whole time she suffered without any sleep or food, she asks to be taken to him.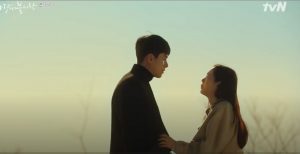 On the bus back to the airport, the four soldiers find out that Se-Ri collapsed but are relieved to learn she woke up. As they reach the border, they all get out of the bus and start walking towards the line. Agent Kim tries to get the North Koreans to wait a little but they insist on doing the exchange now. Se-Ri and her mum arrive just as they cross the line and see them getting arrested. This prompts her to runs towards Jeong-Hyeok and as he crosses the line back to her, each side draws their guns.
She asks him why he's being arrested and blames herself, but he tells her she was a gift to him and apologises for his words the previous day. They express their love for one another as Jeong-Hyeok gets taken away from her. All fours soldiers cry too and manage to shout caring words while being taken away.
In the North, Jeong-Hyeok's mother asks her husband to bring her son back alive while we see all six soldiers being taken in the woods to the Military Director, who's planning to execute them. Jeong-Hyeok insists on having a fair trial but the soldiers pull out their guns. As they're about to shoot, the soldiers get shot by Chung-Ryeol and his men. He ends up shooting the director too for trying to commit an execution without giving them a fair trial.
Man-Bok also returns home to his family while we see that Dan is refusing to eat. She tells her mum that she wants to take her revenge and meet with Cheon as she thinks that Se-Ri's second brother could be the one who paid the gang responsible for Seung-Jun's death. We then cut to Se-Hyeong and his wife, who are surprised to see Se-Ri with their father. Manager Oh and Agent Kim arrive too and reveal that Cheon has sent information regarding their involvement with Cho to Se-Ri. This results in them getting arrested as the dad tells them he is cutting them off once and for all.
Returning home, Se-Ri finds the food and notes Jeong-Hyeok left her. She starts crying then heads to bed listening to his piano recording he left her. She receives a text from him as we cut back to when he was detained and sent texts to be received in future dates. He tells her he still had things to tell her and to go to the bookshelf where he arranged the books to say "I love you Se-Ri" like she did to him in North Korea. We then see several different texts during the next few days including telling her to go for a walk while he does the same too.
In North Korea, the four soldiers reminisce about their time in Seoul and miss things like hot water and the internet, while Dan's mother goes to visit the women of the village and give them beauty products from Se-Ri's choice that she made with their faces on them. The women are touched as they realised that Se-Ri hasn't forgotten about them and are happy that she is doing well.
Both Dan and Jeong-Hyeok's mother meet and talk about their children. They both clear the air and apologise to each other while Myeong-Eun explains that her daughter has someone to love and who loves her back. At the same time, Dan visits Jeong-Hyeok and mentions Seung-Jun, who she says has gone very far away. As they talk about their times in Switzerland and all the pictures he took, she hands him his old camera, which we see contains pictures of Se-Ri on the famous bridge.
In Seoul, Se-Ri receives another text and a flower pot with instructions on how to grow it. She follows them as she sees it grow while he does the same on his side. As she carries on receiving texts during the year, Se-Ri seems happier and treats her staff to meals out. Finally she receives one last one on her birthday where he asks her if her plant has bloomed, explaining that they are edelweiss. He goes on to say they should meet in the country they grow but isn't able to tell her when.
In the North Korean village, all four women have dressed up nicely as they head to have dinner with the five soldiers. Jeong-Hyeok tells them to be nice to the next captain as he has been chosen to be a pianist in the National symphony orchestra. We then see that Pyo is going to be the new captain and looks very proud of himself. The women are sad to see him go but he promises that they will see each other again.
In Seoul, Se-Ri speaks to her brother about making the right decision to have hired a professional manager to look after the company. She then suggests creating a foundation to support disadvantaged children.
One year later, Se-Ri walks around the lake in Iseltwald again and remembers Jeong-Hyeok playing the piano. Back in Seoul she speaks to her mum about her plan which is to organise yearly musical performances for the musical genius she sponsors and posting articles about it in the hope that Jeong will see them. She vows to return there every year until he finds her again.
We then see her paragliding one day in Switzerland through the mountains and lands awkwardly with her parachute over her head. As she complains about her landing and removes the parachute from her head, she is surprised to see Jeong-Hyeok looking at her. She runs to him and they embrace before he tells her he got on the wrong train but that it brought him to his destination where he has been wanting to be day and night.
In the epilogue, Myeong-Eun and her brother speak to the fortune teller about Dan. She explains that there is only one man for her but as he is not around, she tells them that she will become successful and won't need a man as we see her getting ready for her musical performance in Russia.
In the village, we find out that Man Bok and his family are moving to the capital as he got a job in a film studio recording sounds. The four soldiers head to the market and try finding beauty products. The woman gives them some which turns out to be from Se-Ri's line. They talk about Jeong-Hyeok leaving to find Se-Ri while we see her preparing for two weeks off.
She arrives in Switzerland again for the musical performance and tells the hotel owner that the two weeks she spent here are the best of her years. In the evening, Jeong-Hyeok arrives too and sits next to her while listening to someone play the piano. The next day, they wake up in a house together overlooking the lake and meet for a picnic, happy to be together as the episode ends.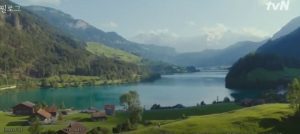 After 16 thrilling and emotional episodes, Crash Landing on You ends with a bang, giving us a happy ending for most of our characters but some sadder conclusions for others. The show has managed to build to this finale brilliantly whilst making sure we find out everyone's fate in the epilogue. Se-Ri and Jeong-Hyeok have been through a lot and their ending is a little bittersweet. They finally reunite but are only able to see each other two weeks every year in the beautiful Switzerland. This episode also showed us some beautiful imagery of the country and mountains, which gives the show even more of a personal touch.
Poor Dan, on the other hand, loses the love of her life just as she found it. This was very emotional indeed as she has been looking for happiness for many years. Fortunately, she seems to have found some in music, which in turn has been quite the focus during the season. The soundtrack of the drama is excellent and one that I will definitely go back too many times in the weeks to come. Let's not forget our favourite four soldiers who seem to be settling back in their country while still keeping some fond memories of the South and Se-Ri.
This episode also show us a very powerful moment as the soldiers crossed the line separating both countries which was quite tough to watch. Whether the soldiers will ever meet Se-Ri again remains to be seen but they bow out with another fun little segment while trying to buy conditioner in the market. Best case scenario we get a spin-off series involving the four soldiers and their shenanigans – a girl can dream!
The finale of Crash Landing on You feels like the end of an era and I, like many others, am very sad to see it conclude. This wonderful drama will always remain one of the best I have watched and with some well placed comedy, romance and brilliant plotting, Crash Landing On You has crash landed this Korean drama to top of the TV show pile of 2020 and it's a well deserved crown indeed.