Like K-drama & Ready For Something New?
Well, Chinese Dramas may be just the ticket. There's a heck of a lot of content out there on Netflix, Amazon, Hulu, Viki, etc. – so much from which to choose.
Some shows fall into mediocrity while others are fun to watch in the moment but less memorable in the long run. And some, well, some are just super impactful and stick with you long after you've turned off your gogglebox for the night. Some even deserve a re-watch!
A lucky number in China of course (it's number 4 you need to avoid) – here are 13 Chinese-language dramas, including Taiwanese shows, that fit the bill.
We've helpfully added red hotlinks to trailers over the title of each show. Hope you enjoy!
---
Lost Romance (2020 – Viki)
Lost Romance is a Taiwanese romance-comedy about a book editor who falls into a romance novel and uses her knowledge of the genre to navigate her way. Her crush in the real world just happens to be the face of the novel's protagonist. Meanwhile, he's having a spot of trouble in real life. Can Xiao'En help them both?
The concept is wonderfully over the top, making fun of itself and the entire romance genre, tongue firmly in cheek. Vivian Sung and Marcus Chang lead both worlds with vigour and fantastic comedic timing. 
You can read our thoughts on Lost Romance in our episode reviews here!
---
Triad Princess (2019 – Netflix)
Short and sharp, the six episodes of Triad Princess hit you like a gunshot with no holds barred on violence or language. It's also a great way to dive into what C-dramas have to offer.
What makes this story great is the super snappy dialogue and character chemistry. He's a celebrity in a fake relationship. She's the daughter of the biggest gangster in Taiwan. While his celebrity shines an unwanted light on her and those around her, her family business could get him stabbed in the heart.
Jasper Liu, Eugenie Liu and a cast of characters make this easy to watch and full of fun. Warning, it ends on a cliffhanger – can't wait to see where they take us next.
You can read our thoughts on Triad Princess in our full season review here!
---
Meteor Garden (2018 – Netflix)
I was completely taken in from the moment Dong Shancai roundhouse kicks Daoming Si in the face. Pure brilliant silliness filled with familiar gags and a compelling romance. The same story as Boys Over Flowers, but done so much better. Both stolen from the Japanese manga and drama Hana Yori Dango.
In one corner, four super-star wealthy guys rule their school and force out anyone they don't like. In the other, a poor righteous college student (Shen Yue) who sticks up for her friends and herself. The leader of the four (Dylan Wang) starts bold but eventually we see he's quite child-like at heart. It's a clash of titans as they battle it out with each other and his status-obsessed mother.
There's just something about the innocence-fueled chemistry mixed with the never-ending strength needed to overcome obstacles that makes this a winner.
---
Ever Night Season 1 (2018 – Viki)
It's a long one at 60 episodes but so worth the investment. Ever Night is a historic adventure fantasy based on a novel. A young kid's entire village is slaughtered and he swears to avenge his family.
Played by American actor Arthur Chen (Chen Feiyu), he finds an abandoned baby girl and raises her and himself – he a growing warrior and she, his servant. Their stories are part of a much bigger account of Kingdoms trying to prevent the prophesized eternal night.
A cast of amazing actors, a compelling storyline and magical special effects make this one heck of a ride. Even my mother loved it, and she has little patience when it comes to drama. There's also a season 2 – where Meteor Garden's Dylan Wang takes over as lead. But it feels meandering, by comparison, taking ages to get to the good stuff.
Whether you carry on with the series or not, Ever Night S1 is wonderful in itself and so worth the commitment. There are lots of fun characters, including the wise prophet Confucius. Catching a glimpse of Confucius in action is alone worth the price tag.
---
Refresh Man (2016 – Netflix, Viki)
Aaron Yan leads a slew of fun rom-coms but Refresh Man is particularly strong. A former overachiever, played by Joanne Tseng, is doing what she must, now on corporate auto-pilot – a 'refresh man' who can't seem to find the passion in her work.
Enter the new CEO (Aaron Yan) who's there to shake things up. But wait a minute – he was a complete slacker in school and she teased him mercilessly for his poor grades. How could he possibly have raised himself to CEO level? And wait, does he recall how horribly she'd treated him? Oops.
Without giving anything away, yes, he does remember. It's comical, charming and filled with great romantic timing. Bonus fact: Refresh Man was also directed by Eri Hao of Lost Romance.
---
Love 020 (2016 – Netflix)
Led by Yang Yang, this is a story about college student gamers and fluidly swaps between their real-world and gaming-world challenges. In the game, Yang Yang's character teams up with Shuang Zheng's character as the perfect battle partners.
On campus, it looks like they just might be compatible in the real world too. But of course, there are always challenges. And eventually, they have to graduate and get jobs. As aspiring techies, they and their friends continue to fight for the prize.
---
Mr Swimmer (2018 – Viki)
Having enjoyed the Thai version Full House and Kiss Me, I was keen to see Mike Angelo perform in Chinese. He's been in several C-dramas but Mr Swimmer seems to be his best with a storyline following an Olympic-level swimmer having to work his way back to the top.
He joins a team, training with his best friend as they vie in the pool as well for the girl they both admire. A tiny bit long at 40 episodes, it's a cute and competitive romantic love triangle with the added benefit of water.
---
Bromance (2015 – Netflix, Viki)
Bromance laughs at itself with a goofy plot about a young woman played by Megan Lai who must pretend to be a man until her 25th birthday. Under those conditions (and with her pretty face of course) she's had to take up martial arts. This, plus an aloofness (to keep her cover) makes her irresistible to women.
She helps Baron Chen's character win a fight and they become 'brothers,' while his sister, who's played by Katie Chen, falls in love with her. At two months from her 25th can she maintain her game face and still stick with her man? Aside from the silliness and male/female gags, there's some delightful chemistry here as the leads help each other find themselves.
---
Meteor Garden 2001 Season 1
For my money, it's not quite as tight as the 2018 version, but the characters are wonderfully engaging. And you have to admire the level of physical bullying this girl endures. See above for plot – the trailer here compares parallel scenes. There's even a season 2, but I don't recommend it – its slow, slow, slow by comparison, with Daoming Si having amnesia for a good chunk of the story.
But don't worry, you don't need it. Season 1 is great on its own, even with a slightly more ambiguous end than the more recent version. If you love MG2018, do catch the original Taiwanese rendition.
---
Autumn's Concerto (2009 – Netflix, Viki)
If you follow the trail from Meteor Garden 2018 to Meteor Garden 2001, you'll find that Meizuo becomes one of your favourite characters, played by Vanness Wu. In this manner, I found my way to another classic, Autumn's Concerto.
Even though its 34 episodes could have probably been done in 24, it's still a solid drama about a guy who loses his memory and his girl, chased away by the standard evil mother. The girl has a baby and this is where things get compelling as that kid is 100% awesome. And when he and his father randomly meet, there's an instant connection.


---

The King's Avatar (2019 – Netflix)
Completely gaming-focused – much more so than the above-noted Love 020, and also led by Yang Yang, The King's Avatar sports some lovely CGI and is based on a manga about the world of professional gaming. It's pretty cut-throat. Not the usual fare but there's an enjoyable story mixed in with strategy and strong relationships, even if there is a little too much gaming. If you're into that sort of thing though, it's a definite goer.
---
Lucky Days (2010 – Netflix)
Lucky Days is imaginative and weird but undeniably charming. A man on the brink of divorce finds a computer programme that turns back time. He uses it as a magical 'do-over' to try to fix the things that drove his wife away. Over the course of the story, he falls in love again and eventually learns what it means to be a good husband.
Unfortunately, each modification seems to trip something else in the timeline, making it even more difficult to find his way out as he lands at the registry office time and time again.
---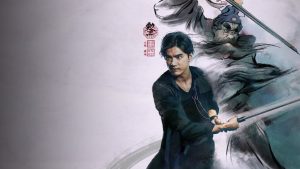 The Devil Punisher (2020 – Netflix)
We're still working our way through this one in truth, but it's getting better over time. The story focuses on the Ghost King trying to rescue his girl who was ripped from the Underworld by an evil apparition. The King finds her on Earth but hasn't worked out how to rescue her yet. As he works on the larger mystery, more distracting ghosts show up that need a little direction.
You can read our thoughts on The Devil Punisher in our episode reviews here!
---
Bonus: Next on our watch list
As an added bonus, here are a few that have piqued our interest in the coming months!
Before We Get Married (2019 – Viki) – featuring Jasper Liu from Triad Princess and Puff Kuo. Two affianced people become attracted to each other as their individual wedding dates approach. Thirteen tension-filled episodes can't possibly be enough!
Back to 1989 (2016 – Netflix, Viki) – starring Marcus Chang of Lost Romance and Ivy Shao of Devil Punisher. Our protagonist never knew his father and finds himself thrown back in time where he meets his young mother and paternal candidates. As he discovers the whys he must choose between his mother's future and his own existence. They had me at Marcus Chang.
The Untamed (2019 – Netflix, Viki) – looks like it could be my new Ever Night, with an imaginative plot and strong characters. Based on a novel with a rather complex narrative, in 50 episodes it follows the training and career of two young cultivators learning to use their powers and racing toward their destinies.
---
Got some others that we should add to the watch-list? Do you agree with our list above? Or are there any notable omissions? Let us know in the comments below! Xie xie!
---