There are a lot of TV shows out there and in this golden age of TV streaming, the choices have never been greater. So how do you cut through the noise and find the "Best of" for any chosen topic?
Well, we're here to help celebrate and shine a spotlight on some of the latest, greatest and unforgettable shows through the years.
For our ongoing series of articles depicting the best sci-fi TV shows, our attention this time turns to time travel.
From Stephen King thrillers to the longest running sci-fi show of all time, there are a lot of options to choose from. Below, we've gathered our top picks.
Of course, if we've missed any of your favourites feel free to comment below and we'll get them added on!
---

11.22.63
8 part mini-series 11.22.63, based on the Stephen King novel of the same name, is an impressively crafted time-travel thriller. With an inspired James Franco in the driving seat, this is a must-watch for sure.
The story begins in present day America with high school teacher Jake Epping. By chance, he discovers a portal leading to the past in a diner he frequents, run by his friend Al.
After a brief introduction to the way this portal works, Jake is thrown head over heels into 1960's America where he decides to try and stop the assassination of John F. Kennedy and change the future.
With Jake continuing to invest more and more time in the past, he finds himself striking up unlikely friendships, especially with confident Sadie Dunhill.
Smartly written and undeniably tense, 11.22.63 is well worth a watch.
You can read our thoughts on 11.22.63 in our full season review here!
---

Travelers
At first glance you'd be forgiven for writing off Travelers as another generic sci-fi show. After all, a collection of people coming together to try to stop the world from total annihilation is hardly the most original of ideas.
Where Travelers stands out though, is the unique way it manages to weave its unique premise through a well written plot and believable, complex characters.
The story takes place 100's of years from now, as surviving humans discover how to send their consciousness back through time into people of the 21st century. Desperate to change the fateful path of humanity, Travelers combines mystery, action and tension to great effect.
The show does well to conclude its three season run too with an epic finale that does just about enough to conclude this tale on a high. However, it also leaves the door open for a possible reboot further down the line.
You can read our thoughts on Travelers in our full season review here!
---
12 Monkeys
When it comes to under-rated sci-fi, 12 Monkeys must be near the top of the list. This incredibly thrilling show completely surpasses its big screen brother to produce something really special – and criminally overlooked.
The story itself is relatively unchanged from the film. In the future, a virus has absolutely ravaged humanity and a lone time traveler jumps back to stop a plague from wiping out Earth. While this sounds simple in theory, 12 Monkeys quickly adds layers of depth to rival that seen in Dark.
After an enjoyable and relatively predictable first season, 12 Monkeys changes the game by introducing a shadowy group called the Army of the 12 Monkeys. They too seem desperate to change the past but to what end? What ensues from here is an incredible journey, one of the best sci-fi series ever produced and one that finishes with a spine-chilling conclusion.
You can read our thoughts on 12 Monkeys in our full season reviews here!
---
Outlander
If you're looking for a decent adaptation from book to small screen, look no further than Outlander. At its core, the story revolves around an English combat nurse in 1945 called Claire Randall. Somehow she travels through time to 18th Century Scotland and straight into the arms of dashing Jamie Fraser.
This unlikely romance goes on to evolve and grow over time, combining several different genres including historical fiction, adventure, fantasy and melodrama. It's this blending of genres that make Outlander such an enthralling watch and while the later seasons do meander a little at times, there's enough here to enjoy nonetheless.
---

Lost
Back in 2004, a tiny show called Lost went way over-budget with its pilot episode. The consequences of that saw several people fired.
Little did they know this mishap would help grow Lost into a worldwide phenomenon that completely changed the way people watched TV.
This highly engrossing, mystery series revolves around a group of plane-crash survivors washing up on shore and fighting for survival on a very weird island holding many, many secrets.
Across 7 seasons the show does lose its way a little but it serves up an engrossing and unmissable journey nonetheless. If you haven't seen it already, Lost is a must-watch show.
---

Erased
Based on the manga of the same name, Erased (Bokudake ga Inai Machi in Japanese) is a character-driven story about a boy who has the ability to travel back through time. 
The story focuses on struggling manga artist Satoru, whose unique ability of rewinding time allows him to stop accidents from occurring in front of him. After witnessing the murder of his mother, Satoru uses his gift to go back to prevent her death.
In doing so, Satoru mistakenly jumps back 18 years to his childhood. What follows is a timeline distorting adventure that jumps between the alternate present and the past.
This is another thriller that plays with the idea of time travel and, more specifically, the consequences of doing so. Despite its obvious manga influences, this live-action series is well worth checking out.
You can read our thoughts on Erased in our full season reviews here!
---

Legion
Legion is a challenging sci-fi series that exists somewhere within the weird space of the X-Men universe. It's also one of the more unusual and visually stunning shows you're likely to see in quite some time.
When you've watched Legion, you'll know why this is on the list, especially given some of the twists during the latter periods of the show.
The story here revolves around a super mutant named David Haller. This troubled young man spends his time institutionalized after being diagnosed as schizophrenic.
What follows is an unforgettable journey as David tries to make sense of what's happening and why he's there. The show has three seasons and ends conclusively too, making for a solid watch that's very much recommended.
You can read our thoughts on Legion in our full season reviews here!
---
The Ministry Of Time (El Ministerio Del Tiempo)
Spanish drama The Ministry Of Time is a real hidden gem. Each episode is around 70 minutes long and revolves around a secret society operating in Madrid.
With a headquarters housing portals to numerous different time periods through history, it's left up to a warrior from the 16th Century, the first female university student from the 19th Century and a paramedic from the 21st Century to protect the timeline. Together, this trio are thrust into a dangerous world where villains threaten to change Spanish history forever.
Everything from the Armada to important aristocrats are explored across these chapters, and with three seasons to get through, there's plenty to sink your teeth into.
You can read our thoughts on The Ministry Of Time in our full season reviews here!
---

The Umbrella Academy
The Umbrella Academy is the full package. This sci-fi series boasts a great ensemble of characters and some excellent action to boot. The Umbrella Academy takes the time to flesh out every character and gives them a compelling arc.
The action sequences are well shot and the simple story surrounding this misfit group of child-heroes teaming up to save the world is as engrossing as it is watchable. It's also one of the better examples of a show outdoing itself in the second season.
You can read our thoughts on The Umbrella Academy in our full season review here!
---

Undone
Undone is a profoundly clever animated series. There's some big ideas and themes discussed, wrapped up with solid characterization and a consistently progressive plot.
The story revolves around Alma. Through her narration we learn about her average life and her average family, all living in an average neighbourhood. After being involved in a car accident and awakening in hospital following a coma, Alma learns she has new powers that allow her to manipulate time.
While it's the mystery that keeps things moving at a steady pace, beyond that the series works much better when you view it as Alma trying to find purpose in life. Undone places a pretty big weight on the main character's shoulders and this translates into some wonderful characterization and intriguing relationships that develop over time.
It may be one of the more unique choices on the list, but it's certainly an animation worth checking out nonetheless.
You can read our thoughts on Undone in our full season review here!
---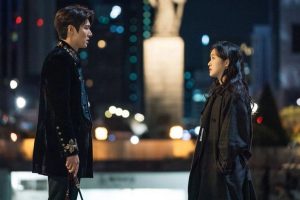 The King: Eternal Monarch
Shows involving time travel are always tricky to pull off correctly. From plot holes to convoluted lore, The King: Eternal Monarch brings a fair amount of confusion to the table. However, it soon becomes something wholly engrossing and highly enjoyable.
The story itself revolves around two parallel worlds; the Republic of Korea as we know it and the Kingdom of Corea. This forms the crux of drama that follows. From here, the plot only becomes more complicated and layered over time.
The King: Eternal Monarch is a wonderful Korean drama that adds enough twists and turns along the way to make for a highly enjoyable watch.
You can read our thoughts on The King: Eternal Monarch in our full season reviews here!
---

365: Repeat The Year
356: Repeat the Year is a suspenseful thriller about a group of people resetting their lives for different reasons. Specifically, our story here follows 10 different individuals who reset their life by one year and relive their past. Only, unexpectedly mysterious situations begin to arise, with each of the characters seeing their fates changed and distorted in the process.
At the forefront of this is Ji Hyung Joo, a detective in the violent crime division. When he figures out something is awry, he begins investigating this phenomena.
Dripping in tension and full of clever twists, 365: Repeat The Year is a mystery box series with a really pacey story.
---
Steins;Gate
Under the glitzy Japanese animation and the obvious anime tropes is a very well written mystery box that grips you from the start to the end of this 25 episode show.
Steins;Gate is a series that takes the concept of time travel and runs with it, delivering a slow-burn opening before absolutely going to town with the second half of its run-time. I won't spoil anything here but this is easily one of the better written time travel series out there.
Steins;Gate is a moody, briskly paced, atmospheric thriller.
---

Fringe
Fringe feels like a modern day X-Files, taking what made that show so great and adding a scientific edge to proceedings. The later seasons are absolutely fantastic and add some really shocking twists to the fold too, breathing new life into this show.
Fronting these various cases is F.B.I. agent called Olivia Dunham, who's forced to work with an institutionalized scientist named Walter Bishop. Together with Walter's estranged son Peter, they start to uncover various strange phenomena. These episodic cases are mixed in with a larger conspiracy that engulfs the series.
Fringe expertly blends these two narrative arcs together and tops it off with an excellent dynamic between the characters, growing and evolving over time to produce a really gripping sci-fi series.
You can read our thoughts on Fringe in our full season review here!
---
Heroes (Season 1)
It's important to make the distinction here that only season 1 bears much resemblance to Jupiter's Legacy. While the heroes (no pun intended) in this series don't wear capes and show off their powers, it is one of the better examples of character writing and creating believable heroes in the modern day world.
Serving as an origin story, Heroes manages to take the superhero ideas onto the small screen in a really compelling way. The characters are well written, given some decent screen time, and the extended run-time is enough to flesh everyone out and build up to a climactic showdown at the end.
Unfortunately season 2 onward sees a sharp decline in quality so your mileage with this may vary.
You can read our thoughts on Heroes in our full season review here!
---

The 4400
The 4400 feels like a mash-up of various other sci-fi shows. There are clear influences of Lost, Flashforward and The X-Files. However, the show nicely blends that together to form the core of this series.
The story here revolves around the trials and tribulations of 4400 people, who all suddenly return in a ball of light to Earth. None of the returnees have aged physically, although mentally some of them definitely have.
Tasked with investigating this phenomenon is the NTAC (National Threat Assessment Command) who try to work out why this has occurred.
Smartly written and chock full of binge-worthy episodes, The 4400 is definitely worth a watch.
---

Kairos
Shows involving timelines and rewriting time can either go horribly wrong or perfectly right. There really is no middle ground. With a simple but effective hook, a smartly written script and some endearing, well rounded characters, Kairos is the best show in 2020 you've probably never heard of.
Kairos is one of the smarter written sci-fi shows of 2020 and it's a shame more people aren't aware of this one. The 16 episodes are consistently tense, fall of suspenseful moments and excellent twists. All of this builds up to one of the more satisfying conclusions to any drama released this year.
If you're in the mood for a good sci-fi thriller, this one's definitely worth checking out.
---
Doctor Who
Back in 23 November 1963 a mad man in a police box appeared and changed sci-fi forever. Since then, Doctor Who has gone on to become the longest-running sci-fi show worldwide. Of course, the show did take an extended hiatus back in the 90's before being revitalized again.
While Classic Who is much slower and more dialogue-driven, Russell T Davies brought Doctor Who back in 2005 for a modern audience, with more action and thrills. Peak Doctor Who in the modern era would argue that seasons 4-6 are where the show is at its all-time high.
For those unaware, the series revolves around the last Time Lord known as The Doctor. He travels around the universe in his TARDIS, a time machine that's bigger on the inside.
With a variety of companions that come and go, The Doctor embarks on a variety of different adventures with an array of formidable foes and unforgettable monsters along the way.
You can read our thoughts on Doctor Who in our full season reviews here!
---
Russian Doll
Groundhog-esque dramas are nothing new in the realm of science fiction but when Russian Doll dropped back in February 2019, it managed to carve out a unique slice of the pie.
With its quirky dramedy set up, an inspired Natasha Lyonne at the helm and a digestible run-time, Russian Doll defied expectation and created one of the year's most talked-about Netflix Originals.
The plot twist partway through the show helped to defy expectations too, in what could have very easily turned into a run-of-the-mill comedy. For that alone, the show deserves props.
---

Dirk Gently's Holistic Detective Agency
Based on the books of the same name, Dirk Gently's Holistic Detective Agency is a frenetic, witty, intelligently paced show with a great mystery at its heart.
The series revolves around an eccentric, enthusiastic amateur sleuth called Dirk who whisks up unimportant nobody Todd on a supernatural, time bending adventure to solve a bizarre mystery.
Dirk begins as a comedy before quickly growing into a really engrossing, endearing comedic drama that only becomes more wild and wacky as it moves into the second season. If you're in the mood for a fantastical adventure, complete with trippy visuals, crazy shenanigans and a few hearty laughs along the way, this may be the show for you.
You can read our thoughts on Dirk Gently in our full season reviews here!
---

Tunnel
Tunnel is a sci-fi series revolving around a detective named Park Gwang-Ho. He ends up traveling between the past and present in the hopes of saving his daughter. Much like Alice (which is definitely not on this list!), this is a drama that sees our lead character desperate to save that which is most precious to him.
Although the plot is a bit obvious and the last act of the series takes a surprising and questionable turn, there's enough to recommend Tunnel as an enjoyable sci-fi drama.
---
Timeless
Timeless is an interesting and engaging series, one that takes a simple premise and absolutely runs with it.
At the center of this is a mysterious criminal who steals a secret time machine. They have plans to destroy America and completely change the past.
Earth's only hope rests on an unexpected trio of heroes – a soldier, a scientist and a history professor. Together, they're tasked with using the machine's prototype to travel in time to critical events.
Fun and engaging, Timeless is one of NBC's better efforts and its ending wraps up enough to make for a satisfying conclusion.
---

Nine: 9 Times Time Travel
One of the more polarizing entries on the list, Nine: 9 Times Time Travel is a gorgeous drama that's let down slightly by some plot contrivances and continuity issues. Having said that though, the show itself does a great job bringing you into this world and the cinematography is fantastic throughout.
The story revolves around a man named Sun-Woo who finds magical incense sticks that send him back through time.
Determined to change the world he's currently living in, Sun-Woo bites off more than he can chew when he learns his actions have consequences for those in the present – including himself.
Nine is a fun time travel series though and despite its problems, certainly worth checking out.
---

Future Man
Future Man knows exactly what sort of show it wants to be. This tunnel focus helps to make this show all the more enjoyable. This comedy/ sci-fi mash-up is clearly geared toward young male adults with its video game inspired plot line and crude jokes.
The story follows Josh Futturman (Josh Hutcherson), a janitor by day but whizz kid video-gamer by night. When Josh completes the last level of a difficult video game no one else has managed to achieve, a duo of time travelling fighters recruit him for a secret mission.
What transpires is a hilarious journey through different time periods to try and change the future before humanity's inevitable destruction.
You can read our thoughts on Future Man in our full season reviews here!
---

Signal
Based loosely on true events that took place in Korea, Signal is quite simply an incredible thrill-ride. This police procedural blends a shocking string of crimes with a time-bending idea that sees a walkie-talkie able to communicate with the past – 1989 to be precise.
With both Hae-Young and Soo-Hyun working together, they team up with Jae-Han from the past and together set out to catch the killer. With the gift of hindsight and foresight at their disposal, they work to try and prevent these atrocious crimes from ever taking place.
---

Life on Mars
Despite a few anachronisms floating into the scripts from time to time, Life On Mars is a really well written time travel romp.
At the center of this is young DI Sam Tyler, who finds himself hunting a killer in 2006. When he's hit by a car though, he awakens in 1973.
Interestingly, the series then plays with the ideas of different police methods, with Sam's modern approach clashing with the archaic way of how things are done in the 70's.
Running for three seasons, there's a lot to like with this one.
---

Quantum Leap
Quantum Leap is a highly imaginative take on time travel. Despite releasing back at the end of the 80's, this one certainly stands the test of time.
The story predominantly revolves around a failed government experiment into time travel. Here, a scientist becomes trapped in the past and is forced to jump into the bodies of different people to resolve their issues. At the same time, he remains dead-set on finding his way back home.
Across the five seasons, Sam finds himself reliving memorable and interesting periods of history, including the assassination of JFK and even racial discrimination in the deep South. This one is highly recommended.
---
Continuum
Serving as the reverse idea to Life on Mars, Continuum is a police drama gem hailing from Canada.
This show centers on Kiera Cameron, a regular cop from 65 years in our future. She finds herself trapped in present-day Vancouver, desperate to hunt down eight of the most ruthless criminals from the future, known simply as the Liber8.
Using her future connections and a 17 year old tech genius called Alec, the pair set out to stop these terrorists before they change the course of history.
Well written and incredibly endearing, Continuum is another decent choice.
---

Dark
Dark is thought provocative, regularly surprising and full of interesting characters to keep you watching until the final scene. Across its 3 season run, Dark shows exactly how to craft a compelling and complicated web of time travel.
The story begins in the (at time of broadcast) near future of 2019 Germany in a small town called Winden. This tight-knit community is rocked by the sudden disappearance of two young children who seem to be connected with a cave.
We won't spoil more but suffice to say this is one story you'll probably need to revisit numerous times to catch all the clues along the way.
Using a distinctly dark tone and a gorgeous, atmospheric score, Dark is easily one of the best time travel series ever created. This one comes highly recommended.
You can read our thoughts on Dark in our full season reviews here!
---
So, there we have it, our picks for the best TV shows through the years about time travel!
What do you think of our picks? Do you agree? Are there any notable omissions? Let us know in the comments below!
---