There are a lot of TV shows out there and in this golden age of TV streaming, the choices have never been greater. So how do you cut through the noise and find the "Best of" for any chosen topic? Well, we're here to help celebrate and shine a spotlight on some of the latest, greatest and unforgettable shows through the years.
For our ongoing series of articles depicting the best sport-themed TV shows, our attention this time turns to Martial Arts. From long-standing anime that mix supernatural with conventional fighting through to a volatile 1870's Tong War, we dive deep into this topic to bring you the best Martial Art TV Shows Of All Time.
Of course, if we've missed any of your favourites, feel free to comment below and we'll get them added to the list!
---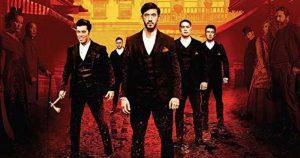 Warrior
Warrior combines well choreographed fights, political scheming and a volatile 1870's San Francisco setting to great effect.
With the Hop Wei and Long Zii gangs on the brink of war, Ah Sahm arrives on the shores of San Francisco, determined to find his sister Mai Ling. Unbeknownst to him, she's mixed up with the Long Zii while Ah Sahm himself is recruited to the Hop Wei.
This is an action packed thrill-ride that's well worth checking out and with a second season all wrapped up and rounding out most of the big story beats, there's lots to like.
You can read our thoughts on Warrior in our full season reviews here!
---

Wu Assassins
Blending elements of Warrior, Iron Fist and pure martial art films, Wu Assassins is a high-octane series that relies heavily on its impressive action sequences to tie everything together.
The story here centres around Kai Jin, a warrior who's bestowed powers to go on the hunt to search for the powers of an ancient triad.
While it doesn't quite hold the same lasting allure as other shows in this genre do, there's an accessibility to Wu Assassins that makes it a very easy show to dip in and binge through.
You can read our thoughts on Wu Assassins in our full season reviews here!
---

Lego Ninjago: Masters of Spinjitzu
It would be really easy to write off Ninjago as just another kids show. However, the season-long story arcs are actually pretty engrossing and the action-orientated focus blends well with a more slapstick style of comedy that keeps things suitably lighthearted.
The actual story revolves around a group of ninjas teaming up and saving Ninjago from certain doom. However, the themes of comradeship, devotion and friendship blend well together to create a really great series.
---

Dragon Ball / Dragon Ball Z
In its simplest form, Dragon Ball and its wildly more successful follow up Dragon Ball Z play out as animated soap operas complete with big fights, vibrant animation and memorable characters. Its loud, oftentimes intense and its unique blend of fighting and good pacing make it a very easy animated option to recommend.
The show itself spans for many sagas, each broken down with a "big boss" to fight. Favourites here include Frieza, Cell and Majin Buu but there's a lot of fighting and drama wrapped around these big conflicts.
If you're in the mood for some high-octane fighting, this one's worth checking out.
You can read our thoughts on Dragon Ball Z in our full season reviews here!
---

The Legend Of Bruce Lee
The term legend is thrown around a lot but when it comes to Bruce Lee, this never quite feels like enough to describe Lee's impact on the martial arts world. The significant impact this man has had in his short life really is profound.
The Legend Of Bruce Lee is a relatively simple biographical series that follows the life of Bruce Lee from Hong Kong to America and back again, leading up to his tragic death at the age of 32.
True martial arts fans will absolutely adore this one and anyone who wants to know who Bruce Lee is and why he's so well known, should definitely dive into this one.
---

One-Punch Man
The idea of a hero being able to defeat any enemy with a single punch may seem like a strange concept but the way this 12 episode anime executes its concept is nothing short of magnificent. While there is a second season, the original is superior in almost every way.
Armed with a sharp wit, brilliant voice acting and beautiful artwork, One Punch Man combines over the top action with comedy to produce one of the finest anime out there. 
You can read our thoughts on One Punch Man in our full season review here!
---

Kung Fu
Produced back in 1972, Kung-Fu is a series all about… well… Kung-Fu. Specifically it follows the adventures of a Shaolin Monk called Kwai Chang Caine wandering the American West armed with his deadly set of fighting skills.
Whether you're a fan of Westerns and Martial Arts TV shows or not, Kung Fu is a wonderful show that blends some excellent life lessons with a heavy dose of drama.
---

Warigami
With each episode clocking in at a little over 10 minutes or so, Warigami is a simple but enjoyable action comedy series. The main premise centres around the idea of warriors being able to manipulate the density of paper and turn it into a lethal weapon.
The first season does end on a cliffhanger though and with a second season still unknown at this point, Warigami is worth checking out for the premise and action alone. Just don't get too attached to this one in case it's cancelled!
---

Mortal Kombat: Legacy
Compared to the feature films of the same name, Mortal Kombat: Legacy upholds the legacy of the game series to produce a really gripping web series of action and tightly filmed fighting.
The first season serves as a prequel to the original games and really does well to uphold the feel and tone that Mortal Kombat injects into its game series so well.
---

Into The Badlands
AMC's Into The Badlands is a wonderful series. On the surface, the show is about a mighty warrior and a boy searching for enlightenment in a hostile territory controlled by barons. However, Into The Badlands goes deeper than that.
The story unfolds in an exciting and intriguing way, with lots of neat action set-pieces dotted across the various seasons. There's an element of supernaturally charged sci-fi too but it never feels ill-placed here. Instead, the show leans into this nicely to deliver an authentic and action-packed slice of kung-fu action.
Into The Badlands is well worth a watch.
---
Cobra Kai
Cleverly switching perspectives and offering a brand new storyline to boot, Cobra Kai is a surprisingly gripping series, one that perfectly rekindles a dying franchise and breathes new life into it.
The show begins thirty years after the 1984 All Valley Karate Tournament. Former Cobra Kai pupil Johnny Lawrence is haunted by the ghosts of his past. While Daniel LaRousso revels in the good life, complete with a trophy wife and high paying job, Johnny enjoys a cocktail of cheap beer and demeaning jobs, all whilst carrying a serious chip on his shoulder.
When he takes a young kid called Diaz under his wing, teaching him karate and opening the Cobra Kai Dojo again, his rivalry with Daniel LaRousso reignites after a decades-long hiatus.
With four seasons and lots of karate action, Cobra Kai is a worthy return to The Karate Kid saga that doesn't look like stopping any time soon.
You can read our thoughts on Cobra Kai in our full season reviews here!
---
Power Rangers
There's a reason Power Rangers have had such a cultural, long-lasting impact. From the original (and let's face it, the best) Mighty Morphin variation through to ninjas, space, Zeo and beyond, Power Rangers is undoubtedly an icon and one of the better children's shows to depict martial arts.
From big skirmishes with multiple Rangers to more intimate one on one skirmishes, there's a lot of fighting to choose from. With episodes clocking in at 25 minutes a pop, the choreography in this show still holds up to this day and it's a solid choice for martial art lovers.
---

Teenage Mutant Ninja Turtles (1987)
Speaking of cultural icons, the Teenage Mutant Ninja Turtles are another excellent choice for anyone after an animated slice of martial arts. The story revolves around a quartet of humanoid warrior turtles, taught by their spiritual, wise master Splinter… who happens to be a rat.
The pizza-loving exploits of Leonardo, Michelangelo, Donatello and Raphael have spawned numerous reboots, sequels and live-action motion pictures which just shows how popular these turtles are. However, it's the animated series from 1987 that stands head and shoulders above the rest.
---

Samurai Jack
And while we're on the subject of ninjas and supernaturally charged hi-jinks, that leads us nicely into Samurai Jack. The premise to this animated series is simple – a Japanese samurai from the past has been sent hurtling through time while fighting against a shape-shifting wizard called Aku.
Stuck in a new time period and desperate to right the wrongs caused by Aku, "Jack" sets out to try and find a way home while saving the world from certain doom.
It's typical animated fodder, allowing plenty of episodic romps to blend with a more long-form storyline that progresses over time. With some gorgeous artwork and a consistent narrative that builds tension over time, Samurai Jack should definitely be on your radar.
---

Scissor Seven
Scissor Seven is a surprisingly good animated offering, one that combines beautiful visuals with a simple but effective story across 2 seasons of action-packed drama. Chock full of all the best aspects of anime, this Mandarin series combines comedy with action in the best possible way, even if its structure toward the end is a little unconventional.
The story revolves around a man named Seven and his sidekick Dai Bo, a blue chicken that struts around wearing sunglasses. Early on, Seven opens up a hair salon as a front for his professional killing business before a series of episodic stunts bring a continuity to the series that keeps things tied to a specific structure.
Funny and full of action, Scissor Seven is great fun.
You can read our thoughts on Scissor Seven in our full season reviews here!
---

Tong: Memories
Serving as a prequel to the popular webtoon "Tong", Tong: Memories is a gripping and funny dive into the world of martial arts. The story revolves around Lee Jung Woo, a kid who's always suffered with a short temper. He's certainly not someone to mess with!
Growing up in Busan, he learns to fight back against his bullies and ends up becoming the top street fighter there. His best friend Kwon Doo Hyun, lives in his shadow and across 12 short, snappy episodes the relationship between them grows and evolves into something really memorable.
It's a simple and surprisingly under-rated series but its short run-time makes it an easy one to recommend.
---
Kengan Ashura
Netflix Anime have a habit of being very hit or miss. Thankfully, Kengan Ashura's taped-up fists hit the mark for this action-packed, testosterone-soaked dive into the world of anime fighting.
There's a ton of skirmishes dotted across the two seasons and the main story is interesting enough to keep you watching through the quieter moments. Here, the show revolves around a timid old man summoned by his chairman to become the manager of Tokita Ohma, a highly skilled gladiator who only cares about fighting and winning in the Kengan matches.
Across the season, the relationship between fighter and manager progresses nicely but it's the fighting that'll keep you sticking around until the end.
---

Seis Manos
Seis Manos is an interesting little animated project. With only 8 episodes, this 2019 animation largely slips under the radar but undeniably has a lot of charm squeezed into its run-time.
Set in the late 70's, the story here revolves around a group of orphans raised by a martial arts master desperate for revenge and vengeance after a vicious murder rocks them all. As the kids go on the hunt, they're plunged into a mystery involving demonic powers, drug cartels, ancient rituals and blood sacrifice. This adult animation is definitely worth checking out!
---

Kung Fu Panda: Paws Of Destiny
Back in 2008, Dreamworks' surprise animated hit Kung Fu Panda hit theatres and instantly gained critical acclaim and audience approval around the world. Skip forward 10 years after a series of sequels and TV adaptations of various quality, Amazon Original Kung Fu Panda: The Paws Of Destiny sets up another TV effort for a new generation of kids and adults alike.
Featuring a mix of old and new characters, The Paws Of Destiny is an enjoyable animated series managing to mix goofy comedy with an engrossing story to good effect. While the series does feel a little overlong at times and some of the plot points feel dragged out, Paws Of Destiny is one of the better Kung Fu Panda adaptations that kids should absolutely love.
You can read our thoughts on Kung Fu Panda: Paws Of Destiny in our full season reviews here!
---

Avatar: The Last Airbender
Chances are, you probably scrolled quite far down this list and wondered just where the heck Avatar: The Last Airbender is. Well, it certainly had to be added to this list and for good reason too. Avatar is a fantastic animation that's a must-watch for kids and adults alike.
The series itself revolves around a world divided into four elemental nations: The Northern and Southern Water Tribes, the Earth Kingdom, Fire Nation, and the Air Nomads. The Avatar uphold the balance between the nations and up until the start of the first episode, everything seems to be peachy. That is, until the balance of power shifts.
When the Fire Nation is invaded and the avatar disappears, we cut forward 100 years to find Katara and Sokka discovering the new Avatar, an airbender named Aang. What ensues from here is an unforgettable romp that brings out the very best in animated storytelling.
---
 Hong Kong Phooey
Another of those old animated nostalgia blasts, Hong Kong Phooey is a relatively short and somewhat forgettable animated effort. After all, with the likes of Johnny Bravo, Dexter's Laboratory, Powerpuff Girls and The Flintstones on the afternoon roster, it's easy to see how this show struggled to stand out.
The exploits here revolve around a kung-fu-fighting pup called Hong Kong Phooey who heads off around town intent on stopping dastardly villains and crimes. With each episode split into two different stories, this one does become a little repetitive over time but it's undeniably a great nostalgic blast for those who remember it.
---
Lawless Lawyer
At first glance, you'd be forgiven for writing off Lawless Lawyer as another Korean law drama. However, under the hood this action-driven romp features a fair amount of action and some decent mixed martial arts too. At its core, the show revolves around a gangster lawyer called Bong Sang-Pil. He doesn't trust the law and takes matters into his own hands, using his fists and feet to do the talking.
Unlike other K-dramas of its kind, Lawless Lawyer doesn't get bogged down in big romances and contrived love triangles and instead, focuses much more on its action and drama, to the credit of this series.
---
The Legend of Korra
Taking place 70 years after the events of Avatar: The Last Airbender, The Legend Of Korra is a decent follow-up but it was always going to be difficult to match up to the brilliance of what's come before. With similar world-building and ideas, The Legend Of Korra sets its sights on Avatar Korra who fights to keep Republic City safe from the evil forces of both the Physical and Spiritual worlds.
Unlike Avatar though, The Legend of Korra cleverly changes its focus to a more modern commentary about our changing world. Most of the conflicts here revolve around the advancements of technology and crime rates rising.
If you're a fan of Avatar, you'll undoubtedly be drawn to this one and this sequel definitely holds its own.
---

Fight for My Way
Fight For My Way is a drama about fighting for your dreams and aspiring to great heights – a common theme in a lot of the shows on this list. It also captures this struggle beautifully thanks to its two lead characters, Ko Dong-Man and Choi Ae-Ra.
Dong-Man has big dreams to become a prolific UFC champion while Ae-Ra wants to become a commentator. She gave up on her dreams though, and now works at a department store.
There's a wonderful life lesson here about following your dreams and some funny moments here too, making it an inspiring and well written Korean drama worth checking out.
---

Naruto
Naruto Uzumaki, a mischievous adolescent ninja, struggles for recognition as he dreams of becoming the Hokage; the village's leader and strongest ninja. The premise is simple and builds on what makes shows like Dragon Ball Z so appealing, with a series of well-worked fights that are drawn beautifully and chock full of intense segments.
Unlike Dragon Ball Z though, Naruto never bothers itself with epic "It's over 9000!" moments and instead builds each fight up purposefully to feed back into the character development. In fact, everyone here manages to deliver a compelling and memorable arc that makes each season of Naruto such a joy to watch.
With nearly 150 episodes and plenty of sequel material too, this is one of the longer-standing options that's definitely worth investing your time into.
---
So, there we have it, our pick for the best TV shows through the years about martial arts!
What do you think of our picks? Do you agree? Are there any notable omissions? Let us know in the comments below!
---