It's been a great year for Korean dramas and whether it be a paragliding accident gone wrong, an espionage comedy or a world-hopping adventure featuring doppelgangers, there's a really imaginative world of dramas out there that have illuminated 2020 and kicked the year off in high gear. Out of the sheer number of different titles that have been released, some stand out ahead of the pack and here we'll be showcasing our favourites so far.
We'll be updating this page throughout the year but without further ado, TheReviewGeek team present our picks (in no particular order!) for best Korean Dramas of 2020.
Do note though that any ongoing dramas that are currently airing on TV at the moment that may make the list will be added when the final episode finishes for consistency purposes.
Last updated: August 19th 2020
---
Extracurricular
Netflix's 10 episode crime drama begins with a simple enough high school set-up before turning everything upside down and tumbling down the rabbit hole. With lots of flawed characters throughout, Extracurricular offers a slightly different flavour of spice to this genre, one that increases in pacing and tension across the episodes.
The story itself revolves around Ji-Soo, a model student in the eyes of teachers and other students. He keeps his head down, has no friends and spends most of his days acing exams and staying invisible. Under this facade however is a darker side to Ji-Soo's persona which is revealed in the first episode and continues to snowball as his tight-knit operation goes horribly wrong.
In order to pay for his tuition, Ji-Soo goes under the alias of "Uncle" and provides security for girls conducting compensated dating. Among those girls is fellow high school student Min-Hee and an incident involving her early on proves to be the catalyst for what follows further down the line.
Unlike other Korean dramas, this one has a fair amount of swearing and violence so tonally it's unlike others on this list and that's partly the reason it works as well as it does. The ending does leave things on quite the cliffhanger ready for a possible second season, but along the way there's a good amount of action, drama and inevitably romance to make this a really enjoyable watch.
You can read our full season review and overall thoughts by clicking here!
---
Kingdom Season 2
As we've seen from films like Train To Busan, when handled correctly zombies can be absolutely terrifying. Combining that with a feudal Korean setting, Kingdom brought with it a surprisingly heady cocktail of tension and drama when it dropped in 2019, ending things on a big cliffhanger. Kingdom Season 2 not only expands on its original ideas, it also fleshes out all the characters a lot more and brings with it another undead wave of action across its short 6 episode run that will almost certainly result in an exciting third season.
The story follows Lee Chang and the other soldiers and picks up exactly where we left off from before, as the undead charge at them out in the open as they stand shocked to see the undead out in the sunlight, given the rules that have previously been established in this show. The first episode sees a full-on 50 minute dose of action ensue as the group try to thwart the never-ending plight of the undead before settling into more familiar, politically charged territory for the rest of the season.
With both Hak-Joo and the Queen both scheming and preparing to strike at any moment, this storyline collides with that of the undead during the final few episodes as home truths are revealed and the final stand for the fate of humanity's future is presented. Given the show has already been renewed for a third season, suffice to say things are left wide open here for the future with a big cliffhanger ending after resolving all of its main plot threads that have run through these past 12 episodes.
It's always difficult to follow up a successful first season and although the middle few episodes do lighten up on the action, the overwhelming sense of dread and despair are enough to make this one heck of a show and a very worthy follow-up to an already-great first season.
You can read our full season review and overall thoughts by clicking here!
---
Itaewon Class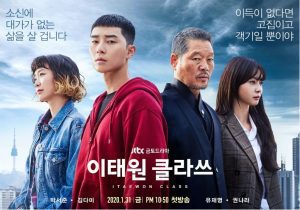 While it could be argued that some of the middle chapters run out of steam before picking up toward the end, this conventional 16 episode Korean drama combined important themes around acceptance, belief and racism when it aired earlier this year.
The story revolves around rebellious high school student Sae-Ro-Yi, who finds himself entangled in a blood feud with a bully named Geun-Won following the shocking death of his Father. Consumed by rage and subsequently thrown in prison, Sae-Ro-Yi finds himself antagonized by the Chairman of Jangga. What follows is a revenge-fueled redemption story that sees Sae-Ro-Yi team up with the eccentric Yi-Seo to open a pub in the bustling tourist area of Itaewon street and try to topple the Chairman and Jangga Co., becoming the top restaurant company in Korea in the process.
Of course, the plot is a lot more complicated than that, with various different characters engaged in their own angles – including Geun-Won's brother Geun-Soo working for Sae-Ro-Yi at his pub DanBam and Sae-Ro-Yi's childhood crush Soo-A working for the Chairman. All of these character-driven sub-plots work seamlessly with the main plot, interweaving with the revenge angle until the finale.
What makes this show so good though is the way Itaewon Class throws in various juxtapositions between the rich and poor along with commentary around pride and jealously. The main plot line is engaging, well written and that's to say nothing of the soundtrack either which is excellent throughout.
You can read our full season review and overall thoughts by clicking here!
---
Hyena
On paper, Hyena doesn't really do anything particularly outstanding compared to other law dramas of its kind. The two lead protagonists are brilliant at their job, they work cases together and against one another, and all the usual character melodrama you'd expect is here too. What's particularly impressive about Hyena though is just how empowering Geum-Ja is as our main female protagonist and the natural chemistry she exudes with Hee-Jae.
The story itself starts off in a pretty cliched manner before shattering expectations and diving into the growing rivalry between our two lawyers. Cunning Geum-Ja is a lawyer only interested in one thing – money. Using any means necessary to get ahead, her shady and under-handed tactics ultimately give her a slightly unfair advantage as she bends the law and uses the resources at her disposal.
By comparison, Hee-Jae is the up-and-coming golden boy at top law firm Song&Kim. Groomed and mentored by his superiors, Director Na and Song Pil-Gu, Hee-Jae finds himself breezing through every case given until he comes unstuck in a surprisingly gripping and unexpected twist; Geum-Ja is presented as the rival defence lawyer.
From here, the story sees the two fight across the first half of the series, as they wrestle for control in several different cases before a twist in the tale sees the two forced to cooperate and work together. All of this converges into the final case which helps round things out and gives closure to a lot of the bigger plot points, even if it does leave a few threads dangling and a couple of underwhelming conclusions for characters in the process.
Kim Hye-Soo and Ju Ji-Hoon are easily the stand-out couple of the year and their scenes crackle together with natural sexual chemistry and wonderfully playful dialogue. Even better, the show deliberately holds back on any obvious kissing or romantic scenes until very late on in the game, and even then we only see glimmers of what could be. The ending also leaves the door wide open for a second season too!
You can read our full season review and overall thoughts by clicking here!
---
The World Of The Married
The World of the Married is the highest-rated drama in Korean cable television history and for good reason too. The show is an excellent Korean adaptation of the British series Doctor Foster and manages to balance a slew of well written characters with an evolving plot over time. With this steamy affair taking centre stage, The World Of The Married only grows from strength to strength over the weeks.
While we regrettably didn't cover this one in detail on our site, (hence the short write-up here), the success of this show is undeniable and certainly deserves some recognition for what it's managed to achieve. It's also worth noting that the lead actress, Kim Hee-ae, won Best Actress at the Baeksang Arts Award, and the show bagged itself the Best Director award too. It's certainly one of the best Korean dramas of the year and well worth watching.
---
Chocolate
Chocolate may not have the lasting power some of the other dramas on this list have, nor is it a particularly romantic or comedic watch. Instead, Chocolate leans in heavy on the melodrama and grim, gritty reality of love and that certainly won't be for everyone. It's not all sunshine and rainbows and as we see from our two leads in this drama, the world around us is full of death and heartbreak.
The basic premise revolves around two core characters – Cha Young and Lee Kang. After meeting as children, we cut forward in time to see Kang working as a neurosurgeon after hanging up his chef's hat while Cha Young's meal cooked for her as a child by Kang spurs her on to become a prolific chef.
As fate would have it, both characters wind up working together at a hospice ward after they fall out over the death of Min-Seong; Kang's best friend and Cha-Young's lover. As the episodes progress, the layers of bitterness and regret that cling to their troubled relationship slip away and in its stead, their shared love of food comes to the foreground. All of this builds up to a dramatic few episodes to close things out, wrapping up the story nicely when the final credits roll.
Of course, intertwined around this are various different subplots, all of which using the same hook of food to keep things consistent. The hospice cook Seon-Ae winds up with Alzheimer's and struggles to come to grips with what this means for her life, Kang's brother Lee Jun goes through a torrid time as his family life implodes while the various hospice patients all find solace and comfort in the food cooked (or not) for them over the weeks. This ultimately anchors each episode together and adds some real depth as Kang's icy exterior is slowly chipped away across the series.
What sets Chocolate apart is the way it presents this symbiotic relationship between people and food, illustrated beautifully through the different residents of the hospice. These are easily the stand-out moments of the show and while it may take a while to get to the good stuff, when it arrives Chocolate delivers a wonderful recipe for success.
You can read our full season review and overall thoughts by clicking here!
---
Hot Stove League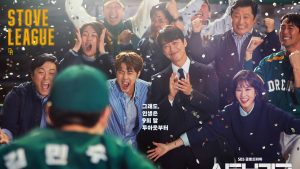 Baseball is huge in Korea. Just like football (soccer). Formula 1 and American football, baseball is a sport with a lot more going on under the hood. Much like the American film Moneyball, Stove League is a show that hones in on what makes the business-side of this sport so fascinating, delivering a really clever and dramatic character-driven drama in the process.
At the heart of this story lies a team in complete disarray – Dreams. From power struggles and bickering in the board-room through to divided hierarchies and a megalomaniac star player, Dreams finish the league in bottom place and round out their awful season with a befitting show of unsportsmanlike behaviour infront of their fans. Watching from afar is Seung-Soo, a man brought in to change the fortunes of this team.
With right-hand woman Se-Young by his side, the drama combines a serialized approach to its overarching plot, with episodic chapters sprinkled in to help get to know each of the different players. These episodes hone in on a specific character (or characters), ranging from the scouting manager right the way over to a rookie pitcher or the old-guard that have been at the club for years.
These allow for deeper characterisation to seep into this drama, as they (and us) start to come around to Seung-Soo's unconventional way of thinking and managing. It may have a few slow episodes along the way but when it hits its stride, Stove League knocks it out the park and seemingly does the impossible; it leaves the door open for future seasons while bowing things out with a perfectly satisfying finale in its own right.
You can read our full season review and overall thoughts by clicking here!
---
It's Okay Not To Be Okay
It's Okay To Not Be Okay certainly doesn't shy away from portraying important mental health issues and it does so in a very natural way. From emotional and physical abuse to learning difficulties, the drama tackles these perfectly with one message in mind. Just like the title itself, it is okay to not be okay and to seek help, whether professionally or from the support of friends and family.
The story revolves around brothers Moon Kang-Tae and Moon Sang-Tae. They have lived alone since they were very young. After their mother passed away, Kang-Tae has been doing the best he can, protecting and looking after his older brother.
The series has an original and heartwarming premise with excellent character progression and interesting themes. It's not easy to portray mental health issues but this drama does a great job depicting this in its rawest form, helped along by some impressive acting from the entire cast.
You can read our full season review and overall thoughts by clicking here!
---
The King: Eternal Monarch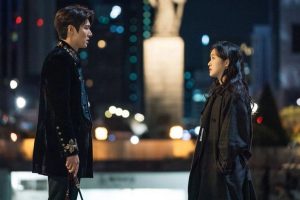 Shows involving time travel are always tricky to pull off correctly. From plot holes and convoluted lore to stories rife for contrivances and confusion, The King: Eternal Monarch begins with a fair amount of confusion before righting itself and becoming something wholly engrossing and highly enjoyable. Between parallel worlds and a love story anchoring everything together, this hugely popular Korean drama is helped by a returning Lee Min-Ho who fronts this sci-fi series and helps add a lot of charisma.
The story itself revolves around two parallel worlds; the Republic of Korea as we know it and the Kingdom of Corea. In Corea, the King is killed by his Uncle, Lee Lim, while his son Lee Gon faces certain death at his hands. Thankfully, a mysterious cloaked figure approaches and saves him from his fate, fighting through the guards and forcing this man to flee. The only remnant left behind is an ID card for a woman named Tae-Eul.
This forms the crux of drama that follows and the plot only becomes more complicated and layered over time. The King: Eternal Monarch is a wonderful Korean drama that perfectly portrays its love story centre stage while adding enough twists and turns along the way to make for a highly enjoyable watch. As a binge-watch however, Eternal Monarch does feel like it may be quite a heavy one to plough through in one go – especially given the 75 minute run-time for each episode. As a show to digest and take your time with however, this is well worth watching and likely to be one of the better sci-fi offerings out of Korea this year.
You can read our full season review and overall thoughts by clicking here!
---
Hi Bye Mama!
Hi Bye Mama may not have the most original premise but what it lacks in originality it makes up for in raw emotion. Sure the ending may be a bit underwhelming and the writing may not always hit the lofty heights other dramas on this list have managed to achieve, but there's no denying the show has a poignant and tender core that makes it such a compelling watch nonetheless.
The story here revolves around Cha Yu-Ri who died unexpectedly 5 years ago and left behind a loving husband and newborn daughter. We see that she has been lingering for all those years around her family, watching them grieve as well as witnessing her daughter Seo-Woo grow up and her husband marry Min-Jeong. Surprisingly, she gets given another chance and comes back to life for 49 days. The show then follows her return and how her loved ones deal with this while she tries finding her place in the world again.
What Hi Bye Mama manages to achieve really well is tackling important life lessons with skill and poignant humanity. It shows us how different people deal with grief and also sends some powerful messages to the audience, in particular how short life is and to make the most of the time we are given on Earth. The series has multiple emotional scenes too, which are pulled off beautifully by the talented cast. In particular, the harrowing scenes between Yu-Ri and Gang-Hwi offer some goosebump-inducing segments.
The characters are ultimately what make this show so enjoyable though and they're consistent throughout, with the whole cast doing an excellent job with their performances. It's Kim Tae-Hee who really stands out as Cha Yu-Ri though and alongside the adorable Jo Seo-Woo who plays Seo-Woo, these two really help elevate this drama.
You can read our full season review and overall thoughts by clicking here!
---
Crash Landing On You
Paragliding onto our screens late last year and ending its run in 2020, Crash Landing On You not only became a worldwide phenomenon, it did so with a wonderful story full of charm, humour and romance in the process. The heartbreaking scenes are just as effective as the big set pieces and all of this combines to create one of 2020's best Korean dramas. Almost every element of the show is balanced to perfection and across its 16 episodes, Crash Landing delivers one heck of an emotional rollercoaster we'll be taking again and again over the years.
The story revolves around heiress and successful CEO Yoon Se-Ri who one day ends up landing in North Korea after a storm blew her to the country while paragliding. There, she meets and falls in love with Captain Ri Jeong-Hyeok while hiding and getting used to their customs. What follows is a race against time as she tries to escape back to her country with the help of her new friends while facing multiple obstacles and challenges. Along the way, she makes some unforgettable friendships which will change her life in ways she never thought possible.
Seeing Se-Ri experiencing the harsh life in North Korea was quite the eye-opener too, offering up some powerful and tense scenes while she tries hiding and returning to her home country. By contrast, during the second half of the season we see the difference between the two countries as the drama concentrates on the South. Without spoiling too much, there are some pretty funny but also touching moments involving our favourite four soldiers (the ducklings). It has been really interesting to see the polarity between the North and South but also sad to witness how some people wish both countries could be reunited.
Delivering a simple and touching story of love and friendship, the drama hits all the right notes when it comes to balancing that with suspense and romance. All the characters, which the cast manage to portray beautifully, are likable and will certainly be missed by anyone who has watched this wonderful drama. 
You can read our full season review and overall thoughts by clicking here!
---
And there we have it, our list of best Korean dramas for 2020 so far! We'll periodically update this page throughout the year as each of our favourites pass that coveted season finale mark so do feel free to check back in the future.
Did your favourites make the list? Have we missed any must-watch dramas? Feel free to let us know in the comments below!