From the extended 16+ episode long stories to unforgettable characters, there really is nothing quite like a good Korean drama. There's also nothing quite like the hollow feeling of loss you experience when your favourite show ends.
Among the good, the bad and the ugly are some Korean dramas that stand the test of time and can be regarded as some of the best ever created. Here, we'll be showcasing and celebrating our favourite science fiction offerings!
Of course, do feel free to comment below if we've missed any noteworthy entries and we'll be sure to review it and see if it makes the list.
So without further ado, TheReviewGeek team present our picks (in no particular order!) for the best Sci-Fi Korean Dramas of All Time.
Updated: 4th January 2021 
---
W: Two Worlds
Armed with a creative premise and leaning in hard on the sci-fi/fantasy vibes, W is a series whose strengths lies in its unpredictability. The "W" to which this drama pertains comes from the clash between two worlds, the real world and an alternate universe inside a web-toon.
As the action turns toward the fantastical web-toon world, this Korean drama really starts to come into its own and deliver something wholly original.
While the rules of this world are explained, the characters grow with each passing episode and each chapter adds something new and interesting to the fold. It's an unpredictable thrill ride from start to finish that will have you guessing right the way through to the end.
Although the final few episodes are a little rushed and wobbly, it's easy to look past that in the wake of such great writing done prior to that. If you're looking for one of the best sci-fi k-dramas out there, look no further.
---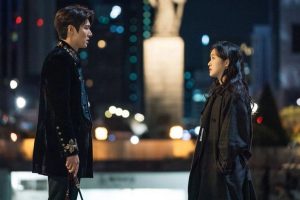 The King: Eternal Monarch
Shows involving time travel are always tricky to pull off correctly. From plot holes and convoluted lore to stories rife for contrivances and confusion, The King: Eternal Monarch begins with a fair amount of confusion. However, it soon rights itself and becoming something wholly engrossing and highly enjoyable.
Between parallel worlds and a love story anchoring everything together, this hugely popular Korean drama is helped by a returning Lee Min-Ho who fronts this sci-fi series and helps add a lot of charisma.
The story itself revolves around two parallel worlds; the Republic of Korea as we know it and the Kingdom of Corea. This forms the crux of drama that follows and the plot only becomes more complicated and layered over time.
The King: Eternal Monarch is a wonderful Korean drama that perfectly portrays its love story centre stage while adding enough twists and turns along the way to make for a highly enjoyable watch.
---

Circle: Two Worlds Connected
Circle: Two Worlds Connected is another of those under-rated Korean dramas that completely fly under the radar. Split across 12 episodes (like My Holo Love), this drama splits its attention between two parallel plots set in the years 2017 and 2037.
The story itself revolves around twin brothers who struggle with the discovery and development of an advanced alien technology. With the fate of the world resting in their hands, the drama remains strictly separate until the final episode when all is revealed and the true nature of both timelines is revealed.
It's a bit of a slow burn but the story definitely captures the essence of what makes a good sci-fi thriller and is worth sticking with until the end.
---

Joseon X-Files
The premise to Joseon X-Files feels like it was cooked up over a heady evening of soju and kimchi. Set in the Joseon era (an alternate version mind you), the story sees Kim Hyung-do working as an investigator into weird paranormal and extraterrestrial phenomena.
The set-up has more than a few similarities to The X-Files, incorporating the skeptic and the believer together. The finale does leave things open though so do be aware of that but there's enough to enjoy with this one to make the ride worth taking.
---

Signal
Based loosely on true events that took place in Korea, Signal is quite simply an incredible thrill-ride. This police procedural blends a shocking string of crimes with a time-bending idea that sees a walkie-talkie able to communicate with the past. 1989 to be precise.
With both Hae-Young and Soo-Hyun working together, they team up with Jae-Han from the past and together set out to catch the killer. With the gift of hindsight and foresight at their disposal, they work to try and prevent these atrocious crimes from ever taking place.
While not an outright sci-fi proposition, the crime drama elements work really well with the timelines to make for a really engaging watch.
---

Nine: 9 Times Time Travel
One of the more polarizing entries on the list, Nine: 9 Times Time Travel is a gorgeous drama that's let down slightly by some plot contrivances and continuity issues. Having said that though, the show itself does a great job bringing you into this world and the cinematography is fantastic throughout.
The story revolves around a man named Sun-Woo who finds magical incense sticks that send him back through time.
Determined to change the world he's currently living in, Sun-Woo bites off more than he can chew when he learns his actions have consequences for those in the present – including himself.
Nine is a fun time travel series though and despite its problems, certainly worth checking out.
---

My Holo Love
In a world where technology is advancing at such rapid speed, an amazing and exciting digitalization of our world lies before us. As we rely on computers more and more, giving them our information and details, the idea of an AI taking human form wielding this sort of power is certainly quite alarming. 
Meshing this idea into a love triangle, My Holo Love is the latest Korean drama to blend sci-fi with a romance. Can robots ever have feelings and would they be able to experience pain and love? This is definitely an interesting subject, and one that's explored in more detail during this unconventional 12 episode series.
It's certainly not without its tropes but My Holo Love definitely has enough compelling elements to make it worth checking out.
---

Duel
From AI to human clones, Duel is an intriguing and thrilling Korean drama that tackles the idea of human clones. The story itself gravitates around a man named Deuk-Cheon who happens to be the chief of police. One day he becomes entangled in a shocking plot involving two human clones.
Across the 16 episodes, Yang Se-Jong really shows off his versatility playing the different clones with enough quirks and differences for them both to stand out in their own right.
The screenplay is decent and thriller elements blend in nicely with some strong characterisation to make this a solid choice to check out.
---

My Love from the Star
If you've had enough of conventional romantic dramas for a lifetime, how about one involving an alien from another planet? My Love From The Star does exactly that, introducing us to a cynical alien named Do Min Joon.
Having been stranded on Earth for the past 400 years, his cynical outlook is tested by a former actress who slowly starts to chip away his preconceptions about humanity.
My Love From The Star is a silly, funny and surprisingly poignant drama, one that strips away the humour to lean in hard on the melodrama at just the right times. While the show is an outright romance first and foremost, it does have some great drama throughout too.
That's to say nothing of the dastardly villain either which helps add the proverbial cherry on top of a very alien but very deliciously filling Korean drama.
---

I'm Not A Robot
I'm Not A Robot is a drama that absolutely nails its casting. There's some heartwarming and hilarious scenes throughout and all of this back-dropped against the story that plays out its surrealist comedy angle right from the start.
For those unaware, I Am Not A Robot revolves around an android called Aji 3. When this robot breaks down, it's up to lead female Ji-A to pretend to be this android as a favour to her ex-boyfriend Baek-Gyun. While this sounds simple in theory, the story soon grows into something so much more.
There's a great romance at the heart of this one and every single character really nails their role to perfection. The drama does well to add layers of intrigue too, boasting a vast array of jokes and some brilliant comedy to boot. 
---
Love Alarm
At first glance, Love Alarm is a formulaic, by-the-numbers romance. Despite a slow start, Love Alarm settles into a consistent rhythm as it starts exploring its central cast of characters, asking some pretty profound questions about the benefits and drawbacks of our digitalised age.
At the heart of all this drama is an interesting dating app called Love Alarm. This notifies you when someone nearby loves you.
With Korea all but gripped in the sensation of receiving these notifications, our protagonist is Kim Jojo, a girl indifferent to the entire dating phenomenon.
To spoil more would be a disservice to this one but things quickly turn dark as the drama progresses. It's not perfect but it's definitely one of the more unusual and interesting Korean dramas.
With a second part still to come, it'll be intriguing to see where this one goes next.
---

Kairos
Shows involving timelines and rewriting time can either go horribly wrong or perfectly right. There really is no middle ground. With a simple but effective hook, a smartly written script and some endearing, well rounded characters, Kairos is the best show in 2020 you've probably never heard of.
Kairos is one of the smarter written sci-fi shows of 2020 and it's a shame more people aren't aware of this one. The 16 episodes are consistently tense, fall of suspenseful moments and excellent twists. All of this builds up to one of the more satisfying conclusions to any drama released this year.
If you're in the mood for a good sci-fi thriller, this one's definitely worth checking out.
---

SF8
If there's one thing Korean dramas do incredibly well – it's tell a competent and driven story. Following in the footsteps of both Inside No. 9 and Black Mirror, Korea's latest sci-fi anthology SF8 takes clear inspiration from both of those aforementioned Western titles. Only, it blends that in with an authentic Korean tone to make for a wholly unique experience.
There's 7 well-written and thought provoking tales to choose from and these cleverly branch out across a range of different genres too. One episode for example explores the possibility of AI companions. The tone is slightly comedic but there's a larger message about self-driving cars and their possible faults. Elsewhere, Prayer (our personal favourite) looks at the bleak idea of hierarchical robot nurses.
While it's unlikely to hit the prolific heights of something like The King: Eternal Monarch or My Love from the Star, there's a moody, atmospheric anthology here that's easily one of 2020's shining sci-fi jewels.
---
And there we have it, our list of best Sci-Fi Korean dramas of all time! We'll periodically update this page as we watch more Korean dramas and work through any requests you guys may have for us as well.
What do you think of our list? Have we included your favourites? Or have we missed any must-watch dramas? We love to hear from you so do feel free to let us know in the comments below.
---