Ah, Valentine's! Dubbed as the most romantic day of the year, it's the perfect time to curl up on the sofa with a loved one and watch some romantic K-dramas. Of course, we'd recommend doing that anyway every day of the year but if you're looking for something specifically for Valentine's, we've got you covered.
Below are our team's picks for the best K-drama to watch over Valentine's. As always, if you have a specific favourite K-drama, do let us know in the comments below!
---
What's Wrong With Secretary Kim
Based on the webtoon remake of the novel "Kimbiseoga Wae Geureolgga", What's Wrong With Secretary Kim is a very simple romantic comedy, playing out in formulaic fashion.
However, this is the perfect example of why you should never judge a book by its cover. Between the glimpses of our lead character's dark past, the real kicker with Secretary Kim comes from the characters inhabiting this world.
Sometimes a group of actors come together and just have that X-factor to produce something magical and this is one such example. The main characters are incredibly likable, there's some wonderful humour and both leads have excellent romantic chemistry that help elevate this simple rom-com into something so much more profound and enjoyable than it otherwise would be.
---
One Spring Night
One Spring Night follows the lives of a librarian and a pharmacist. Lee Jung-in is feeling trapped in a stale four-year-long relationship where she is hesitant to marry someone she thinks is the love of her life.
After meeting Yu Ji-ho at the pharmacy where he works, Jung-in starts developing romantic feelings for him. Knowing that she is still very much engaged to be married, Jung-in learns that she never truly loved her partner. She wants a relationship with Ji-ho but the pharmacist has past baggage of his own that raises the stakes for anyone he dates.
Knowing that they cannot hope to have a future together, the two keep each other close by embarking on a secret friendship while navigating the minefield of familial and societal expectations until they realize what they truly want.
---

Melting Me Softly
The story starts in 1999 with variety director Ma Dong-Chan busy creating new shows and Ko Mi-Ran doing her best to find work to help support her family. Together, they decide to take part in an experiment where they will be frozen for 24 hours. However, due to some unfortunate circumstances they wake up 20 years later.
Our two main leads are then faced with many challenges, as all their friends and family have aged and moved on. To make matters worse, they're also left to deal with a fatal side-effect resulting in their body temperature needing to remain at 31.5 degrees.
It's a silly and oftentimes illogical drama but there's an undeniable charm to this one that will keep you watching until the end.
---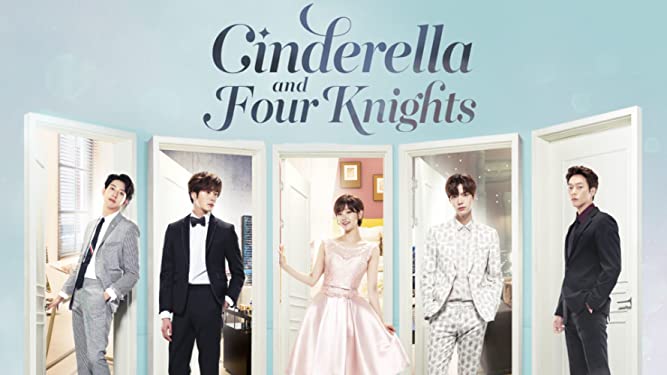 Cinderella and the Four Knights
Another ensemble bursting with familiar faces, Cinderella and the Four Knights stars Park So-dam, Jung Il-woo, Ahn Jae-hyun, Lee Jung-shin and Choi Min-seong and riffs on the Cinderella tale to good effect.
The story centers on Ha-won, a third year student at high school with dreams of becoming a teacher. Unattached from her family, Ha-won works various part-time jobs to pay for her upcoming university tuition fees.
While she works hard, her three spoiled cousins live together in a mansion called Sky House. These three all dislike each other and after an incident at a wedding, Ha-won finds herself entangled with these guys when their grandfather hires her as a live-in butler.
What follows are a series of love triangles, sass and lots of angst. Let the romantic rivalry begin!
---

Uncontrollably Fond
Uncontrollably Fond is a melodrama of the highest degree and perhaps that makes it one of the less romantic offerings on this list. However, there's something endearing about a drama like this that makes it perfect for Valentine's.
The story centers on two characters, Joon-young and No-eul, who were in love during their younger days. However, uncontrollable circumstances separated them and the pair lost touch with one another. With Joon-young now a superstar actor and singer, No-eul has become a producer/director of documentaries.
When their paths cross again years later, Joon-young discovers that No-eul is very different to how he remembered her. Is there any hope for the pair getting together and rekindling their romance?
---
Touch Your Heart
Touch Your Heart is a 2019 K-drama with a great dose of romance and drama that should keep you entertained throughout Valentine's.
The plot centers on Oh Yoon-seo, a popular actress who's famous for her appearance but her acting is pretty bad. When she's involved in a scandal with the son from a chaebol family, her career snowballs.
Yoon-seo decides to gain experience for an upcoming role that could elevate her career, which involves working as a lawyer's secretary for a few months. That lawyer happens to be Kwon Jung-rok. Will romance blossom between them?
---

Crazy Love
Crazy Love is a romantic comedy K-Drama which follows the love story between Noh Go-jin, a popular math instructor, and his secretary, Lee Shin-a.
Noh Go-Jin is also the CEO of GOTOP education and despite not having gone to university, he has managed to excel thanks to his high intelligence and charisma. However, one day he starts receiving death threats.
Lee Shin-a is an introvert and has always had a quiet presence around her boss and colleagues. After a year of working, Noh Go-Jin starts to get recognized by her colleagues but unfortunately she finds out she doesn't have long left to live.
---

Crash Landing on You
Who knew an innocent paragliding incident would cause such a stir in the world of K-Dramas. Crash Landing On You has been dubbed by many as 2020's crowning jewel. It's also arguably the gateway drama that attracted a whole new crowd of people to experience Korean dramas thanks to Netflix's desire to showcase more of these wonderful shows.
Crash Landing On You manages to effortlessly blend romance, action and comedy together into one heady cocktail of delight.
It's a show that manages to constantly surprise with every episode, featuring twists and turns that leave you speechless, in tears, elated or even all three! While some may bemoan the ending and long for a second season, this K-Drama successfully crash lands onto our list for all the right reasons.
You can read our thoughts on Crash Landing On You in our full season review here!
---

Guardian: The Lonely and Great God (Goblin)
Guardian: The Lonely & Great God is quite simply one of the best Korean dramas ever made. Armed with excellent cinematography, crackling chemistry between its main cast and one of the best soundtracks in this medium, Guardian (often referred to as Goblin) is a wonderful journey from start to finish and a must-watch for fantasy fans.
At the heart of this one lies Dokkaebi (Kim Shin), a 939-year-old immortal who happens to be best friends with a Grim Reaper and a student called Eun-tak with a tragic past.  As fate would have it, Eun-tak happens to be his bride who's destined to break Shin's immortal curse.
The story takes many twists and turns along the way but manages to nail every single part of its production. When it comes to gold-standard K-Dramas, this one sets a very high bar.
You can read our thoughts on Goblin in our full season review here!
---
Legend of the Blue Sea
Legend of the Blue Sea is a modern take on mermaids, and it's easily one of the better K-dramas out there. Shim Chung is said mermaid who follows her one true love, a nobleman's son called Kim Ryung. In a modern-day Seoul, Ryung's doppelganger happens to be Joon-jae, a skilled scam artist who becomes interest in Shim Chung thanks to her prestigious $6million won necklace that she wears.
With nowhere to go, Shim Chung is taken in by Joon Jae while our male lead has enemies that look set to thwart him. As all rom-coms would have it, while this is going on, Joon Jae starts falling for Shim Chung's innocent charm.
---
True Beauty
True Beauty is a perfectly enjoyable Korean drama. It's a cuddly, warmhearted k-drama romp, with enough laughs, romance and drama to keep you hooked until the end. Unfortunately, it's also a show riddled with clichés and tropes, taking what worked so well in Extraordinary You (the Director's previous work) and rekindling that here.
Adapted from the web comic Yeoshingangrim, True Beauty centers on a high school girl called Ju-Kyung. Bullied for her ugly looks and forced out of school, Ju-Kyung eventually stumbles upon make-up tutorials online and manages to transform her looks overnight.
Armed with a prettier face and a confident attitude, Ju-kyung enlists at a new school where she winds up involved in a love triangle with bad-boy Seo-joon and kind-hearted but quiet Soo-ho.
You can read our thoughts on True Beauty in our full season review here!
---

Something in the Rain
Slow paced and incredibly romantic, Something in the Rain will undoubtedly have grown in popularity since Ye-jin's role in Crash Landing On You. This drama sees Ye-jin play the role of Yoon Jin-a, a single woman in her 30's. She works as a supervisor at a coffee company and is generally an easy-going person. Only, she feels empty and incomplete inside.
Step forward Seo Joon-hee. Serving as the younger brother of Jin-a's best friend Kyung-sun, Joon-hee returns to South Korea after finishing work abroad. He's very different from the guy she remembered all those years ago. Will romance blossom between the two?
The answer to that should, of course, be obvious to anyone who watches a lot of Korean drama. It is a little simplistic, but undoubtedly has a really compelling romantic core to it.
---

Moon Lovers: Scarlet Heart Ryeo
Moon Lovers: Scarlet Heart Ryeo is a classic time travel story but it's much less a fantasy and more a historical drama with a romantic core. It's also another remake, this time from the 2011 Chinese drama Scarlet Heart.
The story begins with a total solar eclipse, which sends a 25-year-old 21st century woman called Ha-jin back through time. She ends up in the Goryeo Dynasty and inside the body of Hae-soo, one of the many royal princes of the ruling Wang family. King Taejo is on the throne, but Ha-jin falls in love with a gentle and warm-hearted Prince Wang-wook.
As the story progresses, Ha-jin finds herself caught up in palace politics as a rivalry ensues among the princes over the successor for the royal throne.
The ending is suitably bittersweet and the show does an excellent job throughout blending drama and romance together.
---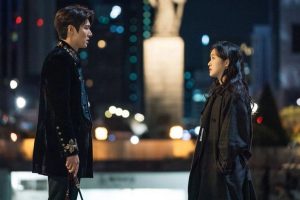 The King: Eternal Monarch
Shows involving time travel are always tricky to pull off correctly, and The King: Eternal Monarch certainly brings a fair amount of confusion to the table during its opener. However, it soon untangles its own web to become something wholly engrossing and highly enjoyable.
Between parallel worlds and a love story anchoring everything together, this hugely popular Korean drama is helped by a returning Lee Min-ho who fronts this sci-fi series.
The story revolves around two parallel worlds; the Republic of Korea and the Kingdom of Corea. This forms the crux of the plot, which perfectly portrays its love story centre stage while adding enough twists and turns along the way to make for a highly enjoyable watch.
You can read our thoughts on The King: Eternal Monarch in our full season reviews here!
---
Mr. Sunshine
Another heavy hitting tvN drama, Mr Sunshine is an epic period piece that combines impressive visuals with a really well written story. Exceptionally well written infact. Coupled with some brilliant casting, this is one Korean drama not to be missed.
Set during the Joseon period in 1871, Mr Sunshine begins with a brief glimpse of the past as a Korean boy boards an American warship and grows up in the US as an American. Only, when he returns to his hometown again, it's as an American soldier causing plenty of inner turmoil and conflict. To spoil much more would be a disservice to this drama but suffice to say when it dropped back in 2018, it was easily one of the best shows of the year.
You can read our thoughts on Mr Sunshine in our full season review here!
---

My Love from the Star
If you've had enough of conventional romantic dramas for a lifetime, how about one involving an alien from another planet? My Love From The Star does exactly that, introducing us to a cynical alien named Do Min Joon. Having been stranded on Earth for the past 400 years, his cynical outlook is tested by a former actress who slowly starts to chip away his preconceptions about humanity.
My Love From The Star is a silly, funny and surprisingly poignant drama, one that strips away the humour to lean in hard on the melodrama at just the right times. While the show is an outright romance first and foremost, it does have some great drama throughout too. That's to say nothing of the dastardly villain either which helps add the proverbial cherry on top of a very alien but very deliciously filling Korean drama.
---
And there we have it, our list of best Korean dramas to watch for Valentine's! What do you think of our list? Have we included your favourites? Or have we missed any must-watch dramas? We love to hear from you so do feel free to let us know in the comments below.