From the extended 16+ episode long stories to unforgettable characters, there really is nothing quite like a good Korean drama.
Among the good, the bad and the ugly are some Korean dramas that stand the test of time and can be regarded as some of the best ever created. Here, we'll be showcasing and celebrating our favourite dramas about the world of business!
As a heads up, medical and police dramas have been intentionally omitted from this list. They'll show up in their own article!
Of course, do feel free to comment below if we've missed any noteworthy entries and we'll be sure to review it and see if it makes the list!
So without further ado, TheReviewGeek team present our picks (in no particular order!) for the best Korean dramas centering on the business world.
---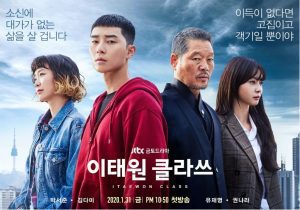 Itaewon Class
While it could be argued that some of the middle chapters run out of steam before picking up toward the end, this conventional 16 episode Korean drama combines important themes around acceptance, belief and racism.
The story revolves around rebellious high school student Sae-Ro-Yi, who finds himself entangled in a blood feud with a bully named Geun-Won following the shocking death of his Father.
Consumed by rage and thrown in prison, Sae-Ro-Yi is antagonized by the Chairman of Jangga Co., the top restaurant company in Korea. What follows is a revenge-fueled redemption story that sees Sae-Ro-Yi team up with the eccentric Yi-Seo to open a pub in the bustling tourist area of Itaewon in a bid to usurp the Chairman and Jangga Co.
The main plot line is engaging, well written and this one is also armed with an incredible soundtrack too.
You can read our thoughts on Itaewon Class in our full season review here!
---

Money Game
Money Game is a financial K-drama that dives in deep to the world of banking. Specifically, the series revolves around three different protagonists, each working for a bank that's on the verge of bankruptcy. The series does well to show the struggles from the perspective of those at the top, the bottom and the workers caught in the cross-fire. 
There's a good deal of drama here too, although Money Game does get a little too complicated for its own good. Prepare to learn a lot about finance, insurance and banking systems along the way while watching this one!
---

Misaeng: Incomplete Life
Misaeng: Incomplete Life revolves around the board game "Go", and specifically how Jang Geu-Rae has dedicated his life to this game. When he fails to achieve his lifelong dream of becoming a professional player, Geu-Rae is forced to leave his isolated existence and enter the real world.
With nothing but a high school equivalency exam to his name, he catches a break when he's hired as an intern at One International, a large trading company.
There, Gue-Rae meets a colourful cast of characters and begins to use what he's learned in Go to better himself navigate the volatile world of the everyday workplace.
This cleverly written, inspirational drama works pretty well although at times it does have a tendency to drag out its story a bit.
---

Misty
Misty is a show that will forever be judged by its ending, which does leave things open rather than resolving everything with a neat bow.
However, the story itself is engaging and revolves around Go Hye-Ran, a popular anchorwoman for a prime time news show. Despite working hard and being good at her job, one day she becomes the suspect in a murder case. Her husband, Kang Tae-Wook, is forced to try and defend his wife, which causes the pair to begin falling in love all over again.
The story works well for the most part but this is definitely a dramedy of the highest order.
---

Start-Up
Start-Up is a Korean drama about aspiring entrepreneurs looking to set up their own businesses. It's a show that manages to balance just enough romance and comedy with this to prevent the show slipping into full-on melodrama. At least to begin with anyway.
There's a sibling rivalry at work, a lingering love triangle and serious second lead syndrome in this one so do be warned prior to jumping in! The ending is pretty subjective too, and in a way makes it a tough sell to recommend given how split the fanbase is over this one.
However, the first few episodes of this are nigh-on perfect so it may entice you to jump in and see what all the fuss is about!
You can read our thoughts on Start Up in our full season review here!
---

Empire of Gold
Empire of Gold is an intriguing and epic familial drama, spanning the course of 20 years between 1990 and 2010. The main story revolves around one chaebol family that rises out the ruins of the 1990 IMF financial crisis to become one of the top conglomerates in the nation.
As the family claw and fight their way to the top, three people become locked in a power struggle to control the empire.
There's a really fascinating dynamic between the characters in this show, and that's ultimately what makes this one so enjoyable to watch.
---
Hotel King
Released back in 2014, Hotel King blends the ups and downs of running a hotel with a love story between a heiress and a hotel manager.
At the center of this is the one and only seven-star hotel in Korea, Hotel Ciel. Jae-Wan works as the general manager there but he hides a dark history, giving him a solid motivation for working. When the hotel owner dies, his arrogant daughter Mo-Ne steps in, suspicious around what happened to her dad while simultaneously struggling to keep hold of the family business.
While some of the acting is a little spotty and the show feels a bit too soapy at points, there's enough here to like.
---

Good Manager
Good Manager is a hilarious k-drama revolving around office place shenanigans. There's a lot of big characters in this one, but there's also some seriousness behind the main storyline too.
At the center of this is Kim Sung-Ryong, a man who used to manage money for gangs. Thanks to an accidental opportunity, he begins working as the chief of an accounting department at TQ Company. As he bumbles his way through work, he struggles to save the company while simultaneously fighting against corruption. In doing so, he ends up battling for his employees' fundamental rights.
A well written and deservedly popular drama, Good Manager is great value for its run-time.
---

Special Labor Instructor Mr Ji
Special Labor Instructor is another feel-good slice of life comedy series, centering on the character of Jo Jin-Gab.
This outspoken man has a knack for speaking up against corruption and subsequently finds himself kicked out of numerous jobs until he ends up working as a public officer.
Within this field, he's transferred to work as a labor inspector at the Ministry of Employment and Labor. There, he finds numerous people involved in corruption, so he sets to work righting those wrongs.
With some good twists and turns along the way – and plenty of interesting characters to boot – this is another solid workplace drama.
---

The Slingshot
The Slingshot is an oldie but undoubtedly a good K-drama for business lovers. Split across 20 episodes, this show combines drama, romance and thrills, although do be warned the ending is a little open.
At the center of this conflict though is Kim Shin, a man who loses everything when his father's company goes bankrupt. As things spiral, his brother commits suicide, his girlfriend leaves him and Kim Shin ends up jail, accused of a crime he didn't commit.
While there, Shin learns that corporation head Chae Do-Woo is responsible for all this ill-will and he sets to work getting revenge.
---
Search: WWW
If you're looking for a workplace drama that combines romance and thrills, Search: WWW should be right up your alley.
The story centers on three women in their late thirties. Bae Ta-Mi, Cha Hyeon and Song Ga-Kyeong. This trio work for the top two competitive web portal companies: Unicon and Barro. Most of the show revolves around the work/life balance these women struggle to keep under control, with a wildcard romance between Mo-Gun and Ta-Mi thrown in to help spice things up.
The cinematography in this is really good too and the dialogue is on-point throughout. This one's another must-watch!
---
And there we have it, our list of best historical Korean dramas of all time! We'll periodically update this page as we watch more Korean dramas.
What do you think of our list? Have we included your favourites? Or have we missed any must-watch dramas? We love to hear from you so do feel free to let us know in the comments below.
---