Thailand BLs are loved across the globe and continue to grow in popularity. Good chemistry between actors is important and sometimes can be the difference between a smash hit and a flop. It really can make or break a show. These actors put a lot of effort into getting close and being able to work well together, and below we shine a spotlight on our favorite Thai BL pairings that have managed to hit it off!
---
MileApo 
It has been said that there is chemistry and then there is whatever Mile and Apo have. These leads of the hit show KinnPorsche have great camaraderie and complement each other so well. Their interactions both on and off-screen are evident and you can tell they really enjoy working together. Fans can't get enough of their adorable interactions in interviews and on social media. In fact, neither could we!
If you're after more Kinnporsche content, we recently broke down our favourite moments from the show, which you can check out HERE!
---
Zeenew 
These two have enough electrifying chemistry to power a little island. If you have watched them on Cutie Pie and their YouTube vlogs, it is obvious that they care and respect each other.  Perhaps it is their playful teasing nature or the way they look at each other, nevertheless they showcase a deep understanding of one another. Viewers can't wait to see them in a new project.
---
BibleBuild
Their chemistry in KinnPorsche was so good that viewers couldn't help but root for their characters Vegas and Pete to end up together. The fascinating thing about these two is how even their chemistry has duality. This is particularly visible in their amazing photoshoots. They have learned to bounce their energy off each other and create a synergy that just sucks you in.
They work incredibly well together and are always supporting each other on social media.
---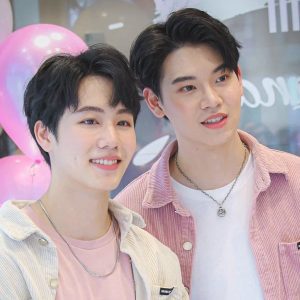 YinWar
Yin and War have such a cute, fun, and chaotic chemistry that effortlessly flows and captivates the audience. They are always teasing and subtly flirting with each other in their interviews and YouTube vlogs. They are so good at it that viewers have a hard time distinguishing if they are joking or being serious. It is never a dull moment with these two and if you haven't watched Love Mechanics, you should!
---
OhmNanon
Fans were elated when their wishes for Ohm and Nanon to work together came true. These two have been best friends for a long time so naturally, they are extremely close. Ohm is always making Nanon flustered with his random jokes and teasing, much to the joy of their fans. Their chemistry in Bad Buddy is one of the reasons the show became a huge success.
---
EarthMix
The leads of  "A Tale of Thousand Stars" series have been working together for almost eight years. They have undeniable chemistry and fans are always excited to see them in a new project. They always seem relaxed around each other and have sweet interactions that melt the viewers' hearts.
---
BounPrem
Boun and Prem are very close and choose to work with each other in all their Thai BL projects. Their recent series "Even the Sun" just finished airing and they continue to develop their close ties . Their long-standing friendship is one of the reasons fans love them so much.
---
BrightWin
Following the global success of their 2020 show  "2gether: The Series", these two have garnered millions of fans. They are always comfortable in their interviews and they display an intense connection with each other. Fans are always happy to see their thoughtful gestures toward each other. Hopefully, fans will get to see them together again in the near future!
---
MewGulf 
Mew and Gulf are the lead characters in the hit series TharnType. Their irrefutable chemistry has inspired hundreds of Wattpad fictional stories and fans are obsessed. In their interactions, Mew is always protective of Gulf and it is clear that they value their bromance. Their cute bickering and squabbles keep fans entertained and it's always hilarious to watch their playful banter. It's also a testament to their close friendship.
---
OffGun
This iconic duo from the 'Not Me' series have one of the best-evolved chemistry in the history of Thai BLs. After working together for a long time, they have come to know and influence each other positively. They are so attuned to each other and fans love seeing the growth in their close relationship. 
---
MaxTul
One of the most beloved pairings in the Thailand BL industry comes from Max and Tul. These two have sizzling chemistry, and this much is clear throughout their series together. The last project they worked on, Manner of Death, saw the pair display explosive chemistry that charmed viewers and had them begging for more. 
---
MaxNat
Max and Nat are the second leads in the series Cutie Pie and they have sizzling chemistry. On-screen it is clear that they trust each other and rely on each other to perfectly execute their love scenes. Off-screen they have the best goofy chemistry, always joking and having a great time in each other's company.
BossNouel
Boss and Nouel may be new to the Thailand BL scene but they have already won the viewers hearts with their chemistry in the hit show Love In The Air. Off-screen, they display their adorable connection and love for each other's company as they spend almost every waking moment together. They share the same interests and the same food so as Boss said ,it is more comfortable to hang out together.
FortPeat
Fort and Peat have a cat and mouse chemistry that you just can't help but love . It is an indisputable fact that they get along well and are constantly teasing each other .Catch them in Love In The Air,  they will make you believe in giving love a second chance.
---
And there we have it, our picks for 14 on-screen Thailand BL couples that have great chemistry!
What do you think of our list? Have we missed any of your favourites? We love to hear from you so do feel free to let us know in the comments below!
---