10 More Stops On The Railroad To Freedom
The Underground Railroad is a special series, one that combines some gorgeous camera work and a haunting musical score with a solid storyline touching on racism and acceptance.
If you've finished watching this one and are looking for alternatives – fret not! We've combed through the archives and saved you the hassle with our top 10 picks for alternate viewing.
To keep things simple for skim-readers we've added what similarities these have.
Of course for all the shows we've reviewed, we've also added a handy link so you can check out our full thoughts on that series and see if it's something you want to invest your time with.
So without further ado, we present 10 TV shows that should whet the appetite when you've finished streaming The Underground Railroad
---

The Handmaid's Tale
Similarities – Oppression & Escaping
Expertly written and artistically presented, The Handmaid's Tale is a surprisingly robust dystopian sci-fi series.
Boasting strong narration from lead protagonist June to help get us accustomed to this nightmarish world, the world building throughout the show is incredibly stylish, using a clever blend of flashbacks and modern-day drama to tell this harrowing tale.
With all identification and any semblance of human rights for women destroyed overnight, what follows is a shocking, realistically depicted decline of society into a nightmarish dystopian hell. Within this bleak darkness of despair, hope begins to blossom from a small group of rebels who aim to overthrow the fundamentalist theocratic dictatorship and relinquish their grip over America.
Split across three seasons and with a fourth on the horizon, The Handmaid's Tale is one of the more unique shows in this category and should whet the appetite for anyone after a compelling story.
You can read our thoughts on The Handmaid's Tale in our full season reviews here!
---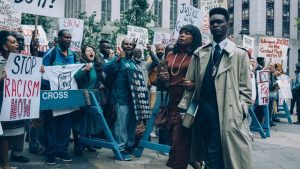 When They See Us
Similarities – Racial Inequality
Split across four feature-length episodes, When They See Us is a brutal, sobering look at racial inequality within the American Justice system.
Coerced into admitting to a rape they didn't commit, five black teenagers are pinned down for the rape and severe assault of a white jogger running through Central Park at night. With their stories failing to add up and the police under pressure to make an arrest, they coerce all the teenagers, some of which under the legal age, into admitting to the crime and hurriedly put them on trial.
It's a shocking, emotionally stirring mini-series but an essential watch for sure.
You can read our thoughts on When They See Us in our full season review here!
---
Roots (1977)
Similarities – Slavery & Unflinching Look At America
Although Roots was rebooted back in 2006, it's the original 1977 version that really strikes a chord. For those unaware, Roots plays out as a TV event following the dramatization of author Alex Haley's family line.
Starting with Kunta Kinte's enslavement around the year 1750, Roots follows Kunta's journey to white supremist America, where he's sold at a slave market. What follows is an incredible family journey, spanning multiple generations while looking broadly at the evolving landscape of America. To give much more away would be a disservice to this series, but suffice to say it's an incredible journey.
Well written and essential viewing, Roots is one of the best miniseries released in quite some time.
---

Watchmen
Similarities – Themes & Characters
While Watchmen is a series predominantly tackling superheroes, there's an undercurrent of racial and societal examination that make it such an enthralling watch. Watchmen is as grim as it is artistic, playing up the political aspects of the comics it's based upon.
For those unaware, Watchmen takes place in an alternate history where masked vigilantes are treated as outlaws. Playing up the political aspects of the comic, this 9 part miniseries delivers a concise and incredibly endearing stand-alone season of action.
The various heroes (using that term lightly here) all feel part of this world, and thematically the series knocks it out the park.
You can read our thoughts on Watchmen in our full season review here!
---

Them
Similarities – Racism & Artistic Visual Design
Ever since Jordan Peele's Get Out, there's been a host of racism-related horrors – and for good reason too. Racism is inherently terrifying and something minorities across the globe have had to endure at some point in their lives.
Them then is an interesting project in many ways. Artistically presented, and drawing on all the hallmarks that make Jordan Peele horrors so intriguing, the 10 episodes are a bit of a mixed bag when it comes to horror and thrills.
The horrifying ride begins by whisking us off to the heart of 1950's America. A black family known as the Emory's move into the quaint, all-white town of East Compton. Once there, they immediately find themselves subjected to racial abuse from their neighbours.
The show blends horror with surrealist imagery and stark racial tension well, leading to a polarizing but undoubtedly engrossing series.
You can read our thoughts on Them in our full season review here!
---
The Man In The High Castle
Similarities – Alt-History & Dystopian World
When it comes to alt-history, Man In The High Castle is an exciting and intriguing project that asks one simple question – what would happen if Hitler won World War II?
Set in a dystopian America, the United States have essentially been carved in half. With Nazi Germany and Imperial Japan seizing control, a young woman called Juliana Crain finds herself thrust in the middle of a resistance.
Thanks to a mysterious film showing the Allies winning World War II, Juliana finds herself front and center of this effort to overthrow the current establishment. This intriguing story builds up across its four seasons to a suitably dramatic ending… and then throws in a bizarre final 60 seconds that's best left ignored.
If you can go into this one knowing the final episode doesn't quite live up to expectations, you should find enough to like here.
You can read our thoughts on The Man In The High Castle in our full season review here!
---

Lovecraft Country
Similarities – Racism & Characters
Lovecraft Country won't be for everyone, and lovers of Lovecraftian stories may not actually enjoy this that much. Admittedly, we weren't sold on this but it's undeniably similar to certain aspects of The Underground Railroad. Both shows tackle racism against archaic attitudes across America.
The story here follows Atticus Freeman, who teams up with his friend Letitia and his Uncle George on a road trip across 1950's America. Desperate to find his Father, what he finds instead are a mix of terrifying creatures, fantastical witchcraft and racist terrors.
With a unique style and some nice ideas, Lovecraft Country bungles its execution at times which will undoubtedly turn some people away. However, others will undoubtedly take to what this series offers so it's definitely worth giving this one a go.
You can read our thoughts on Lovecraft Country in our episode reviews here!
---
The Good Lord Bird
Similarities – Themes & Characters
The Good Lord Bird is a Showtime Original, diving into the American Civil War while backdropping that against an ever-changing landscape of ideas and attitudes.
At the center of this is a young boy called "Onion", a fictionalized enslaved boy who becomes a member of abolitionist John Brown's motley family. As they battle against slavery in Kansas, the series weaves themes of race, religion and gender together beautifully.
The overarching ideas around what American society should be is handled well, while The Good Lord Bird leans into similar tones as big-screen brother Django Unchained.
This morally complex series has some great moments and it's all helped thanks to the stunning performance of Ethan Hawke.
---

Underground
Similarities – Story, Characters & Slavery
Underground is arguably the show that bears the most amount of similarities to The Underground Railroad – especially when it comes to story.
With the country on the brink of Civil War, Underground picks up in 1857, where a group of slaves on a Georgia plantation make the dangerous decision to journey 600 miles north. Echoes of freedom are enticing enough to make this perilous journey, with legendary Harriet Tubman in the driving seat and blazing the trail forward.
With well-rounded characters and some tense moments, this one is definitely worth a watch.
---

The African Americans: Many Rivers to Cross
Similarities – Black History
If you're looking for something more educational and informative involving African Americans, this excellent 6 episode docu-series is well worth a watch.
The episodes themselves are narrated by Professor Gates, who describes the history of African Americans by talking to historians, authors and the history makers themselves.
Each episode clocks in at around 50 minutes or so, beginning with the 1500's and working its way up to modern times. When it comes to black history, this documentary is a must-watch.
---
So there we have it, our 10 TV show alternatives to watch when you're finished watching The Underground Railroad on Amazon Prime.
What do you think of our picks? Do you agree? Are there any notable omissions? Let us know in the comments below!
---