Heartbreak, Romance & Drama
Twenty Five Twenty One is a well written slice of life drama, combining romance, comedy and drama together into one of this year's better Korean dramas.
If you've finished this one and are looking for something similar, we've combed through the archives and saved you the hassle with our top 10 picks for alternate viewing.
To keep things simple for skim-readers we've added what similarities these have.
Of course for all the shows we've reviewed, we've also added a handy link so you can check out our full thoughts on that series and see if it's something you want to invest your time with.
So without further ado, we present 10 TV shows that should whet the appetite when you've finished streaming Twenty Five Twenty One!
---

Racket Boys
Similarities – Slice of life drama & friendships
Written by the same man responsible for Prison Playbook and Hospital Playlist, Racket Boys is a light, breezy drama that combines slice of life shenanigans with sport drama. It's a delightful 16 episode drama, with lots of characters and a positive, uplifting message at its core.
In its simplest form, this is a show about underdogs finding their place in this world and doing so through comradeship and playing badminton. Our tale revolves around a middle school in Haenam.
However, the badminton team there is on the verge of disbandment. Three players remain – Yoon-Dam, Woo-Chan and Yong-Tae. When Hyun-Jong's son, Hae-Kang, joins their ranks, they work together to try and make it big.
With separate female badminton players trying to succeed too, Racket Boys' large ensemble is helped by a long run-time and plenty of romance, drama and comedy to boot.
You can read our thoughts on Racket Boys in our episode recaps here!
---

Reply 1988
Similarities – Slice of life drama
Highly regarded as one of the best slice of life Korean dramas, Reply 1988 is a real trip down memory lane – and perfect to wash down the bitter trip that is Penthouse. Nestling itself in nicely alongside other dramas of its kind, Reply 1988 adopts a light, breezy tone but finds strength in its characters who are all well written and have lots of dramatic moments.
There are some surreal and hilarious moments here too ("Aigoo Kim Sajang!") mixed in with more heartfelt and touching segments across this expansive story.
Split across four different families and praised as one of the more accurate depictions of Korean life, this 20 episode series is split into feature-length episodes as we follow a dozen or so characters from 1988 up to 1994. There's a blend of romance, comedy and drama here too, meaning fans of slice of life dramas should love this one.
You can read our thoughts on Reply 1988 in our full season review here!
---

Run On
Similarities – Relationships & Sports
Run On is a wonderful slice of life drama, centering on themes of acceptance, belonging and purpose. With well written characters, an evolving, progressive storyline and a great blend of humour, romance and drama, Run On is a great option to check out.
The story itself gravitates around two couples and their differing circumstances that bring them together. The series mixes in slice of life and episodic issues against a longer story looking at relationships and one's purpose in life. These two themes in particular recur throughout the show, with all the characters growing and evolving by the end.
There's a lot to like about this one and although it may be a little slow for some people, this breezy slice of life is very easy to watch and very much recommended.
---

Fight for My Way
Similarities – Sports
Fight For My Way is a drama about fighting for your dreams and aspiring to great heights – a common theme in a lot of the shows on this list. It also captures this struggle beautifully thanks to its two lead characters, Ko Dong-Man and Choi Ae-Ra.
Dong-Man has big dreams to become a prolific UFC champion while Ae-Ra wants to become a commentator. She gave up on her dreams though, and now works at a department store.
There's a wonderful life lesson here about following your dreams and some funny moments here too, making it an inspiring and well written Korean drama worth checking out.
---
Normal People
Similarities – Romance
Normal People is a simple enough drama and revolves around two normal people trying to find love. It's not necessarily an original concept but where Normal People excels is in its execution.
Split across 12 episodes, each clocking in at around 30 minutes each, Normal People follows the trials and tribulations of these two Irish teens, Marianne and Connell, as they navigate life and try to find romance. It's a beautiful, realistic and at times incredibly moving series that makes the most of its limited run-time to deliver a stunning slice of drama.
---

Record Of Youth
Similarities – Comedy
Record of Youth essentially combines the Reply series and Itaewon Class together into one drama.
Split between four distinct protagonists, this coming of age story splits its run-time between three friends and a wildcard love interest in Jeong-Ha. Each of these characters have a very distinct familial structure and big dreams for the future.
Hye-Jun is our lead though and an established model. Only, he wants to break free from these shackles and pursue a career as an actor. After leaving his company for greener pastures, Hye-Jun turns to the inexperienced but ever-loyal Min-Jae to manage his acting career.
Already well on his way to fame, Hye-Jun's best friend Hae-Hyo is already making waves in the industry.
The third friend is Jin-U who dabbles with the idea of opening his own studio but mostly sticks to the background for large stretches of the show. All in all, this is a light, breezy show that, while enjoyable in the moment, isn't quite as memorable as others on this list. Still, it's undeniably similar to Twenty Five Twenty One.
You can read our thoughts on Record of Youth in our full season review here!
---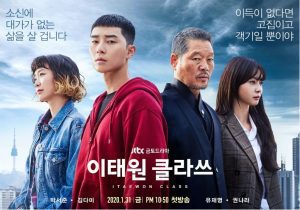 Itaewon Class
Similarities – Friendships & Working Hard
While it could be argued that some of the middle chapters run out of steam before picking up toward the end, this conventional 16 episode Korean drama combines important themes around acceptance, belief and racism.
The story revolves around rebellious high school student Sae-Ro-Yi, who finds himself entangled in a blood feud with a bully named Geun-Won following the shocking death of his Father.
Consumed by rage and thrown in prison, Sae-Ro-Yi is antagonized by the Chairman of Jangga Co., the top restaurant company in Korea. What follows is a revenge-fueled redemption story that sees Sae-Ro-Yi team up with the eccentric Yi-Seo to open a pub in the bustling tourist area of Itaewon in a bid to usurp the Chairman and Jangga Co.
The main plot line is engaging, well written and this one is also armed with an incredible soundtrack too.
You can read our thoughts on Itaewon Class in our full season review here!
---

Our Beloved Summer
Similarities – Romance
Our Beloved Summer is a story about romance, regret and repressed emotions. The crux of this falls to a school romance that goes horribly awry, leading two characters on different paths in life that eventually entwine together thanks to fate.
The story centers on Choi-Ung, a clumsy school student with bad grades. He's teamed up with Yeon-Su, a bright, no-nonsense girl who certainly won't stand for Choi-Ung's shenanigans. So naturally, a documentary crew see it as the perfect drama bait and opportunity to film two students in their natural habitat.
As fate would have it, their hate turns to friendship and then in turn a blossoming high school romance. Unfortunately a bad break-up tarnishes them both and they carry the weight of this over the years.
It's a pretty simple set-up and Our Beloved Summer doesn't shy away from that. Instead, it embraces its own clichés and moulds that into a sweet tale that does well to keep things engaging across the 16 episodes.
You can read our thoughts on Our Beloved Summer in our full season review here!
---

Weightlifting Fairy Kim Bok Joo
Similarities – Comedy
A proper coming-of-age story, Weightlifting Fairy Kim Bok Joo sprinkles some serious fairy dust across this lovable Korean drama.
With an uplifting narrative about a group of college athletes fighting for their dreams, the story starts slowly before evolving into a memorable feel-good narrative. There's some great character work achieved here and across the season all the characters grow and evolve in a realistic way.
It helps too that the chemistry between the lead characters is excellent and backed up by an equally impressive supporting cast. It's a great entry point for anyone looking to dive into Korean dramas and the effortless comedy emanating through the series is hard not to fall in love with.
---

Girls' Generation 1979
Similarities – Comedy
Girls' Generation 1979 is an engrossing K-drama set deep in the heart of Daegu, South Korea in the 1970's. Lee Jung-Hee is in the 2nd grade of high school. She's the second daughter of a family that run a lingerie factory. The story gravitates around her and her friends as they navigate through the world of adolescence, with the show tackling both emotional and social problems.
It's pretty similar in tone to Twenty Five Twenty One, with the story really picking up when Park Hye Joo, a transfer student from Seoul, joins Jung-Hee's class and becomes the center of attention, creating jealous and friction among Jung-Hee and her friends.
Girls' Generation 1979 does a great job depicting this social hierarchy and there's some great moments along the way. If you're looking for someone that nails that sense of comradeship and the futility of youth, this one's definitely worth a watch.
---
So there we have it, our 10 TV show alternatives to watch when you're finished with Twenty Five Twenty One on Netflix.
What do you think of our picks? Do you agree? Are there any notable omissions? Let us know in the comments below!
---