10 More Terrifying Voyages
The Terror is an anthology series blending in supernatural elements with real-life tales. Both seasons are very different in tone but do share some similarities. It's also one of the better horror shows on TV.
If you've finished watching this one and are looking for alternatives – fret not! We've combed through the archives and saved you the hassle with our top 10 picks for alternate viewing.
To keep things simple for skim-readers we've added what similarities these have.
Of course for all the shows we've reviewed, we've also added a handy link so you can check out our full thoughts on that series and see if it's something you want to invest your time with.
So without further ado, we present 10 TV shows that should whet the appetite when you've finished streaming The Terror.
---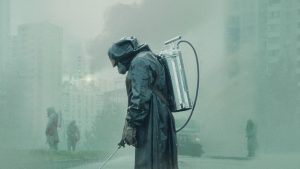 Chernobyl
Similarities – Tone & Real-Life Horror
Back in May 2020, HBO and Sky teamed up to produce a stunning and haunting recreation of the Chernobyl disaster.
Split across five episodes, Chernobyl is a haunting, captivating series and easily one of 2019's brightest gems. The devastating effects of this disaster, coupled with a ticking time-bomb of tension, produce a pressure-cooker of must-watch drama.
This remains one of the best mini-series ever created and an absolute must-watch for anyone who hasn't seen it already.
---

Nightflyers
Similarities – Mystery & Trip Gone Wrong
2018's sci-fi series Nightflyers revolves around a crew of scientists embarking on a mission to investigate a mysterious alien signal. However, this soon turns into a claustrophobic nightmare as those onboard start to suspect one another.
This series does require you to suspend your belief a fair amount but should do the trick for those looking for a tantalizing mystery.
The characters however, may leave you scratching your head a little at their illogical choices. For the mystery alone though, this show is worth watching.
---
The Haunting Of Hill House
Similarities – Horror
Technically sound and featuring a lot of well-worked scares, The Haunting Of Hill House is a stunningly well executed show, one that weaves a group of perfectly written characters with a story that never feels like careering off track.
In its simplest form, Haunting Of Hill House is a typical haunted house series with flashes between the past and present making up the bulk of this show. The poor family at the center of this conflict are haunted by memories of their old home and the terrifying events that befell them there.
Word of mouth helped this show grow a lot when it released back in 2018 and it deserves recognition for managing to keep up suspense and tension over 10 hours – which is certainly no easy feat. Haunting Of Hill House is quite simply a benchmark for all TV horror to aspire toward.
You can read our thoughts on The Haunting Of Hill House in our full season review here!
---

Castle Rock
Similarities – Characters & Tone
Unlike the second season's more action-driven plot, the first is a suitably moody, mysterious story that perfectly combines all the hallmarks of what makes a good mystery show.
Based on the stories of Stephen King, the series intertwines characters and themes from the fictional town of Castle Rock. The central character for season 1 is Henry Deaver, who returns to his hometown after receiving a strange call.
Only, when a stranger arrives in town called The Kid, things take a turn for the strange.
The first season is absolutely suffocating in tension and while the second adopts a more action-driven slant, there's actually a lot here to like.
You can read our thoughts on Castle Rock in our full season reviews here!
---

Channel Zero
Similarities – Tone & Drama
With four delightfully sinister tales to choose from, Channel Zero's four-season run makes for really compelling horror viewing. However, our top pick remains seasons 1 and 3 in terms of similarities to The Terror. These are also arguably the creepiest of the bunch too.
With a new spin on The Tooth Fairy (pictured above) and some seriously creepy dolls, this is matched by season 3's Dream Door plot.
The rest of the seasons are good though and tackle a variety of different ideas. This horror series is well worth watching.
You can read our thoughts on Channel Zero in our full season review here!
---

The Outsider
Similarities – Fantasy, Mystery & Possessions
Stephen King TV adaptations are usually very good or very bad. While The Outsider is far from perfect, the story is absolutely gripping and you'll undoubtedly be hooked until the very end.
The Outsider works much better as a straight forward binge rather than a show drip-fed across several weeks. The basic premise revolves around a group of investigators completely baffled by an unspeakable crime that's been committed. We won't go into spoiler territory, but where this one really shines is with its characters, who are beautifully written throughout.
If you're in the mood for a good thriller, this one has all the right ingredients to hook you in and keep you glued until the end.
You can read our thoughts on The Outsider in our full season review here!
---

Fortitude
Moody, atmospheric and well written, if you're looking for something tonally similar to The Terror – look no further.
The story here takes place in a town called Fortitude. Surrounded by the bleak beauty of the polar landscape, Fortitude portrays itself as one of the safest towns on Earth. However, a violent crime rocks the community, setting up an intriguing whodunit to follow.
Ironic, given its surrounding setting, Fortitude is a glacially paced show that you need to go into with some patience. However, the show soon reveals that there's more here than meets the eye. A must-watch for sure.
---
The Last Ship
Similarities – Isolation
The Last Ship is a surprisingly underrated hit. It's a show that tackles an outbreak that decimates most of the world's population but from the confines of a naval destroyer out at sea.
While the crew do dock at various different locations, there's an intriguing premise at work here that feels suitably claustrophobic for parts of its multi-season run.
Split across five seasons, The Last Ship does feel like it runs out of steam after season 3 but somehow manages to deliver something wholly fresh and exciting in the midst of a sea of other outbreak-related shows.
If you're looking for post apocalyptic content, set on the claustrophobic setting of a ship, this one may be worth checking out.
---

American Horror Story
Similarities – Tone
American Horror Story is an anthological series that utilizes the same cast across a myriad of different situations each season. Many fans agree that the second is the best but each differing locales offer up lots to whet the appetite.
From creepy asylums to fun-loving circuses that aren't quite right, there's an ever-evolving set-up that should keep you busy for a while.
There's a lot of great costume and set design woven across the expansive 9 seasons too. With the show renewed for a further 3 years there's lots more in the pipeline to come. However, seasons 1 and 2 are arguably the closest in tone and style to The Terror.
---

Ghoul
Similarities – Tone
Set in a dystopian future, Ghoul is a fast-paced but undoubtedly twisted thriller. It's also a show that wastes little time getting to the heart of its drama. 
Patriotic protagonist Nida starts us off by exposing her father's anti-government activities, proving just how much she's willing to give to her country.
Following this act, she's inducted as the newest interrogator at a secret, remote detention center. Once there, things begin to spiral out of control as a new prisoner arrives, bringing a strange, uneasy aura that descends on the prison.
What transpires from here is an unnerving, psychologically chilling tale that builds toward a climactic, blood soaked battle for survival. Ghoul is undoubtedly another solid horror offering.
You can read our thoughts on Ghoul in our full season review here!
---
So there we have it, our 10 TV show alternatives to AMC's The Terror.
What do you think of our picks? Do you agree? Are there any notable omissions? Let us know in the comments below!
---