Blood In Rome
Suburra: Blood On Rome comes to an end this week, with its third and final season drawing an end to the bloodshed on Rome's streets. At least for now. Now that you've finished this one, you may be itching for more of the same. So where to start?
Well, fret not! We've combed through the archives and saved you the hassle of having to try and find something similar with our top 10 picks for alternate viewing.
To keep things simple for skim-readers we've added what similarities these have.
Of course for all the shows we've reviewed, we've also added a handy link so you can check out our full thoughts on that series and see if it's something you want to invest your time with.
So without further ado, we present 10 TV shows that should whet the appetite when you've finished streaming Suburra: Blood On Rome.
---

Romanzo Criminale
Similarities – Italy & Gangs
If you're looking for a similarly paced depiction of Italy's underbelly of crime, look no further. Romanzo Criminale is a well written, gritty compendium of Italian gang-life.
At the centre of all this lies small criminal Lebanese armed with a big dream. He wants to conquer the underworld of Rome and in order to do that, puts together a highly organized gang to take the streets by storm. With an accurate depiction of the time period and a story spanning a total of 25 years (between the 70's and the 90's), this dark historical drama is certainly worth checking out.
---

Peaky Blinders
Similarities – Gangs & Action
Raw, dramatic and surprisingly realistic, if you're looking for some crime action set in 1920's England, Peaky Blinders is just what the doctor ordered.
This BBC drama revolves around a family determined to make it to the top of the criminal underworld. At the heart of this is Tommy Shelby, who – along with brother Arthur and Aunt Polly, find themselves tackling an array of problems both internal and external.
Peaky Blinders really excels in its grimy, dark depiction of Birmingham. There's plenty of twists and turns along the way too and with 5+ seasons to get through, there's certainly a fair amount to get through.
You can read our thoughts on Peaky Blinders in our full season reviews here!
---

Top Boy
Similarities – Action & Story
On the surface, Top Boy is a very straight forward story about two drug dealers trying to navigate the murky underbelly of London. When you dive a little deeper however, Top Boy also presents a fascinating social commentary about the seductiveness of the drug trade. Top Boy also weaves that around issues plaguing Britain's youth, doing so with a very gritty, in-your-face style.
After 3 seasons, Netflix then snatched up the rights to this one, changing the format slightly while remaining just as engaging and intriguing – and more importantly not cancelled. At least not at the time of writing anyway.
You can read our thoughts on Top Boy in our full season reviews here!
---

Gomorrah
Similarities – Crime & Gangs
Much like Suburra, Gomorrah is an Italian crime drama revolving around the Mafia in Naples. Running for four seasons, Gomorrah has a lot of bang for its buck. However, this is backed up by some amazing storytelling and tense action set pieces.
The story revolves around a man named Ciro who disregards tradition in his attempt to become the next boss of his crime syndicate. Of course, these internal problems cause a rift to open in the family, putting all of them at risk.
This series doesn't look like running out of steam anytime soon and is certainly worth indulging in.
---

Babylon Berlin
Similarities – Germany & Period Drama
Set upon the gorgeous backdrop of 1920's Berlin, Babylon Berlin is a slickly presented, incredible recreation of a city on the verge of radical change. Boasting some stunning cinematography and an engrossing script along the way, this crime thriller is a joy to watch.
The story revolves around Colognian commissioner Gereon Rath, who moves back to Berlin to find the city in turmoil With poverty gripping many, this juxtaposition is felt through a much richer high-class and the Berlin mafia, who have a big part to play in this one.
While it does play out much more closely to a crime procedural, the gang issues and decent visuals make it one of the finest productions to come out of Germany.
You can read our thoughts on Babylon Berlin in our full season review here!
---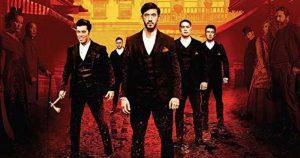 Warrior
Similarities – Action & Gangs
Warrior combines well choreographed fights, political scheming and a volatile 1870's San Francisco setting.
With the Hop Wei and Long Zii gangs on the brink of war, Ah Sahm arrives on the shores of San Francisco, determined to find his sister Mai Ling. Unbeknownst to him, she's mixed up with the Long Zii while Ah Sahm himself is recruited to the Hop Wei.
This is an action packed thrill-ride that's well worth checking out and with a second season in full swing, there's enough here to make for an enthralling watch.
You can read our thoughts on Warrior in our full season reviews here!
---

Gangs of London
Similarities – Fighting Over Territory
Gangs Of London is a thoroughly enjoyable crime epic and one that does a great job blending graphic violence and big action set pieces with an interesting story surrounding a power struggle in London.
The story centers on a man named Finn Wallace, the crime boss overseeing affairs in London who's shot dead by two nobodies. With no-one at the top, a wrestle for power ensues between rival gangs.
While the plot does lose its way during the second half and a couple of the characters don't get a great send-off, there's enough to like about this one to make it well worth a watch, flaws and all.
You can read our thoughts on Gangs Of London in our full season review here!
---

Brotherhood
In its simplest form, Brotherhood is a series about two brothers engaged in a dangerous game of cat and mouse. Set in an Irish neighborhood in Providence, Rhode Island, the series focuses on gangster Michael and his state politician brother Tommy.
Inspired by real events, Brotherhood's story explores some pretty complicated and complex ideas, helped along by the political slant gripping large swathes of this show. With 2 seasons to get through, Brotherhood is one of the more underrated series out there and definitely worth checking out.
---
Umbre
Umbre is a pulsating Romanian series that – at first glance at least – would be easy to ignore. That would be a shame because this is a merciless, pulsating crime drama well worth watching. You've got your usual slew of bad guys here but most characters flirt the line between right and wrong, reveling in that murky grey area.
The story does bear some similarities to others in this genre but ultimately marches to the beat of its own drum. That drum happens to be family man Relu, who lives a rather unremarkable life… at least on the surface. Under that innocent facade is a man working as a collector for a local mobster called Capitanu.
Split across 3 seasons, Umbre has a good pace and maintains that right the way through its run-time.
---

1992
Perhaps more politically charged than the others on this list, 1992 is an Italian series following six people whose lives are intertwined with the rapidly changing landscape of early 90's Italy. There's echoes of House Of Cards here but comparing it as such would be a disservice to this 10 episode series.
The story essentially plays out Italy's history with these six characters all caught in the eye of the storm as political upheaval and rapidly changing societal attitudes grip the nation.
There's some wonderful performances throughout and the story is both gripping and gritty enough to stick with until the dramatic conclusion.
---
So there we have it, our 10 TV show picks to pick up when you're finished with Suburra: Blood On Rome.
What do you think of our picks? Do you agree? Are there any notable omissions? Let us know in the comments below!
---