Stranger Than Stranger Things
Stranger Things is Netflix's flagship series, blending supernatural spooks with nostalgic 80's beats and  some serious Stephen King vibes.
If you've finished watching this one and are looking for alternatives – fret not! We've combed through the archives and saved you the hassle with our top 10 picks for alternate viewing.
To keep things simple for skim-readers we've added what similarities these have.
Of course for all the shows we've reviewed, we've also added a handy link so you can check out our full thoughts on that series and see if it's something you want to invest your time with.
So without further ado, we present 10 TV shows that should whet the appetite when you've finished streaming Stranger Things.
---

Misfits
Similarities – Banter & Characters
When it comes to a tight-knit group of teenagers forming an unlikely group, British series Misfits fits the bill perfectly. It's a smartly written series that balances a combination of laugh out loud moments with much more profound bouts of drama.
The story here revolves around a group of young offenders out doing community service. When they're struck by lightning during a storm, each of these misfits start to develop superpowers.
What follows is a nicely paced and well written adventure that's perhaps darker than many many be expecting. However, it's undeniably well written.
---

I Am Not Okay With This
Similarities – Tone, Vibe & Ideas
Netflix's latest teen drama I Am Not Okay With This is another unfortunate cancellation casualty. However, it's undeniably similar to Stranger Things for its depiction of teen drama and supernatural elements.
The story here follows Sydney, a teenage girl with a lot of problems. Juggling her Father's death, her estranged relationship with her Mother and her best friend finding love and drifting away, Sydney is overcome with emotions.
This spills over in the form of inexplicable supernatural powers that sporadically appear during stressful moments. What follows is a fast-paced journey that sees Syd grapple with the usual high school woes you'd expect while running a superhero origin story in the shadows.
In terms of tone, scope and ideas, I Am Not Okay With This is well worth a watch – cliffhanger ending and all.
---

The OA
Similarities – Mystery & Characters
Speaking of cancellations, The OA's chop caused quite the stir online. That alone should tell you all you need to know about the power and quality surrounding this utterly bizarre Netflix Original.
The OA is undeniably weird and its mystery does so well to keep you glued to find out what happens next. The main story revolves around a missing blind girl called Prairie returning home. Now in her twenties, she suddenly has her sight restored and no one seems to know why.
From here, the show grows and piles on more mystery, delivering two seasons of utterly compelling TV. Unfortunately, the final episode of season 2 does end on a cliffhanger which could make or break the experience for you. However, in terms of atmosphere and riveting mystery, The OA absolutely nails it.
You can read our thoughts on The OA in our full season reviews here!
---

Fringe
Similarities – Sci-Fi & Investigating Paranormal
Fringe feels like a modern day X-Files, taking what made that show so great and adding a scientific edge to proceedings. The later seasons are absolutely fantastic and add some really shocking twists to the fold too, breathing new life into this show.
Fronting these various cases is F.B.I. agent called Olivia Dunham, who's forced to work with an institutionalized scientist named Walter Bishop. Together with Walter's estranged son Peter, they start to uncover various strange phenomena. These episodic cases are mixed in with a larger conspiracy that engulfs the series.
Fringe expertly blends these two narrative arcs together and tops it off with an excellent dynamic between the characters, growing and evolving over time to produce a really gripping sci-fi series.
You can read our thoughts on Fringe in our full season review here!
---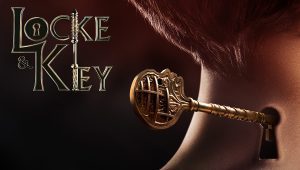 Locke And Key
Similarities – Dark Mystery
Locke & Key, based on the visual novels of the same name, blends lite-horror elements with a healthy dose of mystery. Resting all of this on the shoulders of our three child protagonists, you'd be forgiven for thinking this show is for kids. It most certainly is not.
The story itself revolves around three siblings, Bode, Kensey and Tyler, who move back into their childhood home Key House. Pushing aside the haunting memories of their Father's murder (which took place inside these four walls), numerous magical keys lie hidden around the house that could hold the clue to the mysteries lurking within.
Despite feeling a little overlong at times, the series does well to keep itself engaging throughout its 10 episode season. With a second season still not green-lit yet, it remains to be seen whether this will return for a follow-up or not.
You can read our thoughts on Locke & Key in our full season review here!
---

Wayward Pines
Similarities – Mystery & Pace
Wayward Pines is one of those shows you really need to suspend your belief and logic to enjoy fully. While the second season does tend to go off the rails a bit, the first season serves up a decent amount of drama across its run-time.
The story here revolves around secret service agent Ethan Burke, who arrives in the town of Wayward Pines with a big mission. Two federal agents have gone missing and it's up to him to work out what's happened. Only, instead of answers he finds himself consumed with even questions.
As he starts to dive head-first into the rabbit hole, Ethan realizes to his horror that he may never get out of Wayward Pines alive.
As far as compelling mysteries go, Wayward Pines has some nice ideas even if it does deliver answers a little too quickly. Despite that, there's certainly enough here to enjoy.
---

Dark
Similarities – Mystery & Characters
Dark is thought provocative, regularly surprising and full of interesting characters to keep you watching until the final scene. Across its 3 season run, Dark shows exactly how to craft a compelling and complicated web of time travel.
The story begins in the (at time of broadcast) near future of 2019 Germany in a small town called Winden. This tight-knit community is rocked by the sudden disappearance of two young children who seem to be connected with a cave there.
I won't spoil more but suffice to say, this is one story you'll probably need to revisit numerous times to catch all the clues along the way.
Using a distinctly dark tone and a gorgeous, atmospheric score, Dark is easily one of the best time travel series ever created and easily a top contender to add to your watch-list if you haven't already.
You can read our thoughts on Dark in our full season reviews here!
---
The End of the F**king World
Similarities – Pace & Teenage Drama
With a title like The End Of The F***king World, you'll know very early on whether this dark comedic drama is for you. Split across two seasons and chock full of witty jokes, this British series certainly does a great job making the most of its limited run-time.
The show follows two damaged teenagers, James and Alyssa, as they embark on a road trip to escape their mundane lives. James is engulfed in murderous thoughts whilst angry teen Alyssa hates her Step Dad and pretty much everyone else in the world… except James.
The jokes are well timed, the clever switching narrative between the damaged characters helps to empathise with both teen and the short length makes this a very easy show to sit through. This one's a must-watch.
You can read our thoughts on The End of the F**king World in our full season review here!
---
The Hardy Boys
Similarities -Adventure & Characters
Split across 13 episodes, this familial drama blends elements of Stranger Things, Riverdale and Outer Banks to deliver a fun-filled treasure hunt. While the story does have some narrative inconsistencies and a bit of filler midway through, there's enough in this to enjoy.
The basic premise revolves around brothers Joe and Frank Hardy, who act as amateur sleuths and become mixed up in large and dangerous mysteries. It's a very simple hook and one that's evolved and expanded beyond the books for this 2020 adaptation.
The Hardy Boys is a really fun ride and definitely worth watching if you like treasure hunt adventures.
---

Black Spot
Similarities – Tone, Suspense & Story
Channeling those familiar small-town vibes and mixing that in with light touches of horror and suspense, Black Spot certainly shares some similarities to Stranger Things.
The story here revolves around the small, isolated town of Villefranche. Living within is Police-Major Laurène Weiss, who's head of the police department. Surrounded by forestry and mountains, Prosecutor Franck Sirani arrives to find out just why the town's murder rate is six times higher than the national average.
With whispers of the forest being a dangerous place and a steady string of fresh corpses showing up, this supernaturally charged crime drama certainly delivers the goods. There's some nice twists along the way and 2 seasons of this psychologically charged series to enjoy.
---
So there we have it, our 10 TV show alternatives to watch when you're finished with Stranger Things on Netflix.
What do you think of our picks? Do you agree? Are there any notable omissions? Let us know in the comments below!
---