Medical dramas with a touch of history
Poong The Joseon Psychiatrist finally came to an end after two seasons and gave us our next favourite rom-com. Set in the Joseon era, this historical show blends medical dramas with mystery and romance in a lighthearted way to give us an entertaining watch.
After Yoo Se-yeop loses his reputation and acupuncture skills due to a traumatic event, he finds himself coming across the local doctor Gye, his over-friendly staff at Gyesoo Clinic and the smart and kind young widow Eun-woo. They get together to treat the villagers and solve mysterious cases that follow. In the meantime, a budding romance flourishes between Poong aka Se-yeop and Eun-woo.
But now that you have finished Poong The Joseon Psychiatrist season 2, are you in the mood for more? Do you want more loveable and clever protagonists like our shy Se-yeop or the headstrong Eun-woo? Or does a funny medical drama have you reaching for your screens? Well, then you're in luck.
Here are 10 TV shows with a similar premise to watch if you liked Poong The Joseon Psychiatrist.
---
Ghost Doctor
Similarities – Medical, rom-com
Cha Young-min is an arrogant but top surgeon of his hospital and often clashes with his colleagues, especially the cocky Go Seung-tak who just seems to get on his nerves and has nothing to back up his claims of being a good doctor. However, when they get involved in a conspiracy theory involving his ex-girlfriend, an accident puts Young-min in a coma and he ends up becoming a ghost. His only hope is now Go Seung-tak as he can somehow possess the young intern.
---
Dr Romantic
Similarities – Medical, romance, found family
If you loved the multiple-season format of Poong The Joseon Psychiatrist, you're in for a treat as Dr Romantic is set to get a third season in April 2023. After a traumatic event, much like our Poong, genius surgeon Boo Yong-joo disappears only to reappear as Kim Sa-bu and work in a small, local hospital. Over the two seasons, he helps young and promising doctors not only with their skills but how to stand strong against rich sponsors and treat all patients equally.
---
Hospital Playlist
Similarities – Medical, rom-com, found family
After graduating together, five doctors have been working together and supporting each other for almost all of their adult lives as now they are in their 40s, assigned to the Yulke Medical Centre. However, they all have their own problems like divorces, midlife crises or clashing personalities affecting their work. But the one thing that keeps them together is their love for music.
---
Live Up To Your Name
Similarities – Joseon era, medical, rom-com
As Poong The Joseon Psychiatrist implements several modern-day elements like psychiatry and the idea of female doctors, it only makes us wonder how excited Poong would have been to travel to the future. Well, we sort of get that with Heo-im accidentally time travelling from the Joseon time period to present-day in Live Up To Your Name.
Our Poong 2.0 looks after the villagers while earning by charging nobles and looking after the King till he is accidentally charged with treason. As he tries to escape, he falls into a river only to end up in today's Seoul and run into top female surgeon Choi Yeon-kyung.
---
Rookie Historian Goo Hae-ryung
Similarities – Joseon era, anachronistic female character, rom-com
In a time where women were relegated to the background as wives, maids or entertainment, Goo Hae-ryung decides to brave the world and follow her passion for studying and becoming a historian. Meanwhile, we have Prince Dowon passing the time by writing romance novels which is a hit among women. They meet only to clash over genres but decide to overcome their differences when the King bans books and starts burning them.
---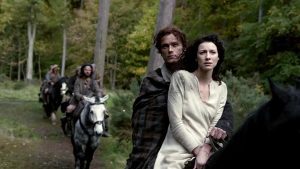 Outlander
Similarities – Romance, period drama, female physician
Outlander is a time travelling romance which begins with military nurse Claire Randall visiting Scotland with her husband Frank on their second honeymoon. However, she is transported in the middle of a Scottish civil war in the 1700s when she touches the Craigh na Dun stones.
She becomes a target of Black Jack Randall, her husband's ancestor due to an unfortunate incident and must find shelter with the MacKenzies till she can figure out a way to return home. If that wasn't enough, she must marry the stranger Jamie (think sort of a marriage green card) so that Black Jack can't arrest her.
---
Kingdom
Similarities – Joseon era, female physician
Netflix's first original K-drama Kingdom is a thrilling, fast-paced zombie show set in the Joseon era with a ragtag group of people including the Crown Prince Lee getting together to end the apocalypse once and for all.
However, the sinister zombie apocalypse may have begun right in the palace as warring factions try to take control after the King supposedly falls sick. Meanwhile, female physician Seo-bi must search for a cure as she accidentally becomes a part of the first zombie outbreak.
---
Royal Secret Agent
Similarities – Joseon era, anachronistic female character, rom-com
A parody of the Three Musketeers, it begins with Sung Yi-gyum, a genius administrator being demoted when he is caught gambling. As a punishment, he is made to go undercover as a secret agent on behalf of the palace and investigate all the corruption going on in the government. He ends up taking the help of the courtesan Da-in who is actually a female inspector and his bumbling servant, Chun-sam.
---
Penny Dreadful
Similarities – Romance, period drama, unconventional physician
Penny Dreadful is an amalgamation of all iconic horror figures coming together to instigate or solve mysteries in the Victorian era of London. We have the likes of Frankenstein and his Creature, Dorian Gray, werewolves and vampires, Dracula and his bride Mina, Van Helsing, Jekyll and more. It begins with Malcolm and his friend Vanessa hiring the gunman Ethan to look for Malcolm's daughter Mina while a mysterious supernatural creature terrorizes the streets of London.
---
Our Flag Means Death
Similarities – Rom-com, period drama
Our Flag Means Death is based on the hilarious misadventures of Captain Stede Bonnet. A Don Quixotic character, he abandons his noble background to become a pirate just because he can. The catch is that he doesn't have the slightest clue on how to commandeer a ship.
It also doesn't help that the crew that he rounds up are the worst bunch of misfits one can ever lay their eyes on. Now they must sail around, not only raiding ships but also escaping warships and actually dangerous pirates.
---
So there we have it, our 10 TV show alternatives to watch when you're finished watching Poong The Joseon Psychiatrist.
What do you think of our picks? Do you agree? Are there any notable omissions? Let us know in the comments below!