Another Slew Of Paranormal Pleasures
Paranormal is a surprisingly robust, enjoyable Egyptian series currently airing on Netflix. With 8 easy-to-watch episodes, you may be looking for some similar shows to scratch the itch left behind when you're done watching.
Well, fret not! We've combed through the archives and saved you the hassle of having to try and find something similar with our top 10 picks for alternate viewing.
To keep things simple for skim-readers we've added what similarities these have.
Of course for all the shows we've reviewed, we've also added a handy link so you can check out our full thoughts on that series and see if it's something you want to invest your time with.
So without further ado, we present 10 TV shows that should whet the appetite when you've finished streaming Paranormal.
---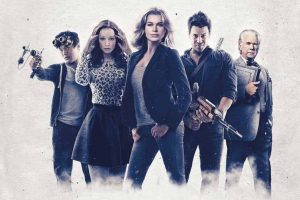 The Librarians
Similarities – Supernatural Elements & Charm
Full of cheesy dialogue, cheap set design and a fantastical plot line, you'd be forgiven for writing off The Librarians as a throwaway fantasy show. Instead, The Librarians embraces its incredulous premise and manages to strike a great balance between its silly and serious elements.
The story begins with an introduction to a strange man known as The Librarian. After stopping certain doom from consuming the planet, we're introduced to Colonel Eve Baird who finds herself whisked along for the ride, invited to an illustrious place called The Library that defies the laws of physics.
When the library goes missing from reality, it's up to the central group of characters collectively known as The Librarians to find the library whilst preventing magic from spilling into our world.
It's a great premise and one that works beautifully thanks to its well-written group of characters at the heart of this one.
You can read our thoughts on The Librarians in our full season reviews here!
---

Fringe
Similarities – Sci-Fi & Mystery
Fringe feels like a modern day X-Files. Fringe takes what made that series so great and adds a scientific edge to proceedings. The later seasons are absolutely fantastic and add some really shocking twists to the fold, breathing new life into this show.
Fronting these various cases is an F.B.I. agent called Olivia Dunham, who's forced to work with an institutionalized scientist named Walter Bishop. Together with Walter's estranged son Peter, they start to uncover various strange phenomena.
With a mix of serialized and episodic storylines, Fringe expertly blends these two narrative arcs together and tops it off with an excellent dynamic between the characters that grows and evolves over time. This is sci-fi at its absolute best.
You can read our thoughts on Fringe in our full season review here!
---
The X-Files
Similarities – Solving Spooky Cases
Arguably one of the most culturally significant shows of the 20th Century, The X-Files is undoubtedly one of the most engrossing, well written mysteries on the small screen.
For those unaware, the story revolves around two FBI agents – one a sceptic and the other a believer. Mulder is desperate to uncover the truth after his sister was abducted by aliens when he was a child. Scully meanwhile, is sent to debunk his work by the higher authorities. This dynamic slowly grows over time to see the pair chasing the truth.
Interwoven around Mulder's sister being abducted are numerous stand-alone slices of horror and hidden gems, making this an easy show to recommend.
You can read our thoughts on The X-Files in our full season reviews here!
---

Twin Peaks
Similarities – Tone & Horror
Twin Peaks is one of those classic, quintessential shows from the 90's that sticks with you long after the final credits have rolled. The simple story about a peculiar FBI agent investigating the murder of a young woman – in the even more peculiar town of Twin Peaks – is simple but surprisingly effective.
It's one of those rare gems that completely changed the landscape of the small screen and what could be achieved with horror through this medium.
There's some genuinely creepy moments along the way, typified by the stunningly horrific nightmare montage in the episode "Lonely Soul."
If you haven't watched this already, you absolutely should – it's one of the better shows out there.
---

A Series Of Unfortunate Events
Similarities – Quirky Tone & Humour
After the successful translation of the popular book series to film, it was always going to be a tough ask to then reboot A Series Of Unfortunate Events to the small screen.
Surprisingly, the TV show far surpasses the film in a well structured, deliciously dark feature that not only nails the tone of the book, it boasts some great writing and bursts of genuinely funny moments along the way.
Split across three satisfying series, A Series Of Unfortunate Events is a complete experience too, with a satisfying conclusion to the tale.
---

Supernatural
Similarities – Tone & Horror
Supernatural is a classic series revolving around two brothers – Dean and Sam Winchester – who follow their father's footsteps as hunters, fighting evil supernatural beings of many kinds. Along the way they tackle all manner of monster, including demons and gods that roam the Earth.
It's camp, funny, tense and more often than not well written too. There's a reason this series has lasted 15 seasons and although some of the later antagonists aren't quite as strong as those seen early on, there's enough here to enjoy nonetheless.
---

Millennium
Similarities – Suspense & Mystery
Millennium is a series that follows the investigations of ex-FBI agent Frank Black (now working as a consultant) with the ability to see inside the minds of criminals, working for a mysterious organization known as the Millennium Group.
Written by Chris Carter (who also wrote The X-Files), the first season takes its time to get us acquainted with all the characters. It's not until the follow-up seasons that this show really dives into who the mysterious Millennium Group are.
Still, it's worth a dive if you're in the mood for more conspiratorial and strange mysteries like those seen in Paranormal.
---

Project Blue Book
Similarities – Mystery
When it comes to chasing the truth, Project Blue Book skips out on the paranormal to chase flying saucers instead.
This conspiratorial sci-fi thriller is set some time after WWII and is loosely based on the US government's real life Project Blue Book. The characters we follow are Captain Michael Quinn and Dr. Allen Hynek who are tasked by the US Air Force to investigate reports of UFOs and debunk them – or at least come up with rational explanations for them.
It's your classic two-person investigative drama but there's some good episodes in here that are well worth watching across the 2 season run.
---

Constantine
Similarities – Tone & Supernatural Elements
True to the original comic books, Constantine does a great job capturing the essence of what made that visual novel so appealing.
At the heart of this lies a man named John Constantine struggling with his faith, haunted by the sins of his past. While wrestling with his demons, Constantine is suddenly thrust into the role of defending humanity from the gathering forces of darkness.
Although it only ran for 1 season before being cancelled, the character work here is strong and there's an undeniable energy  that makes the 13 episode run a joy to watch.
---
Buffy The Vampire Slayer
Similarities – Tone, Humour & Horror
Buffy The Vampire Slayer is one of the most influential shows in paving the way for strong female characters. Its forward thinking ideas around relationships, storytelling and timeless comedy makes it a show that holds up to this day.
The story revolves around a teenager called Buffy Summers who finds out she's a slayer – a young girl destined to push back the forces of evil that spew out the aptly titled Hellmouth located in the town of Sunnydale.
While many fans will agree the show should have concluded at the end of season 5, season 6 ironically features one of the best episodes of TV – a musical no less – that captures the humour, heartbreak and excellent narrative work this show is synonymous for.
Easily one of the best shows to come out the 90's, Buffy The Vampire Slayer is a quintessential slice of spooky action and another must-watch.
You can read our thoughts on Buffy The Vampire Slayer in our full season reviews here!
---
So there we have it, our 10 TV show picks to pick up when you're finished with Paranormal.
What do you think of our picks? Do you agree? Are there any notable omissions? Let us know in the comments below!
---