TV Shows like Amazon Prime's Island
Over the past few years there have been a lot more supernatural additions to the Korean drama genre and 2022's Island is one such show. Released in two different parts, the Prime Video original has 12 episodes in total.
Island is a webtoon-based drama starring Kim Nam-gil, Lee Da-hee and Cha Eunwoo in the lead roles. The show follows the story of a goddess saviour who is reborn to save humanity from the lust demons with a demon hunter and a young priest working together to protect her despite their differences.
If you liked watching Parts 1 and 2 of IslAND, here are 10 other shows that you may like to watch!
---
Hellbound
Similarities: Supernatural, Fantasy
The show follows the story of otherworldly beings who appear out of nowhere to issue a decree and condemn individuals to hell. These events are supernatural and lead togreat mayhem. Due to these mysterious events, a religious group named The New Truth is enabled and claims to protect people from supernatural events.
However, there is more confusion as a few people become suspicious about its activities and begin investigating The New Truth's involvement in these mysterious events.
---
The Uncanny Counter
Similarities: Demon Hunting, Mystery
The Korean drama follows the story of demon hunters called 'Counters' who come to earth under the guise of being employees at a noodle restaurant in order to capture evil spirits that have returned to earth in pursuit of eternal life.
So-moon is the youngest of the Counters who, after suffering from a mysterious car accident as a child, eventually becomes a central figure among the Counters. Do Ha-na works with So-moon to destroy these spirits by using her ability to sense the locations of evil spirits as well as her ability to read the memories of others through touch. The two work with a few other counters who all have different mysterious powers and backgrounds as they together try to eliminate the demons.
---
Ghoul
Similarities: Demonic Possession, Supernatural
The Indian horror mini-series follows the life of Nida Rahim, a newly recruited military officer who is fiercely loyal to the authoritarian regime. Nina is willing to go to any limit to prove her faith in the existing system to cleanse society for a better future. She is appointed at a covert military detention centre to interrogate Ali Saeed, the most dreaded terrorist who has been recently captured and brought in for interrogation.
However, he turns the tables on his interrogators, exposing their most shameful secrets. Rahim comes to the conclusion that Ali Saeed is not from this world and is possessed by some supernatural entity.
---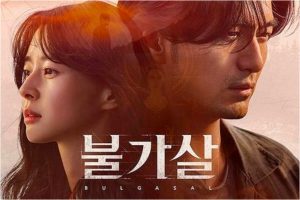 Bulgasal: Immortal Souls
Similarities: Supernatural Creature, Fantasy
This K-drama follows the story of a man-turned-immortal named Bulgasal, He wants revenge from a woman with a mysterious past and present. Bulgasal deems her responsible for his immortality and all of the miseries he had been through in the last 600 years. With this revenge, he hopes to free himself from his curse.
---
Lucifer
Similarities: Supernatural, Fantasy, Comedy
The popular show follows the life of Lucifer Morningstar, an angel-turned-demon who is bored with his life in hell. After he comes up to earth, Lucifer settles down in Los Angeles, America where he helps humanity with its miseries. The fallen angel uses his experience and telepathic abilities to bring people's deepest desires and thoughts out of them.
While meeting with a Detective in his nightclub to chat about a shootout involving him, Lucifer ends up landing a job as a consultant with the LAPD. Unlike his older, fiery ways, Lucifer now tries to punish people for their crimes through slow and cold, law and justice.
---
Love Between Fairy and Devil
Similarities: Supernatural, Fantasy
This popular Chinese drama is based on the novel, Cang Lan Jue by Jiu Lu Fei Xiang. Love Between Fairy and Devil follows the story of the evil Demon Prince Dongfang Qingcang, who eradicates the fairy race. 10,000 years later, one of the holy fairies is reincarnated as the lowly fairy Xiao Lan Hua.
Xiao Lan Hua accidentally frees the imprisoned Dongfang Qingcang, who wants to sacrifice the young fairy to remove the seal on himself and truly be free. In the process though, the two get to know each other better, and the ruthless demon finds himself falling in love with the gentle and adorable fairy.
---
Supernatural
Similarities: Demon Hunting, Supernatural, Comedy
This long-running CW series follows the lives of Demon Hunters – Dean and Sam Winchester who are the sons of John Winchester. After their dad had been on a hunting trip and does not return for a long time, Dean asks his brother, Sam to return to the life of demon-hunting in order to find their father as they travel through the country killing monsters, demons and other evil creatures.
---
Tale of the Nine-Tailed
Similarities: Supernatural, Mystery
The popular K-drama follows the mythical nine-tailed fox, or gumiho, Lee Yeon who is able to transform into human form. His job is to eradicate the supernatural beings that threaten the mortal world. However, Lee Yeon's real aim is to find the reincarnation of his lost first love.
Lee Yeon's first love is reincarnated as Nam Ji-ah who had lost her parents years ago in a car accident. She is sure that he is connected to the mysterious car accident and wants to find the truth behind it which is why she befriends him.
---
The Scholar Who Walks The Night
Similarities: Period Drama, Fantasy
Set in the Joseon Dynasty, the show follows the life of a young nobleman, Kim Sung-yeol who is always immaculately dressed in scholarly robes. Sung-yeol lives as a vampire to keep the promise he made to his friends and fight the evil vampire, Hwi.
Sung-yeol learned about Hwi back when he was a human and has resurrected to fight the evil vampire and help the Crown Prince. Sung-yeol now lives as a guardian vampire fighting against the evil vampire without losing his human nature.
---
Locke and Key
Similarities: Supernatural, Mystery
The Netflix original follows the story of the three Locke siblings and their mother who move back into their ancestral home, Keyhouse after losing the patriarch of their family. After their father is murdered under mysterious circumstances, the three Locke siblings discover that the Keyhouse is full of magical keys that may be connected to their father's death.
While the Locke children explore the different keys and their unique powers they unknowingly awaken a mysterious demon.
---
So there we have it, our 10 TV Show alternatives to watch when you're finished with Prime Video's Island!
What do you think of our picks? Do you agree? Are there any notable omissions? Let us know in the comments below!
---