Extra Siblings Joining The Family
The Hardy Boys is an action-packed familial drama designed for young adults and teenagers. Channeling those 80's/90's vibes, the series works well to really give the show a slightly archaic but energetic feel. If you've watched all 13 episodes of this Hulu Original and are itching for more, we've got you covered.
We've combed through the archives and saved you the hassle of finding something similar with our top 10 picks for alternate viewing.
To keep things simple for skim-readers, we've also added what similarities these have.
Of course for all the shows we've reviewed, we've also added a handy link so you can check out our full thoughts on that series and see if it's something you want to invest your time with.
So without further ado, we present 10 TV shows that should whet the appetite when you've finished streaming The Hardy Boys.
---

Alex Rider
Similarities – Action, Mystery & Teen Vibes
Based on the popular book series of the same name, Alex Rider's first season essentially combines elements of the first two books. The second, titled "Point Blanc", plays a crucial part in the plot and it's here where the story comes into focus. At its core, the narrative revolves around young teen Alex Rider who's thrust into action after his Uncle Ian is shot dead by a Russian called Yassen.
With the authorities keeping things quiet about what really happened, Alex is recruited by a shadowy organization that operate under the veil of secrecy and need his help in uncovering who killed Ian.
Exciting, action-packed and full of thrilling set pieces, Alex Rider is definitely an exciting drama worth checking out.
You can read our thoughts on Alex Rider in our full season reviews here!
---

Stranger Things
Similarities – Teens Solving Crimes & Nostalgia
The little gem on Netflix, Stranger Things is undoubtedly one of the biggest Originals on the platform. It's also probably the only one safe from being cancelled any time soon.
The story revolves around a group of teens who become thrust into a supernaturally charged, heady world of nightmares when a young boy called Will disappears.
With little clues beyond a strange girl called Eleven who shows up with telekinetic powers, it's up to a ragtag group of misfits to thwart the evil before it's too late.
With some intriguing ideas about parallel worlds and some great throwbacks to the 80's, Stranger Things is a solid choice and with plenty of story to get through, there's enough here to whet the appetite ready for season 4.
You can read our thoughts on Stranger Things in our full season reviews here!
---

Dirk Gently's Holistic Detective Agency
Similarities – Quirkiness & Supernatural Mystery
Based on the books of the same name, Dirk Gently's Holistic Detective Agency is a frenetic, witty, intelligently paced show with a great mystery at its heart.
The series revolves around an eccentric, enthusiastic amateur sleuth called Dirk who whisks up unimportant nobody Todd on a supernatural, time bending adventure to solve a bizarre mystery.
The show begins as a comedy and quickly grows into a really engrossing, endearing comedic drama that only becomes more wild and wacky as it moves into the second season. If you're in the mood for a fantastical adventure, this one is well worth checking out.
You can read our thoughts on Dirk Gently in our full season reviews here!
---

Outer Banks
Similarities – Thrilling Adventure & Teen Vibes
Outer Banks is one of those shows that just seems to work. It has just the right amount of humour, a solid Famous Five/Goonies feel and manages to weave all of this into a decent mystery that progresses at a good pace. 
The story itself revolves around the Outer Banks, an island that plays host to two distinct tribes. The Kooks and Pogues live on the class divide, with the poor Pogues playing host to our four friends, John B, JJ, Kiara and Pope, who set out on a mission to find John B's missing Father and a hidden treasure holding 400 million in gold bars.
The set-up is simple enough, and as the episodes tick by they're joined by enigmatic rich Kook girl Sarah, who has some great chemistry with the group and a well written romance that doesn't bog the story down.
All in all, this is a great option and the adventure certainly feels similar to The Hardy Boys.
You can read our thoughts on Outer Banks in our full season review here!
---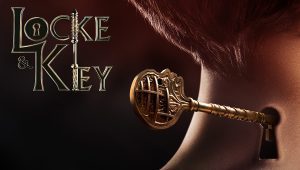 Locke And Key
Similarities – Dark Mystery & Supernatural Elements
Locke & Key, based on the visual novels of the same name, blends lite-horror elements with a healthy dose of mystery. Resting all of this on the shoulders of our three child protagonists, you'd be forgiven for thinking this show is for kids. It most certainly is not.
The story itself revolves around three siblings, Bode, Kensey and Tyler, who move back into their childhood home Key House. Pushing aside the haunting memories of their Father's murder (which took place inside these four walls), numerous magical keys lie hidden around the house that could hold the clue to the mysteries lurking within.
Despite feeling a little overlong at times, the series does well to keep itself engaging throughout its 10 episode season. With a second season still not green-lit yet, it remains to be seen whether this will return for a follow-up or not.
You can read our thoughts on Locke & Key in our full season review here!
---

The Society
Similarities – Gripping Mystery & Teens
The Society is essentially a modern-day spin on Lord Of The Flies. In true Netflix fashion though, The Society feels slightly overlong across its 10 episodes and could have done with some tighter editing. However, the series is certainly intriguing and begins with a strange smell descending over an American town as various kids return from a school trip.
They soon come to realize all the adults are missing and even stranger, the town is now inexplicably surrounded by thick, lush forestry. When the smell finally disappears, the kids realize that their town holds small differences that play a bigger part in the plot further down the line.
Realizing they're stuck with nowhere to go, the kids in The Society descend into a heady cocktail of teen angst and melodrama. Between these constant bouts of partying and having sex, the group do come together and try to figure out what's happened – which is revealed somewhat in the second half.
Do be warned though that The Society was cancelled by Netflix during the middle of 2020 and as such, does not have a conclusion. Still, it's a fun ride up until that point.
You can read our thoughts on The Society in our full season review here!
---

Dare Me
Similarities – Mystery & Teenagers
Dare Me is an interesting cheerleading drama that takes elements of Gossip Girl and other melodramas of its kind and blends them up into a 10 episode series driven by some dark, central themes around murder, rape and jealousy. To be fair, this one may be a little dark for younger audiences but those kids aged 15 and over, should definitely be okay with this one.
Based on the best-selling 2004 novel of the same name, Dare Me is a tale that predominantly revolves around three females. Addy and Beth are best friends; inseparable teenage girls reveling in the heady world of alcohol, drugs and parties. When new cheerleading coach Colette arrives to shake things up, what follows is a story that starts to drive a wedge in Beth and Addy's friendship, while dark secrets blanket the trio.
While it may be a little darker than the material in The Hardy Boys, the "whodunit" mystery is pretty strong in this and it's backed up by some good character development too.
You can read our thoughts on Dare Me in our full season review here!
---

Riverdale
Similarities – Mystery & Teenagers
Split across 5 seasons, Riverdale is a twisty-turny teen drama and one of the few shows on this list that we'd recommend not watching more than a season or two. The later seasons completely jump the gun and begin convoluting the narrative unnecessarily and across so many episodes, it just begins to feel frustrating to watch. However, the first two seasons are pretty good and have enough mystery and intrigue to keep you watching.
The story itself begins – in season 1 at least – with a high school tragedy that leaves Archie, his gang and various other students reeling. As the early "whodunit" vibes bleed through, this is blended in with teen angst, romance and drama across its 13 episodes.
The rest of the seasons increase the run-time and number of episodes, bringing a feeling that this show is running on empty. Still the early seasons are definitely worth checking out at least.
---

A Series Of Unfortunate Events
Similarities – Quirky Tone & Humour
After the successful translation of the popular book series to film, it was always going to be a tough ask to then reboot A Series Of Unfortunate Events to the small screen.
Surprisingly, the TV show far surpasses the film in a well structured, deliciously dark feature that not only nails the tone of the book, it boasts some great writing and bursts of genuinely funny moments along the way.
Split across three satisfying seasons, A Series Of Unfortunate Events revolves around the Baudelaire orphans who find themselves caught in the midst of a cat and mouse game with the dastardly Count Olaf after their parents are killed in a fire. As the seasons progress, it soon becomes apparent that the Baudelaire fortune Olaf is after may hold more than a few secrets. Can the orphans survive long enough to uncover the truth?
Funny, wacky and full of some wonderful set pieces, A Series Of Unfortunate Events is well worth checking out.
You can read our thoughts on A Series Of Unfortunate Events in our full season review here!
---

The Chilling Adventures of Sabrina
Similarities – Coming Of Age & Supernatural Elements
Deliciously dark with a touch of charismatic charm, Chilling Adventures of Sabrina is a fine example of how to take an established comic and hit sitcom, change its tone and genre whilst maintaining the heart of what made the original so appealing.
From Kiernan Shipka's inspired tenacious performance as half-witch/half-human Sabrina Spellman to the surprisingly gruesome and sinister tone, Chilling Adventures of Sabrina does a great job establishing itself as a unique and engaging show.
the story begins with Sabrina Spellman on the cusp of her 16th birthday, preparing for a very special ritual that welcomes her into the world of witchcraft. With a happy mortal life rich with friends and boyfriend Harvey, Sabrina finds herself torn between whether to abandon everything she holds dear for servitude to the Dark Lord or turning her back on the life she was destined for.
This struggle continues right the way through the various seasons, with extra layers of danger and tension added to the fold for good measure. This one's definitely quite dark but it's a decent coming of age series nonetheless.
You can read our thoughts on Sabrina in our full season review here!
---
So there we have it, our 10 TV show picks to pick up when you're finished with The Hardy Boys.
What do you think of our picks? Do you agree? Are there any notable omissions? Let us know in the comments below!
---