10 More Magical Offerings
Fate: The Winx Saga is the latest fantasy teen drama streaming on Netflix. With lots of magic, teen angst and romance, this heady blend of ideas may well leave you wanting more when you're done watching the brief first season.
We've combed through the archives and saved you the hassle of having to try and find something similar with our top 10 picks for alternate viewing.
To keep things simple for skim-readers we've added what similarities these have.
Of course for all the shows we've reviewed, we've also added a handy link so you can check out our full thoughts on that series and see if it's something you want to invest your time with.
So without further ado, we present 10 TV shows that should whet the appetite when you've finished streaming Fate: The Winx Saga.
---

Carnival Row
Similarities – Fantasy & Romance
Amazon Prime's big-budget fantasy depicts a tale of forbidden love and supernatural thrills set against a backdrop of racism and simmering tensions. Perfect for fans of A Discovery Of Witches!
At the heart of this one is Rycroft Philostrate who begins looking into a series of grisly murders. Along the way, he becomes entangled in the politics and issues of a working fairy called Vignette Stonemoss. Together, the pair set out to uncover what's really going on.
The series is brimming with imagination, full of detailed sets and some really impressive world building. The mystery elements are incorporated nicely into the story too, making for a really solid watch.
You can read our thoughts on Carnival Row in our full season review here!
---

Chilling Adventures of Sabrina
Similarities – Coming Of Age & Supernatural Elements
Deliciously dark with a touch of charismatic charm, Chilling Adventures of Sabrina is a fine example of how to take an established comic and hit sitcom, change its tone and genre whilst maintaining the heart of what made the original so appealing.
From Kiernan Shipka's inspired tenacious performance as half-witch/half-human Sabrina Spellman to the surprisingly gruesome and sinister tone, Chilling Adventures of Sabrina does a great job establishing itself as a unique and engaging show.
the story begins with Sabrina Spellman on the cusp of her 16th birthday, preparing for a very special ritual that welcomes her into the world of witchcraft. With a happy mortal life rich with friends and boyfriend Harvey, Sabrina finds herself torn between whether to abandon everything she holds dear for servitude to the Dark Lord or turning her back on the life she was destined for.
This struggle continues right the way through the various seasons, with extra layers of danger and tension added to the fold for good measure. This one's definitely quite dark but it's a decent coming of age series nonetheless.
You can read our thoughts on Sabrina in our full season reviews here!
---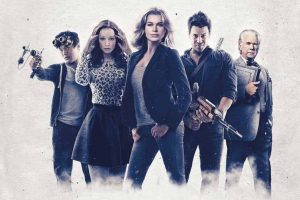 The Librarians
Similarities – Fantasy & Mystery
Full of cheesy dialogue, cheap set design and a fantastical plot line, you'd be forgiven for writing off The Librarians as a throwaway fantasy show. Instead, The Librarians embraces its incredulous premise and manages to strike a great balance between its silly and serious elements.
The story begins with an introduction to a strange man known as The Librarian. After stopping certain doom from consuming the planet, we're introduced to Colonel Eve Baird who finds herself whisked along for the ride, invited to an illustrious place called The Library that defies the laws of physics.
When the library goes missing from reality, it's up to the central group of characters collectively known as The Librarians to find the library whilst preventing magic from spilling into our world.
It's a great premise and one that works beautifully thanks to its well-written group of characters.
You can read our thoughts on The Librarians in our full season reviews here!
---

The Magicians
Similarities – Magic & Twilight Elements
The Magicians is essentially Twilight meets Harry Potter. For some, this clash of tones will be an instant turn-off but for those invested in A Discovery Of Witches, this will certainly whet the appetite.
In its simplest form, the story revolves around a group of students who discover they're graced with magical abilities after being recruited to a secretive academy. At the heart of all this lies our main character, Quentin Coldwater, who enrolls at Brakebills University for Magical Pedagogy.
Serving as an interesting juxtaposition is Quentin's childhood friend Julia, who finds her hopes and dreams shattered when she's denied entry to this very same university. Instead, she searches for magic elsewhere.
While a little campy and cheesy at times, The Magicians does well to flesh out its five seasons. If you're sold after the first couple of episodes, you're in for a real treat with this one.
---

A Discovery Of Witches
Similarities – Drama & Fantasy
A Discovery Of Witches is a well written drama with some truly beautiful imagery across its run-time. That's to say nothing of the characters who are interesting and endearing.
The basic premise revolves around a world where witches, vampires and demons live discreetly among humans. Our central protagonist is Diana Bishop, who happens to be the last living witch. What ensues from here is a heady blend of romance, fantasy and drama across 2 seasons – the second of which cutting us back in time for a who's who of historical figures.
While the first season is far stronger, there's a lot to like here and fans of romance and fantasy offerings should be in their element.
You can read our thoughts on A Discovery Of Witches in our full season reviews here!
---
Salem
Similarities – Salem & Supernatural Elements
Based loosely on the 17th century witch trials of the same name, Salem is a supernaturally charged drama that examines what really fueled the town's infamous witch trials at the time. Salem combines fantastical elements with more character-driven drama, leaning heavily into supernatural elements the longer the series goes on for.
With three seasons to enjoy, the main plot line revolves around a powerful witch called Mary Sibley who controls the Salem Witch Trials and intends to summon the Devil.
Only, her plan hits a serious road bump when her long lost love, John Alden, returns from the war. With the usual dose of romance and drama thrown in, Salem is a simple but well written character-driven drama.
---

NOS4A2
Similarities – Supernatural Elements
Based on the popular book of the same name, NOS4A2 is an engrossing, enjoyable horror series. With an inspired Zachary Quinto at the helm, the characters do well to instill their mark on this series, even if the second season is a step down in quality.
The story itself follows Vic McQueen, a teenager who learns early on that she possesses a special gift; she's able to transport herself wherever she desires via a mysterious bridge called The Shorter Way.
Guided by the scrabble tiles of Maggie, Vic finds herself coming up against the monstrous Charlie Manx, a demonic man hell bent on "saving" children by taking them to the fabled Christmas Land where he can feed on their energy.
It's not the best horror out there but it is a consistency enjoyable one, making for a solid binge-watch.
You can read our thoughts on NOS4A2 in our full season reviews here!
---

The Vampire Diaries
Similarities – Tone & Teenage Romance
There's something timelessly endearing about vampires – especially in the YA category. The Vampire Diaries essentially serializes and polishes what Twilight tried (and failed) to do on the big screen.
The plot synopsis is pretty similar too, especially with a narrative revolving around a high school girl called Elena. As fate would have it, she captures the heart of Stefan who happens to be a vampire.
Complicating matters though is Stefan's brother Damon who also happens to be attracted to Elena. Cue the love triangle and predictable teen melodrama. Despite its formulaic set-up, The Vampire Diaries eventually merges and evolves into something that can only be summed as a seriously addicting guilty pleasure.
Well acted, fast moving and full of twists and turns, this one is definitely worth checking out.
---

The Uncanny Counter
Similarities – Action & Fighting Demons
The Uncanny Counter is an action-packed Korean drama revolving around a dysfunctional group who team up to take on high-powered demons. With a premise similar to Fate: The Winx Saga, the drama here revolves around a boy called Mun who's traumatized by the death of his parents as a child. Raised by his grandparents, Mun finds himself thrown into the world of demon-hunting as he's made a member of the illustrious Counters.
Armed with super strength and an array of different abilities, the Counters get wrapped up in a wide-spanning political conspiracy involving the Mayor and a Director of a local company. Things are unfortunately made even more complicated by a level 4 demon called Cheong-Shin who kills one of the Counters and begins a murderous rampage. Drama, comedy and fantasy combine beautifully to make a really satisfying watch.
You can read our thoughts on The Uncanny Counter in our episode reviews here!
---

The Winx Club
Similarities – The Original
We really couldn't do a list about Winx Saga without at least mentioning the original. If you want to know what all the fuss is about, The Winx Club is certainly worth checking out (or getting your kids into!) thanks to its unashamedly bright, colourful animation that  draws on that "girl power" vibe.
What's particularly refreshing about this animation, and partly why the show has done so well, is the way it blends menacing villains, action and strong themes around friendship. In a way, this show actually has some similarities to The Powerpuff Girls too, although Winx Club has a much larger, more diverse cast.
---
So there we have it, our 10 TV show alternatives to watch when you're finished with Fate: The Winx Saga on Netflix.
What do you think of our picks? Do you agree? Are there any notable omissions? Let us know in the comments below!
---