Discovering More Witches (And Creatures Of The Night)
A Discovery Of Witches is a supernaturally charged series that blends elements of Harry Potter, Twilight and conventional teen romance together. While the second season is a bit slow and doesn't move the story forward that significantly, there's certainly a lot to like.
If you've finished streaming this one and are looking for something similar, fret not! We've combed through the archives and saved you the hassle of having to try and find something similar with our top 10 picks.
To keep things simple for skim-readers we've added what similarities these have.
Of course for all the shows we've reviewed, we've also added a handy link so you can check out our full thoughts on that series and see if it's something you want to invest your time with.
So without further ado, we present 10 TV shows that should whet the appetite when you've finished streaming A Discovery Of Witches.
---
Buffy The Vampire Slayer
Similarities – Teen Romance, Action & Demons
Buffy The Vampire Slayer is one of the most influential shows to pave the way for strong female characters. Its forward thinking ideas around relationships, storytelling and timeless comedy makes it a show that holds up to this day.
The story revolves around a teenager called Buffy Summers who finds out she's a slayer – a young girl destined to push back the forces of evil that spew out the aptly titled Hellmouth located in the town of Sunnydale.
While many fans will agree the show should have concluded at the end of season 5, season 6 ironically features one of the best episodes of TV – a musical no less – that captures the humour, heartbreak and excellent narrative work this show is synonymous for.
Easily one of the best shows to come out the 90's, Buffy The Vampire Slayer is a quintessential slice of spooky action and another must-watch if you're in the mood for empowering female action.
You can read our thoughts on Buffy The Vampire Slayer in our full season reviews here!
---

The Vampire Diaries
Similarities – Tone & Teenage Romance
There's something timelessly endearing about vampires – especially in the YA category. The Vampire Diaries essentially serializes and polishes what Twilight tried (and failed) to do on the big screen.
The plot synopsis is pretty similar too, especially with a narrative revolving around a high school girl called Elena. As fate would have it, she captures the heart of Stefan who happens to be a vampire.
Complicating matters though is Stefan's brother Damon who also happens to be attracted to Elena. Cue the love triangle and predictable teen melodrama. Despite its formulaic set-up, The Vampire Diaries eventually merges and evolves into something that can only be summed as a seriously addicting guilty pleasure.
Well acted, fast moving and full of twists and turns, this one is definitely worth checking out.
---

His Dark Materials
Similarities – Prophecy & Magical Items
His Dark Materials is a wonderful fantasy series. Excellent acting and a faithful story adaptation of Philip Pullman's novels combine beautifully with the world building on offer, making for a wholly absorbing and satisfying watch. The show never outstays its welcome either across its three seasons.
The story follows the journey of Lyra Belacqua, a young girl who inhabits a world where human and daemon share an intricate link together. As kids start going missed, snatched up from the streets by the Gobblers, Lyra finds herself coming in possession of the mysterious alethiometer.
When her best friend Roger goes missing, what begins as a simple search and rescue mission quickly becomes so much more as this expansive, dangerous and wondrous show becomes one of the small screen's best fantasy offerings.
You can read our thoughts on His Dark Materials in our full season review here!
---

Carnival Row
Similarities – Fantasy & Romance
Amazon Prime's big-budget fantasy depicts a tale of forbidden love and supernatural thrills set against a backdrop of racism and simmering tensions. Perfect for fans of A Discovery Of Witches!
At the heart of this one is Rycroft Philostrate who begins looking into a series of grisly murders. Along the way, he becomes entangled in the politics and issues of a working fairy called Vignette Stonemoss. Together, the pair set out to uncover what's really going on.
The series is brimming with imagination, full of detailed sets and some really impressive world building. The mystery elements are incorporated nicely into the story too, making for a really solid watch.
You can read our thoughts on Carnival Row in our full season review here!
---

Chilling Adventures of Sabrina
Similarities – Coming Of Age & Supernatural Elements
Deliciously dark with a touch of charismatic charm, Chilling Adventures of Sabrina is a fine example of how to take an established comic and hit sitcom, change its tone and genre whilst maintaining the heart of what made the original so appealing.
From Kiernan Shipka's inspired tenacious performance as half-witch/half-human Sabrina Spellman to the surprisingly gruesome and sinister tone, Chilling Adventures of Sabrina does a great job establishing itself as a unique and engaging show.
the story begins with Sabrina Spellman on the cusp of her 16th birthday, preparing for a very special ritual that welcomes her into the world of witchcraft. With a happy mortal life rich with friends and boyfriend Harvey, Sabrina finds herself torn between whether to abandon everything she holds dear for servitude to the Dark Lord or turning her back on the life she was destined for.
This struggle continues right the way through the various seasons, with extra layers of danger and tension added to the fold for good measure. This one's definitely quite dark but it's a decent coming of age series nonetheless.
You can read our thoughts on Sabrina in our full season reviews here!
---

The Magicians
Similarities – Magic & Twilight Elements
The Magicians is essentially Twilight meets Harry Potter. For some, this clash of tones will be an instant turn-off but for those invested in A Discovery Of Witches, this will certainly whet the appetite.
In its simplest form, the story revolves around a group of students who discover they're graced with magical abilities after being recruited to a secretive academy. At the heart of all this lies our main character, Quentin Coldwater, who enrolls at Brakebills University for Magical Pedagogy.
Serving as an interesting juxtaposition is Quentin's childhood friend Julia, who finds her hopes and dreams shattered when she's denied entry to this very same university. Instead, she searches for magic elsewhere.
While a little campy and cheesy at times, The Magicians does well to flesh out its five seasons. If you're sold after the first couple of episodes, you're in for a real treat with this one.
---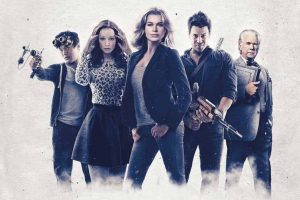 The Librarians
Similarities – Fantasy & Mystery
Full of cheesy dialogue, cheap set design and a fantastical plot line, you'd be forgiven for writing off The Librarians as a throwaway fantasy show. Instead, The Librarians embraces its incredulous premise and manages to strike a great balance between its silly and serious elements.
The story begins with an introduction to a strange man known as The Librarian. After stopping certain doom from consuming the planet, we're introduced to Colonel Eve Baird who finds herself whisked along for the ride, invited to an illustrious place called The Library that defies the laws of physics.
When the library goes missing from reality, it's up to the central group of characters collectively known as The Librarians to find the library whilst preventing magic from spilling into our world.
It's a great premise and one that works beautifully thanks to its well-written group of characters.
You can read our thoughts on The Librarians in our full season reviews here!
---
Salem
Similarities – Salem & Supernatural Elements
Based loosely on the 17th century witch trials of the same name, Salem is a supernaturally charged drama that examines what really fueled the town's infamous witch trials at the time. Salem combines fantastical elements with more character-driven drama, leaning heavily into supernatural elements the longer the series goes on for.
With three seasons to enjoy, the main plot line revolves around a powerful witch called Mary Sibley who controls the Salem Witch Trials and intends to summon the Devil.
Only, her plan hits a serious road bump when her long lost love, John Alden, returns from the war. With the usual dose of romance and drama thrown in, Salem is a simple but well written character-driven drama.
---

Angel
Similarities – Eclectic Cast & Battling Forces Of Hell
Whereas Buffy The Vampire Slayer gains the plaudits for its smart writing, trail-blazing female characters and some excellent storytelling, Buffy's spin-off Angel is arguably every bit as endearing.
In fact, at times Angel dives a lot deeper and darker into its mythology and ideas than Buffy, fronting David Boreanaz as the tortured vampire with a soul. You'll almost certainly get some Matthew vibes from this one!
Setting up residence in LA, Angel is joined by an eclectic group of characters including Cordelia who makes the jump from Buffy across to this series. While many will lament the open, frustrating cliffhanger during the final episode, Angel is easily one of the better shows from the 90's and a real gem well worth watching.
You can read our thoughts on Angel in our full season reviews here!
---

Penny Dreadful
Similarities – Tone & Mystery
Set in Victoria London, Penny Dreadful combines blood-soaked horror and mystery beautifully into one atmospheric series. The story essentially sees explorer Sir Malcolm Murray, American gunslinger Ethan Chandler, scientist Victor Frankenstein and medium Vanessa Ives uniting to combat supernatural threats together.
It's a simple enough premise but where this show excels is in its storytelling and acting. Everything about Penny Dreadful oozes charisma and despite a slightly slow start during season 1, it quickly grows into a real powerhouse on the horror circuit.
It's beautifully produced too, with some lavishly dressed sets and some well-rounded characters. This one is well worth checking out.
---
So there we have it, our 10 TV show alternatives to A Discovery Of Witches!
What do you think of our picks? Do you agree? Are there any notable omissions? Let us know in the comments below!
---