Everybody loves stories about friendships. It's the one theme that transcends age, gender, and nationality. We've all had inside jokes, pet names and even that moment where we roll on the floor laughing with our best buds.
Korean dramas, in particular, have a way of showing all the different aspects of a friendship. From gobbling down bowls of jjajangmyeon (noodles in black bean sauce) together to supporting each other through thick and thin, these are some of the warmest friendships on TV.
Here are 10 K-dramas about friendships that must make it on your watch list!
---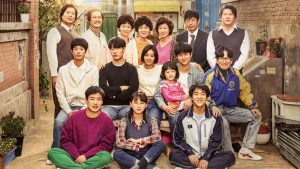 Reply 1988
Reply 1988 is one of the best dramas out there about family and friendships. It really embraces the slice-of-life genre through its characters' daily lives, focusing on little things like sharing a meal or playing Go-Stop (a Korean card game).
The series follows a group of five friends and their families who live on the same street in Seoul. We watch our main five leads (Sung Duk-seon and her four male friends) go through their last years at high school and deal with romance, friendship and ambition in the process.
What pulls the narrative along is the use of flash-forwards of a grown up Duk-seon and her husband played by different actors, which serves to make the viewer play a guessing game of 'who is the husband?' Like in the other two Reply instalments, this plot device works well to keep the viewer engaged.
The episodes tend to run on for an extensive amount of time, but this is part of the show's slice-of-life charm.
---

Hospital Playlist
Helmed by the director of the Reply series, Hospital Playlist has a similar vibe but with a set of whole new and interesting characters — this time, a set of five 40-something doctors who have been friends since undergrad.
The show brings together medicine, music and relationships in a beautiful collage of stories. We see each doctor navigate daily life through their particular field of medicine as well as through their unique personal lives.
There is loss and heartbreak but the show brims with hope.  In the end, it's the eccentric but lovable group of friends that keeps you going to the next episode.
---

Fight For My Way
A realistic take on what it's like to follow your dreams in this day and age, Fight For My Way softens these harsh truths through its four main leads. A group of long-time friends, their quirks and delightful dynamics make the show an entertaining ride.
Dong-man is a former famous taekwondo player who is looking to get back in the game while Ae-ra is a department store employee who dreams of becoming an announcer. The two childhood friends support each other in their endeavours and soon, sparks fly.
We also have Seol-hee and Joo-man, the other pair of the group, who have been in a six-year relationship and find their love tested.
While the romances are well done, the show engages you with the interpersonal relationships — from the bond between the girls to the camaraderie of the boys and the closeness of the group as a whole.
---

Welcome to Waikiki
A totally carefree, feel-good K-drama, Welcome to Waikiki follows Kang Dong-gu, Lee Joon-ki and Bong Doo-sik as they open up a guesthouse in order to fund their film. Naturally, this is followed by hijinks as they struggle to balance the guesthouse, their film, and their romantic lives.
The show features a brand of humour that tends toward silly, playing off how the three men are so different from each other. But it results in some truly iconic scenes like those with Joon-ki's car Rebecca.
The light tone makes it an easy watch but every now and then the show surprises you with truly heartfelt moments.
---

Be Melodramatic
This one's for all the female friendships out there. From moments of uncontrollable laughter to sobbing in each other's arms, across to  hyping up their dating lives to supporting each other's wildest dreams — Be Melodramatic really covers it all.
Lim Jin-joo, Lee Eun-jung and Hwang Han-joo are three best friends who end up living together. Jin-joo is an aspiring television writer, Eun-jung is a documentary filmmaker who is getting over a tragic event, and Han-joo is juggling the roles of a single mother and a career woman.
Combined with a stellar soundtrack and some intriguing side characters, Be Melodramatic is a heartwarming ride.
---

Weightlifting Fairy Kim Bok-Joo
While romance is central to Weightlifting Fairy Kim Bok-joo, the friendship between Bok-joo and her teammates Sun-ok and Nan-hee is one of its crowning jewels.
Apart from their jovial interactions and affection for one another, the best part of the friendship is that they don't need to fit into the norms of femininity. It's refreshing to see three women who are different in their own individual ways, without being confined to stereotypical boxes of either gender.
Watch this show for a dose of friendship that will make you laugh and smile and miss your own friends.
---

Thirty-Nine
Here's another trio of girlfriends but turn it a notch more intense.
This time, three 39-year-old women navigate life as they are about to hit another milestone. Thirty-Nine really gets into the nuances of life at that age. It's not afraid to be messy and this brutal honesty is where its strength lies.
Despite being carried on the shoulders of three acclaimed actresses, the show does suffer from some poor execution. Be prepared for skewed character development and stretched episodes.
But if you focus on the emotional beats and the banter between the three women, it can be an enjoyable watch.
---

Reply 1994
The second instalment of the series, Reply 1994, exudes the same, wholesome charm as the other two. The key difference is that it revolves around college students living together in a boarding house.
Our leading lady is Sung Na-jung, whose parents run the boarding house. She becomes friends with the boarders, including one girl and five boys. As the group dynamic changes and grows, so do Na Jung's romantic feelings, while the 'who's the husband' guessing game goes on in the background.
The episodes can be a little too long and meandering but the endearing characters steal the show. If you're looking for a depiction of real people and real relationships, then Reply 1994 is the show for you.
---

Reply 1997
Being the first of the Reply series, the switch between past (1997) and present (2012) works best here. It keeps you on tenterhooks as to who the leading lady Sung Shi-won's husband is right until the end.
While the focus on romance is a little more in this one, the friendships are unique to that time and age. Like the role of K-Pop, which was only beginning to rise in the '90s, in the friendship between Shi-won and her best friend Mo Yoo-jung.
Overall, a happy and fulfilling watch.
---

Dear My Friends
An offbeat choice, Dear My Friends looks at the relationship between a group of friends in their twilight years.
It all starts when Park Won drives her mother and friends to a reunion and unexpectedly finds herself interested in their stories. Their lives unfold across the screen in all their complexity, showcasing everything from love triangles to road trips to the inevitability of death.
A bittersweet show that seems to say, young or old, friendships are invaluable.
---
And there we have it, our picks for 10 heartwarming K-dramas centering on friendships.
What do you think of our list? Have we included your favourites? Or have we missed any must-watch dramas? We love to hear from you so do feel free to let us know in the comments below.
---