It's been less than a decade since Margot Robbie hit the Hollywood scene, yet the Aussie bombshell has rapidly ascended to career heights even seasoned actors would dream of. Throwing herself into every role, Margot is nothing if not a risk taker (it's not every actress who'll go full-frontal in their first major film debut).
Most of them have more than paid off, and even in those that haven't (we're looking at you, Suicide Squad) Robbie somehow manages to be their redeeming feature through sheer magnetism.
So before we watch her star in Greta Gerwig's upcoming Barbie adaptation, let's look back at ten of the most engaging, exciting, and entertaining Margot Robbie movies…so far.
---
Once Upon a Time in Hollywood (2019)
Though not Margot's largest role in terms of screen time, the actress nonetheless held her own alongside Hollywood heavyweights Brad Pitt and Leonardo DiCaprio in Quentin Tarantino's offbeat 2019 Oscar winner.
Margot Robbie plays the role of Sharon Tate, the real-life star and ill-fated wife of 1960s director Roman Polanksi, with whom the (fictional) actor Rick Dalton (DiCaprio) and his stunt double Cliff Booth (Pitt) share a chance encounter.
To tell any more would be spoiling things- but it's safe to say that life in the Hollywood Hills is even wilder than we imagined. At least, in the twisted world of Tarantino.
---
Bombshell (2019)
With 2019's Bombshell, Margot yet again proves she's more than just a pretty face. The actress co-stars alongside Charlize Theron and Nicole Kidman in this razor-sharp drama based on true events involving the Fox newsroom that would become a key moment in the MeToo movement.
Prepare for a fascinating, if infuriating, snapshot into gender inequality and sexual harassment in America's media industry.
---
Whisky Tango Foxtrot (2016)
From one journalist to another, Whisky Tango Foxtrot takes Margot Robbie all the way to Afghanistan as war correspondent Tanya Vanderpoel.
Written and produced by Tina Fey (who also stars), the film may be different to Fey's trademark zany, lightweight fare ala 30 Rock or Mean Girls. But in between the serious warzone action this film is still unexpectedly funny and watchable for the grim setting.
---
Focus (2015)
This underrated crime comedy which became a box office hit despite mixed critical reviews sees smooth talking con artists Nicky (Will Smith) and Jess (Margot Robbie) embroiled in an on-off relationship where neither party can be sure of the other's true motives.
Sure, the film was never going to reach Oscar-worthy status like others on this list. But with Smith and Robbie's crackling chemistry and a number of unexpected twists, you could do a lot worse for a fun popcorn flick.
---
Mary Queen of Scots (2018)
 A different kind of period drama, Mary Queen of Scots sees Margot Robbie's Queen Elizabeth I square off against her cousin and rival, Mary Stuart, as their twisted relationship escalates into an ultimately fatal battle for the throne.
Though some criticised its historical inaccuracies, all can agree that the two lead performances are must-sees, with Screen Hub writing "Margot Robbie rises above this material to actually make you feel Elizabeth's pain."
---
The Big Short (2015)
 The Big Short, which was nominated for Best Picture in 2016, follows the actions of several financial-industry professionals in the mid-2000s against the backdrop of the rise and then dramatic collapse of the real estate market.
If that doesn't do it for you, may we interest you in a Margot Robbie in a bubble bath? (Yes, just a year after her breakthrough role Robbie was iconic enough to cameo as herself in a Christian Bale/ Brad Pitt heavy hitter.)
Not that it's gratuitous- her presence is purely to explain the macroeconomic conditions leading to the 2008 Global Financial Crisis. Because of course.
---
The Legend of Tarzan (2016)
 Continuing her streak of working exclusively with Hollywood's biggest names, Margot co-stars alongside Alexander Skarsgård (Tarzan) Christoph Waltz, and Samuel L Jackson in this relentlessly fun adventure flick.
In characteristic style, Margot's "Jane" is no damsel in distress, and the actress gets involved in the action just as much as her chimp-whispering love interest.
---
I, Tonya (2017)
You don't have to be familiar with one-time champion ice skater Tonya Harding and the infamous events culminating in her permanent disqualification from the sport to appreciate this frequently funny, sometimes sad, and slightly offbeat biopic with a twist.
Watch Margot Robbie utterly transform into the self-confessed "white trash" prodigy; equally convincing as a fresh-faced teenager and the forty-something Tonya of present day. The film was also Robbie's first foray into producing. She's since gone on to co-produce the critically acclaimed revenge dramedy Promising Young Woman, as well as the slightly less celebrated Birds of Prey back in 2020.
---
About Time (2013)
 Deemed by one critic "The most underrated rom-com of the past decade," it's About Time you put this one on your watchlist. Unashamedly sentimental and syrup sweet, About Time is director Richard Curtis (Notting Hill, Love Actually) at his best.
The film follows unlucky in love Englishman Tim Lake, who exploits a genetically inherited time travel abilities to try and lock down a soulmate. But will it be Margot Robbie (Charlotte) or Rachel McAdams (Mary) he ultimately chooses?
---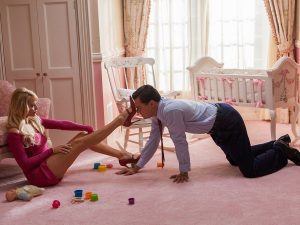 The Wolf of Wall Street (2013)
 As we've established, Margot Robbie has been in some pretty great movies over the course of her relatively short career. But to be honest, none of them come close to the one that made her a household name- the incomparable Wolf of Wall Street.
One of the many standout performances in Martin Scorsese's drug-fuelled epic, the then-twenty-three-year-old Margot played Naomi; a privileged young woman who falls for the charms of hedonistic stockbroker Jordan Belfort, only to become as victimised by the Wolf as the thousand-plus clients he robbed. This darkly funny, frequently shocking ode to excess became an instant classic due to the truly unhinged, ugly, and outrageous antics of Leonardo DiCaprio and co-stars Jonah Hill and Matthew McConaughey.
You'll laugh until you cry. Or until you learn that the real-life scumbag Jordan Belfort made almost US $1 million from producers for the movie rights to his life story. Then you'll just cry.
---
And there we have it, our picks for our 10 favourite Margot Robbie movies!
What do you think of our list? Have we included your favourites? Shocked we didn't include Suicide Squad? We love to hear from you so do feel free to let us know in the comments below!
---